According to the following news, ACAP had 70.95% in AAIC in aug 2010;
http://www.cse.lk/cmt/uploadAnnounceFiles/1981282563476_363.pdf
As per the following news, ACAP had sold its 30.2% & its subsidiary's 22.97% holding, total of 53.17% of AAIC to SHL. for a whooping 2.3Bn..(120/- per share)
http://www.cse.lk/cmt/uploadAnnounceFiles/5981313138092_363.pdf
Let's dig into the history....................
on March 2010, Fast Gain Int'nal had bouhgt 4.83Mn or 19.35% AAIC shares @ 50/- each. from Mr. K,D,D,P + Vallibel Leisure + Vallibel Investments.
Then in August 2010, This Fast Gain Int'nal had sold 3Mn shares (10% of holding) @ 57 to Asia Fort Sri Lanka Direct Investment Fund.
30th Sep 2010 - AAIC announces a right issue and on 26th Oct 2010 they announced the dates and proptions.
One (01) new ordinary share for every two (02) shares held @ Rs.65/- each.
5th January 2011 - 12,500,000 Ordinary Shares of the Company were listed pursuant to a 1:2 Rights Issue.
15 February 2011 - Rs.3.00 per share / Final Dividend
So 12th August the news - SHL acquiring 73.53% of AAIC (53.16% from ACAP & 20.36% from Fast Gain Int')
On 16th Sep 2011, Mr. A K P appointed as the chairperson of AAIC.
The mandatory offer made @ 120 by Softlogic Capital was acceped by RPC group (25% holding)
On 21 Nov 2011, AAIC disposing 4.49Mns shares held by LWL @ 112.5.
As of 30 Sep 2010, AAIC had no LWL shares..
As of 31 Dec 2010, AAIC had 0.33Mn (0.74%) shares of LWL.
From October LWL price had a range of 103-95 then in 2010 Dec 31 LWL hit 140 high and closed @ 138.9
2011 Feb 8 LWL hit 187 high and closed at 180.5.
They announced a Capitalization of 1 for 5 held and on XD date of 9 Feb, the share price of LWL fell to 160s.
And again price rose to 180s in few days and finally started the declining trend since April 2011..
But as of 31, March 2011, 30 June 2011 and 30 Sep 2011, AAIC had 4.96Mn (9.1%) of LWL.
So they've incresed this from 0.74% to 9.1% during 01 Jan - 31 Mrach 2011 period..
That's in a range of 138-176 from the lowest and high ends..
On 18th Nov, 5.52 Mn shares had traded between 97.9 - 106 then on 21st only 4500 shares..
So the LWL trade was done on 18th as per a pre arranged deal at a price of 112/-
But as you can see, their min buying price could've been 138 and even if they recieved the bonus shares, still this could've gone to around 125-130 with the shares averaging to the earlier qty they had..
Disposing a massive quantity like 5498880 shares @ 112 is at least 10-18 rupees loss a share if so..
5498880 shares * 10 = 54 Mn loss
5498880 shares * 18 = 98.9Mn loss
And this is the minimum?????????
Lets see the share price fluctuations after 16th September 2011, which was the day Mr. A K P appointed as the chair person of the AAIC.
On Sep 20th, Share price of AAIC rose by 49.5% to close @ 187.3 from 120 level trading 314K shares. That was the starting of colelction and it went to 233.8 by 28th Sep, just in 6 trading days.
On 29th Sep, it shot up to a close of 350.6 (50%) increase trading 687K shares.
Then on Oct 4th, it went up to a high of 4.5 and closed @ 360 trading just 46K shares. Again time to time we saw mini single day rallies and dipped to 180.2 on Nov 16th.
Interestingly the next day it traded 10K shares at a low of 121.7 and a high of 195 closing at 187.8.. See the volatility of the stock..
As of 24th nov, AAIC share dipped to 176.5 tradin just 1300 shares..
Financials of LWL;
Financials of AAIC;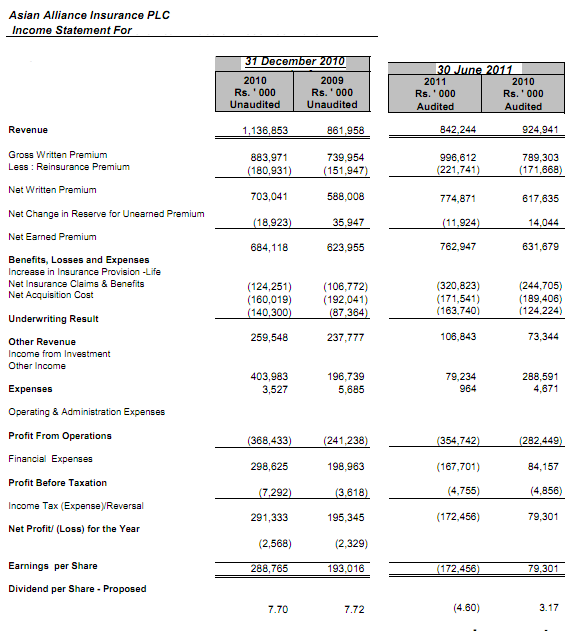 Financials indicated as per 30th June AAIC was a loss making company..
Note : Thanks for cse.alpha for his initial findings..
Becuz of his post only I checked this..
Access cse.alpha's post on here;
http://forum.srilankaequity.com/t8572-aaic-has-10-of-lwl-at-30th-june-2011?highlight=aaic