Red tape & the informal sector: Barriers to growth
June 16, 2012 (LBT) - The recently released 2011 annual report of the Ministry of Finance and planning touched on the failure of the improved macroeconomic environment since 2009 to translate into higher investments which currently stands at approx. 25% of GDP. Despite the peace dividend in the form of improved infrastructure, labour mobility and security, Sri Lanka continues to lag behind its South Asian peers when it comes to attracting foreign direct investment (FDI) which stood at USD 1.06 bn (Approx. 1.8% of GDP) in 2011. The treasury secretary has placed the blame on this sorry state of affairs in failing to attract further domestic and foreign investment on excessive bureaucratic red tape. This essay will briefly assess this claim and itsimplications. The World Bank has estimated based on the Harrod-domar method that Sri Lanka should achieve an investment to GDP figure of 35%in order to maintain its existing GDP growth momentum.
In line with this, the ministry hopes to attain this target by 2016. Given that the government has correctly capped its public investment at 6% of current GDP, the majority of theinvestment shortfall expected to be supplied by the private sector.However as mentioned earlier, a marked increase in domestic foreign private sector investment has not been observed since the end of the conflict. A plethora of empirical evidence suggests that excessive red tapeand entrenched subsidy regimes are one of the main deterrents of investments. The example of India is instructive in this regard which experienced double digit growth and the creation of globally competitive firms with the opening up of the economy since 1991 which saw the removal of large bureaucracies, oppressive licensing regimes & state monopolies.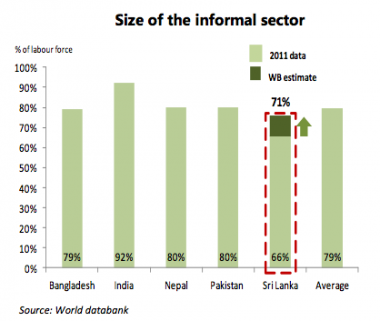 Although government regulation and the bureaucracy it brings with it does serve a purpose in correcting market failure, prolonged government intervention could give rise to rent-seeking behavior on the part of the incumbents. Such behavior gives rise to government failure and inefficiencies. South Asia as a whole has been plagued by this scourge and despite the actions taken by the Sri Lankan government post-war to streamline the tax and tariff structures for example, has had virtually no effect on reducing red tape. The only noteworthy contribution that has been made is with regard to the days it takes to register a new business which has fallen from 39days in 2007 to 35 days in 2011 which has improved Sri Lanka's overall ranking in indices such as the economic freedom index & the global competitiveness index. Excessive regulatory regimes go hand in hand with a growing informal economy.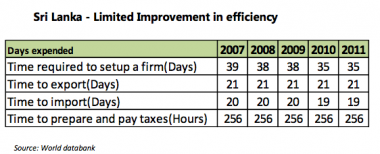 The success story of most tiger economies in South East Asia which had large informal economies has been the implementation of necessary policy measures to bring these informal enterprises into the fold of the formal sector where it could contribute to employment, government finances and most importantly, investments. Excessive licensing and subsidy regimes prevents this transformation from taking place as formal firms find it difficult to enter and compete in sectors where the informal sector has an unfair advantage. The end result is a low productivity trap where informal companies "become trapped in a self-reinforcing dynamic that confines them to subscale, inefficient, low productivity work" (Mckinsey 2004) Turning again to the experience of India, entering the fragmented Indian retail market is difficultfor foreign firms such as Wallmart& Tesco who possess large economies of scale due to a large informal sector backed by a strict regulatory regime. South Asia has historically been plagued by such large informal sectors which are growing over time.
Although Sri Lanka fares comparatively better than its South Asian peers, the world estimates that total employment in the informal sectorin Sri Lanka would be 71% of the total labour force. Studies have shown that subsidies, technical assistance and greater government intervention do not transform informal sectors into more formal ones. The best response to reducing economies informal sector and create a suitable environment for formal business enterprises to flourish, is to create a more level playing field with the simplification of regulatory requirements. It is commendable that the government has taken note of this issue and has taken some measures through the government's budget proposal for 2012which simplified the procedure for vehicle registration and a more transparent tariff structure.In conclusion it is self-evident that further such reforms would go a long way in ensuring sustainable future growth in the economy.
Courtesy - Asia Research
http://lbt.lk/news/economic/2094-barriers-to-growth