June 16, 2012 (LBO) - Sri Lanka is eyeing a new deal with the International Monetary Fund with the end of three year program in July 2012 whose success was marred at its tail end by a new balance of payments crisis triggered by energy price manipulations.
The three year 2.5 billion US dollar program restored confidence of international lenders, allowing the country to access foreign capital, boost growth to 8.0 percent and reduce inflation to low single digits for almost three years.
In 2012 growth is expected to fall to a still respectable 6.75 percent. But causing real harm to the people, inflation is expected to rise to 9.5 percent, according to IMF projections, on top of steep currency devaluation.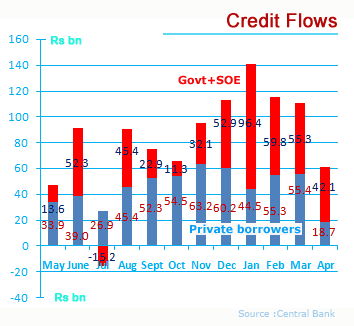 It is not known what the outcome would have been without an IMF program where foreign lenders perhaps pulled out of bond markets, adding capital flight to a 'current account' problem of contradictory monetary and exchange rate policies.
Sterilized Stimulus
The balance of payments crisis was initially triggered by a spike in credit taken by state energy enterprises to manipulate tariffs.
The central bank failed to allow interest rates to move up in time to save Sri Lanka's currency peg and instead sterilized two billion dollars of foreign reserve sales with over 200 billion rupees of central bank credit (printed money).
Sterilized forex sales are a 'stimulus' which pushes a country into a slippery slope of unsustainable credit and imports widening a current account deficit beyond the surplus generated by annual capital inflows.
At the height of the crisis from around December 2011 onwards total bank borrowings by the State and business rose to over 100 billion rupees a month, from around a third of that before the sterilized sales began.
Sri Lanka has had balance of payments trouble and high inflation ever since a hard peg or currency board was abolished in 1951 to create a money printing central bank which tries to unsuccessfully target both the exchange rate and interest rates simultaneously.
The IMF suspended its program in September 2011 calling for an end to interventions and a 'more flexible' exchange rate regime.
A central bank can only 'fix' an exchange rate if it allows interest rates to float. If it targets a policy interest rate (fixes interest rates) by printing money either through open market operations or sterilizing forex sales it has to allow the exchange rate to move.
Policy Correction
Sri Lanka raised energy tariffs, interest rates and allowed the exchange rate to move in February 2012, and the IMF resumed its suspended program.
"During the last few months the authorities have implemented very bold measures of policy measures and packages," John Nelmes, mission chief for Sri Lanka said Friday.
"Our view is that the transition to a new flexible framework, with a flexible exchange rate regime and the changes in energy prices has been managed in an orderly manner. We commend the government and authorities.
"This was a bold package and it is starting to show results."
He said recent data is showing credit and imports were slowing.
"This is bringing about a needed adjustment in the balance of payments and in the current account," Nelmes.
"The pursuance of exchange rate flexibility has been key, and we feel that this is an important measure that has been undertaken."
In April total credit halved, with credit to business crowded out to a 22 month low of 18.7 billion rupees.
Inflation
Over the past few months Sri Lanka's rupee, whose stability as an external anchor was a key reason for earlier lower inflation, has fallen to 131 to the US dollar from around 109 to the US dollar.
Debasing a currency destroys the real value of salaries of workers and lifetime financial savings of everyone who do not have dollar deposits.
But currency depreciation can increase firm level profits by cutting real wages and cutting the real domestic debt burden of highly leveraged entities like the state and big business, at the expense of savers and old people's pension funds.
Currency debasement and inflation are among the most effective tools devised by rulers to impoverish citizens.
A depreciating currency immediately raises the price of traded goods - imports and exports - which will eventually push up rupee prices of even non-traded substitutes, changing the overall price structure of the economy.
The IMF says inflation is expected spike to 9.5 percent in 2012.
"The headline rate of inflation is likely to rise," Nelmes said. "And of course this reflects the pass-through of the recent depreciating exchange rate and also the increase in energy prices."
"But we see core inflation remain relatively stable. But nevertheless there is a need to continue to focus on inflationary pressures and to ensure that inflationary pressures remain well controlled.
"And for that reason we see that the tightening of monetary conditions that have been put in place is fully appropriate and that monetary policy should remain tight for the near term until there is more evidence that inflation pressure are starting to ease."
Core inflation is a controversial measure devised by pro-establishment economists which has no connection to reality as energy and food is stripped out.
Energy Deceptions
Though balance of payments crises and exchange depreciation are monetary in nature and are due to state intervention in interest rates, they are often triggered by state spending. That is why IMF programs focus on the budget deficit to cut domestic borrowing pressure.
In 2012, the IMF says state spending is up, and revenues are slowing.
"Revenue collection has been under pressure, because of slowing economy and also slowing imports. At the same time government expenditure on interest have risen somewhat," Nelmes said.
"But in our discussions with the ministry (of finance) we have sensed their firm commitment to insure that the deficit targets are going to be met."
Unless rulers cut their spending, citizens will have to pay more taxes or endure higher interest rates. In the absence of higher interest rates they have to endure more currency depreciation and poverty to help rulers keep deficit spending.
In 2011 Sri Lanka ostensibly cut the budget deficit to 6.9 percent of gross domestic product from 8.0 percent a year earlier, but two state energy enterprises alone ran up losses of over one percent of GDP, funding then with bank borrowings.
In January the finance ministry gave Ceylon Petroleum Corporation, the state-run petroleum distributor, 62 billion rupees of Treasury bills or about a one percent of GDP to cover energy price manipulations - largely subsidies given to a power utility - in the previous year.
Energy price deceptions which are then financed with higher national debt or taxes on other goods are a key deceptive policy found in currency depreciating third world countries.
Sri Lanka also plays a peculiar income redistribution game by under pricing diesel and kerosene used by industry and business and overpricing and heavily taxing petrol, which is largely used by households.
The price gap between fuels was also partly corrected in February.
Intervention Threat
The lack of an effective price a formula for energy remains a key threat to Sri Lanka's economic stability and the exchange rate.
While a failure to raise rates to counter credit taken by energy utilities can eventually hit the exchange rate, credit funded losses will also increase or maintain disposable incomes of their customers and prevent a contraction in non-oil imports.
Delayed payments to oil suppliers abroad will also prevent a contraction in domestic demand helping widen a trade deficit with non-oil imports.
The current IMF program was tripped up, and the rupee fell, mostly due to energy price manipulations.
Though the program had a requirement to make both the petroleum and power utilities break-even, there was no practical mechanism, like monthly adjusted prices to balance domestic demand with the external sector.
Sri Lanka first started a monthly adjusted fuel price formula after a balance of payment crisis in 1999/2000 but it was abandoned after three years of almost zero inflation and exchange rate appreciation due to an increased urge by rulers to intervene in the economy.
It is not clear why third world rulers are prepared to reduce growth, de-stabilize economies, and make their citizens poor with currency depreciation and high inflation simply to satisfy an urge to manipulate energy prices.
The IMF says it has not discussed the issue of a price formula, and if oil prices fall it may help the energy utilities.
"We haven't discussed that issue with the authorities here," Nelmes said. "But again if I can point to an experience I have had in other countries. Automatic price adjustment in other countries sometimes can be very difficult to implement."
Sri Lanka has a six monthly formula for raising power prices by a regulator that is not independent of ruler interventions. Power tariffs for both June 2011 and January 2012 were suspended the second by a budget decision.
In recent weeks global commodity prices have eased somewhat as a credit crunch deepened in reserve currency countries, particularly the Euro area.
IMF has already initiated discussions on a new program with Sri Lanka with the last 450 million US dollar tranche to be given to Sri Lanka following a meeting of its board on July 20 after some final data is produced.
A new mission is September is expected to discuss the new program in more depth.
Sri Lanka's minister for monetary affairs Sarath Amunugama has said it may be 500 million dollar facility - IMF has a precautionary lending facility - and Nelmes says it may involve fresh funding.
http://lbo.lk/fullstory.php?nid=1168877483