Over 25,000 passengers carried in eight months with Kandy, Badulla, Trinco and Vavuniya as destinations
Ever since its launch in October 2011, Expo Rail has been on an upward drive redefining rail travel in Sri Lanka.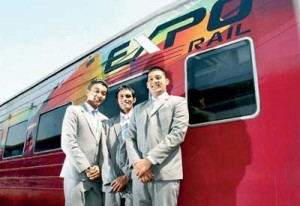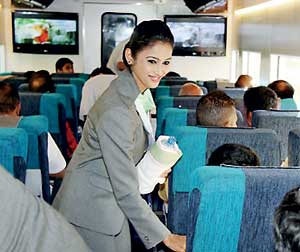 With four destinations in its portfolio – Badulla, Kandy, Trincomalee and Vavuniya – Expo Rail has, in the past eight months, transported a total of over 25,000 passengers across Sri Lanka in its luxury compartments.
Expo Rail ensures its passengers a unique travel experience, with each and every facet of the luxury train compartment designed with comfort in mind. The friendly onboard crew meets and greets every passenger welcoming them to the fully equipped state-of-the-art carriages which rank among the most up-to-date modes of rail transportation.
Luxurious reclining seats for spacious comfort and relaxation, fully air-conditioned carriages with individual power outlets per seat and free Wi-F along with wide screen LCD televisions are set up to enhance your journey with comfort and entertainment, as the meals served on board add a new dimension to service standards in rail travel. Some of the other facilities include spacious overhead compartments, 'First Aid' treatment on hand and clean Wash Rooms with a cabin crew onboard offering you a personalised service.
"As part of a special project, Expo Rail recently ran a full train to Nanu Oya and back for delegates of Dilmah who came from different nationalities and different countries. The response was very positive, truly encouraging and augurs well for luxury train travel in Sri Lanka," said Assistant Manager – Business Development and Administration Amra Zareer.
"Our staff is also fully trained and geared to cope with any emergencies on board," said Expolanka Holdings Group CEO Hanif Yusoof. "The recent derailments on the Trinco, Kandy and Badulla lines were one such example. These trains are operated by Sri Lanka Railways and therefore such eventualities are totally beyond our control. However the Expo Rail team managed to successfully organise the backup operation and transfer our passengers to and from their destinations. We did also receive the support from the respective Station Masters and staff of Sri Lanka Railways and we do thank our passengers for their patience and cooperation."
'Expo Rail', the super luxury train service by Expolanka Holdings, has indeed redefined train travel in Sri Lanka. The assurance of a first class service in all spheres is something that has been missing in the Sri Lankan holiday package and Expolanka's progress in this field is a step towards increasing the nation's potential in travel and tourism thus helping to make the country a "must visit" destination that is desired by travellers across the globe.
As a value added service to all travellers; Expo Rail has set up online bookings and information dissemination through its dedicated website www.exporail.lk and it also operates a 24×7 customer care hotline.
In this day and age when global attention is being paid to saving planet earth, the eco benefits of rail travel are most encouraging. Studies have indicated that trains are almost always less damaging to the environment than planes and cars. A train uses up to 70% less energy and causes up to 85% less air pollution when compared to a jet aircraft. Trains use 17 times less fuel to travel the same distance compared to an aircraft and five times less fuel than a car per passenger km. Thus if a party of 30 travels with Expo Rail, they will be using 30 times less fuel than if they hired six taxis.
http://www.ft.lk/2012/06/25/expo-rail-continues-to-redefine-sri-lankan-train-travel-in-style/#more-94279