June 25, 2012 (LBO) - Sri Lanka's budget has gone off track in the first quarter of 2012, with current spending far outpacing tax revenues, leaving a yawning revenue deficit for the three months that is bigger than the gap for the whole of last year.
Current spending by Sri Lanka's rulers rose 24.2 percent in the first quarter of 2012 to 334.8 rupees, above the annually expected growth of 10.1 percent, while taxes extracted from the people only rose 5.6 percent to 228.0 billion rupees.
For the full year the state hopes to extract 1,000.6 billion rupees in taxes from the people, up an ambitious 23.1 percent from a year earlier.
Tax Revenues
Last year Sri Lanka planned to increase tax revenues from the people by 19.0 percent to 861 billion rupees, but was actually able to extract an increase of only 12.2 percent, despite strong economic and import growth.
Sri Lanka is now facing a trade contraction, with slowing growth and falling imports. Import taxes are key source of revenue.
The revenue deficit or the current account deficit of the budget (the difference between total revenues and current spending) rose to 106.8 billion rupees in the first quarter, from 53 billion rupees a year earlier.
The revenue deficit in the first quarter is already 1.4 percent of the projected gross domestic product of around 7,500 billion rupees for 2012
The full year revenue deficit for last year was only 1.1 percent of GDP or 71 billion rupees. For 2012, the finance ministry was hoping to balance its current budget, a feat not achieved since 1987.
The finance ministry has pushed up capital spending by 39.9 percent to 104.4 billion rupees in the first quarter, expanding the overall deficit to 211.2 billion rupees including grants or 2.81 percent of GDP. Grants were a negligible 500 million rupees.
Capital spending is largely foreign financed. There has been a trend toward contractor financing with Treasury guarantees which may be putting further pressure on the banking system.
This year Sri Lanka was planning an overall budget deficit of 468 billion rupees or 6.2 percent of GDP. But in the first quarter itself the deficit has risen to around 2.8 percent of projected economic output.
Sri Lanka has cut its real growth forecast from around 8.0 to 7.2 percent, while the International Monetary Fund is forecasting 6.75 percent.
Private Austerity
If spending is not cut, or more taxes are not extracted from the people to cover spending by rulers, Sri Lanka is heading for a budget gap of 11.2 percent of GDP. The finance ministry has already raised some taxes on alcohol, tobacco and milk powder.
Taxes on vehicles have also been raised. There have been concerns that in the case of automobiles prohibitive taxes may reduce total revenues.
The International Monetary Fund has said there was a firm commitment by the finance ministry to narrow the deficit during the rest of the year.
Treasury Secretary P B Jayasundera has also said the finance ministry was still targeting a budget gap of 6.2 percent of GDP would
Steep increases in state credit from the middle of last year especially to finance energy price manipulations, and money printed by the Central Bank to manipulate interest rates has already weakened Sri Lanka's currency peg from 110 to around 132 to the US dollar.
With a depreciated currency, inflation is already picking up, though private credit is slowing.
While spending cuts, recruitment freezes imposes 'state austerity,' currency depreciation inflation and higher taxes imposes 'private austerity' on the people who will be for forced to part with more of their money to the state and face dwindling real values of lifetime savings.
Inflation can still keep nominal GDP growth as well nominal revenues high. This allows the state the 'inflate away' its debt with private citizen's austerity.
Debt Track
Sri Lanka's debt stock, which is another proxy for the deficit grew by 571 billion rupees in the first quarter of 2012, more than the annual targeted deficit of 468 billion rupees and last year's debt increase of 543 billion rupees.
The increase may partly reflect currency depreciation. In the first quarter the government also injected Treasury bonds in to Ceylon Petroleum Corporation to cover energy price manipulations. It is not clear to which year's deficit such costs are finally allocated.
Up to March 2012, the central government has borrowed 162.9 billion rupees from the banking system including central bank credit (printed money). State enterprises borrowed a further 48.6 billion rupees, which is not captured in the budget.
By end April, central bank borrowings from the government rose to 194.9 billion rupees. When state enterprise loans were added up the total went to 253 billion rupees.
Private sector credit has to be 'crowded out' further if state spending is not reigned in. On the positive side, oil prices have started to ease.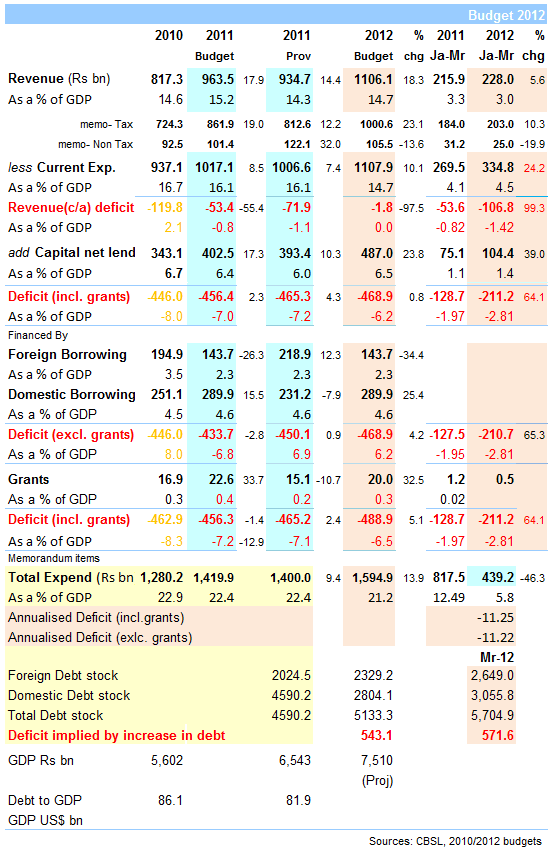 http://lbo.lk/fullstory.php?nid=1529960921