Written by Lanka Securities Research
Standard & Poor created an Index for the Colombo Stock Exchange which saw the index end the week 6 points higher. Foreign activity continued to stand at low levels throughout the week but saw a net inflow of Rs. 437 million for the week. Retail investors and state funds were relatively silent throughout the week. Trading for the week commenced with transfers between Distilleries and one of its subsidiary company's (Melstacorp) taking place. Overall turnover shot up to Rs. 1.5 billion. Both indices saw a drop with retailers staying on the sidelines.
Foreign participation remained at lower levels with foreigners being net sellers for the day. Tuesday's turnover was the highest in three months although retail investors continued to remain on the sidelines and both indices closing in the red. Approximately 16.5% of Aitken Spence changed hands between Distilleries companies contributing Rs. 7 billion to turnover. Other notable contributors to turnover were Lion Breweries, Softlogic Holdings and John Keells Holdings. Market on Wednesday recovered early losses to end with mixed sentiments. John Keells Holdings continued draw in activity to post a turnover of Rs. 685 million. Activity from other counters remained subdued.
PC House Holdings debuted on Thursday with the counter edging up by 40%. A in stake Eden Hotel changed hands between friendly parties. The composition of the MPI was changed with several well established companies being removed to make way for companies whose shares trade more actively. Today's turnover was a modest Rs. 218 million with both indices closing on opposing directions. The ASI gained 9.86 points (0.20%) to close at 4,965.77 whilst the MPI lost 2.61 points (0.06%) to close at 4,383.20. The top contributors to turnover were Seylan Bank non-voting with Rs. 34 million, National Development Bank with Rs. 23.50 million and Colombo Dockyard with Rs. 13.5 million. Citrus Leisure warrant 19 lost Rs 0.70 to close at Rs. 5.90, United Motors closed at its lowest price in a year at Rs. 65 and Industrial Asphalts lost Rs. 40 to close at Rs. 320. Top gainers for the day were Sathosa Motors, Convenience Foods and Free Lanka Capital Holdings. Activity was dominated by Seylan Bank non-voting, Citrus Leisure warrant 19 and Nawaloka Hospitals.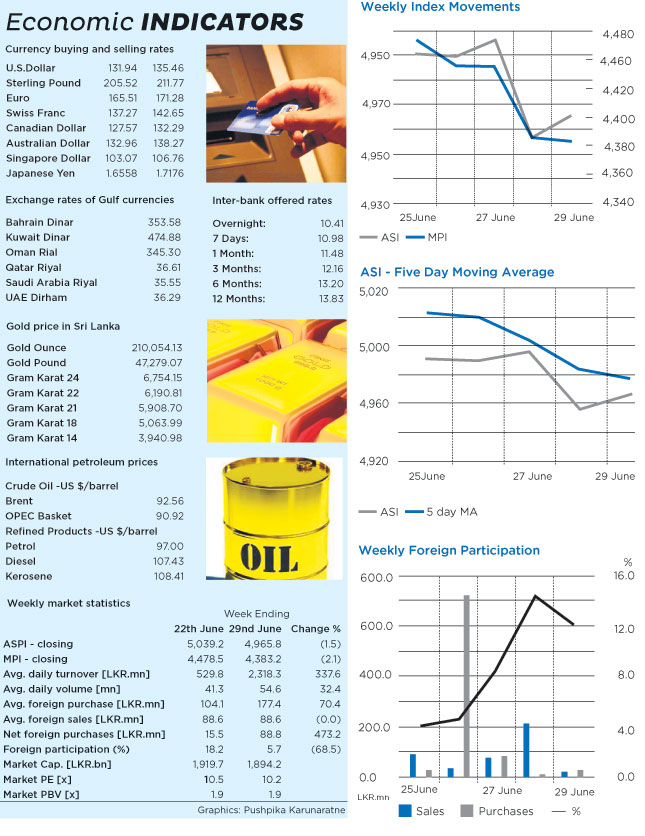 http://www.nation.lk/edition/business/item/7677-weekly-market-focus.html