* Gaining effective control in Browns and Moody's linked unit's A- rating are positive developments say analysts

* Further improvements likely as LOLC progresses towards diversified holding company milestone
LOLC last week effected what could be estimated as Rs. 7 billion mark topping acquisition since January 2010 as part of properly repositioning it as a diversified holding company.
On Friday, the Company said it has signed an agreement to get controlling interest in diversified blue chip Brown and Company Plc for Rs. 1.32 billion.
LOLC will get control of Browns by owning 100% from previously 50% in Diriya Investments, which holds 49.8% in Browns via stakes held by four entities (Engineering Services Ltd., – 23.41%, Mason's Mixture,
Mutugala Estates Ltd. and Pathregalla Estates) all of which comes under the Taprobane Fund. Prior to Friday's deal, LOLC directly held 4.8% stake and with the latest move it will control nearly 55% stake.
LOLC advanced Rs. 600 million initially for the deal with balance to be paid over a one year period. Diriya's 50% stake was sold by Browns Deputy Chairman Ajith Devasurendra.
As per Daily FT's analysis with the latest move, LOLC Group is estimated to have spent Rs. 7.4 billion in various acquisitions since January 2010 spanning leisure, entertainment, power and others. However it also booked divestments worth around Rs. 10 billion during this period including 10% stakes in subsidiaries Orix Finance (Rs. 3.8 billion) and Commercial Leasing (Rs. 4.1 billion) in FY12. LOLC's acquisition spree has seen its asset base swell to Rs. 146 billion in FY12 from Rs. 33 billion in FY08 after the pioneering leasing firm's control was acquired by young Deputy Chairman Ishara Nanayakkara in early 2000 and entry of ex-Citibank Country CEO Kapila Jayawardena as Group MD/CEO from mid-2007.
Orix Corporation of Japan owns 30% stake in LOLC. Equally long term borrowings had swelled from Rs. 12 billion to over Rs. 60 billion over the four years.
Browns was treated as a subsidiary even before Friday's move but clear control will enable LOLC to consolidate the former iconic engineering firm in a greater way from now onwards.
In FY12, net profit attributable to equity holders of Browns was Rs. 1.168 billion, down by 47% over the previous year. Group post-tax profit was down by 7% to Rs. 3.05 billion whilst gross profit improved by 6% to Rs. 3.4 billion and turnover by 20% to Rs. 14.5 billion.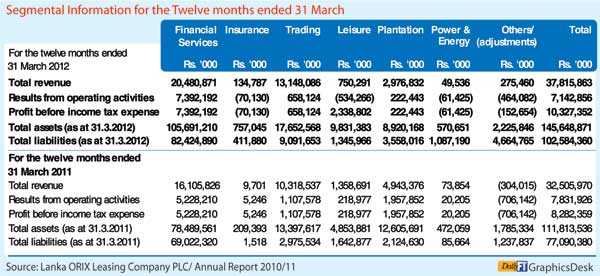 Diriya Investments number of shares in issue is 216 million and the price paid for 50% stake (108 million shares) works out to Rs. 12 per share. In that context, LOLC got effective control of Browns at a fraction of latter's Net Asset Value which was Rs. 113 (company) and Rs. 205 (Group) as at end FY2012. The announcement was made after the market was closed and Browns ended on Friday up Rs. 3 to 108.
"This strategic acquisition will create a strong platform for the LOLC Group to maximise the potential for growth with the strong synergies available in the two groups of companies and function as an even stronger conglomerate," LOLC said in a statement.
Analysts also described the move as positive for LOLC which has been busy restructuring its operations as part of its transition to become a diversified holding company.
Its core business leasing and factoring is done via Commercial Leasing, finance via Orix Finance, and micro finance lending via another subsidiary LOMC (LOLC Micro Credit Ltd)
At the end of March 2012, financial services contributed 72% of the operating profits of the Group and leisure contributed 23%, while interests in trading, plantations and insurance contributed the rest.
During the year ended March 2012, LOLC group reported net profit of Rs. 8.9 billion on a gross income of Rs. 37.8 billion compared to net profit of Rs. 7.0 billion on a total income of Rs. 32.5 billion in the corresponding period of the previous fiscal. During fiscal 2012, LOLC's profitability was supported by investment gains of Rs. 5.2 billion and had suffered an operational loss of Rs. 777 million.
Moody's-linked unit ICRA Sri Lanka last week announced A- rating for LOLC with outlook stable. This is also likely to reinforce confidence on LOLC which last year suffered a downgrade from Fitch. Differences of opinion saw LOLC dropping Fitch and opting for Moody's unit to get a fresh or proper assessment.
According to ICRA, as on March 31, 2012, 74% of LOLC's Rs. 15.6 billion investment book was into subsidiaries and other group companies while the treasury investments book portfolio stood at Rs. 4.1 billion.
Over the past two years, LOLC has invested Rs. 2.1 billion in leisure ventures and Rs. 200 million in a start-up general insurance venture. The company also recapitalised its financial services subsidiaries through an infusion of Rs. 2.3 billion. Over the medium term, the holding company does not expect any significant equity infusion into any of its subsidiaries.
It also said the asset quality of LOLC Group's lending portfolio (Rs. 40 billion as at end FY12) has been better than that of its peers though marginally affected in the current financial year reducing to 1.8% as on March 31, 2012 from 1.6% as on March 31, 2011.
Given the significant operational and financial linkages with the subsidiaries (especially pertaining to financial services), ICRA took a consolidated rating view of the HoldCo and the key asset financing subsidiaries. It said the view is corroborated by the service level agreements between LOLC and its subsidiaries to upstream cash flows.
"LOLC's standalone earnings would mainly comprise of shared services fees and dividends from subsidiaries and investment gains. ICRA has also taken note of the management's commitment to de-leverage the HoldCo from the current gearing of 2x as on March 2012 to 1.2x by March 2013 by reducing intra-group exposures and the run-down of its lending book," ICRA said adding maintaining stable cash flows and a deleveraging of the HoldCo would remain key sensitivities.
The trading giant Brown and Company, which has been in operation for 135 years, is a diversified conglomerate with operations in several key industry sectors including investments, plantation and agriculture, power generation, marine and manufacturing, home and office solutions, environment and pharma as well as travel and leisure.
The Browns Group holds several leading local and global brands, including Exide Batteries, Tafe, Sifang, Massey Ferguson, Austrian Airlines, BG, Continental Airlines, Eclipse, Intervet, Oce, Olympus, Sharp, Eukanuba, Zagro, Yanmar Marine Engines, Ashok Leyland Marine, Pitney Bowes, Scandinavian Airlines, Makita, Maktec, F.G. Wilson, Yamasha, Daelim Royal Boiler Co and MFG.
http://www.ft.lk/2012/07/16/lolc-group-buys-top-rs-7-b-in-two-and-half-years/