The outcome of today's meeting between President Mahinda Rajapaksa and capital market stakeholders is not necessarily to have an impact on a few individuals but half a million people, which is equivalent to 10% of the families in the country as per some analysts.
As at end June, there were 506,471 local individuals' accounts within the CDS and this figure is excluding number of multiple registrations sought by the same client through different participants). In comparison to 2004's figure of 290,340, the individual investor base has almost doubled in six and half years. Within this base is a large number of small investors, which understandably is of concern to both regulators and brokers alike. Interestingly the gender balance (female:male) ratio was in favour of women on the basis of 58:42 in 2010 though it has reversed to 45:55 last year.
The number of local companies investing in the market too has also doubled from 3,720 in 2004 to 7,615. The base of foreign individuals too has doubled from 2,044 to 4,017 by end June whilst foreign companies numbered 4,213, up from 3,047, rounding up the total operational CDS accounts to 685,728.
Experts have pointed out that though the investor base has crossed the half a million mark, the number of active investors are not high whilst some hadn't traded for years.
The Colombo Stock Brokers Association has maintained that the CSE and SEC should work closely with the broking industry to make the market popular among the masses given the Government's efforts to steer the economy to double digit growth and doubling of per capita income harnessing the unprecedented opportunity following the end of the war three years ago.
After two bull runs in 2009 and 2010 rocketing Colombo as world's best performing market, CSE dipped by 8.5% last year and so far by 20% in 2012, evoking mixed emotions and reactions as to the merits and demerits as well as the causes for the current state of affairs of capital market.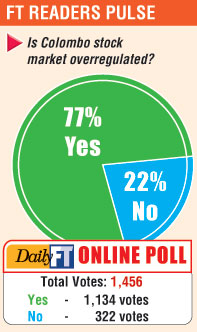 There is consensus that an inclusive and a united approach by all stakeholders is key to make capital market vibrant on a sustainable basis devoid of extreme actions both on the part of some investors and regulators.
http://www.ft.lk/2012/07/20/investor-base-doubled-since-2004-much-at-stake-for-individuals/