Written by The Nation
Results season is upon us! This seems to be the tagline for the next few weeks as investors prepare to pick up undervalued counters. Market sentiment improved significantly during the latter part of the week with John Keells Holdings posting a 34% rise in profits. Market sentiment is expected to improve with investors looking for bargains as most corporate are expected to post reasonable results in the coming weeks.
Market opened on Monday on a negative note. The meeting between industry officials and The President concluded on Friday with little or no impact seen in the market. The final tranche of the stand-by facility by the IMF was also received on Friday. However, the government seeking further financial assistance from the IMF seems worrying. Foreign participation improved on this day with foreigners being net buyers of Rs. 178 million. Tuesday's proceedings were similar to that of the preceding day as both indices dipped marginally with selling pressure on selected blue-chips being seen. Turnover improved to Rs. 520 million with parcels in Commercial Bank non-voting and Dankotuwa Porcelain changing hands. Foreign participation improved further on this day and net foreign buying rose to Rs. 251 million.
Wednesday saw a turnaround in the fortunes as both indices gained marginally with retail activity picking up led by Odel. Selected blue-chips continued to show selling pressure whilst foreign participation and net buying dropped on this day. Yields on all three maturities of treasury bills marginally dropped helped by increased liquidity in the markets upon the issue of a sovereign bond and the IMF stand-by facility.
Market dipped marginally on Thursday although a late surge in selected counters failed prop up the indices. Odel made an announcement that its founding owners are divesting their shareholding and thereafter going for a rights issue to begin a new stage in their quest for expansion. The price of Odel rose 7% on this day.
Foreign participation was minimal on this day.
Market today (Friday) rose on the back of improved performance posted by John Keells Holdings upon releasing their quarterly report. Aviva NDB Insurance followed by National Development Bank and NDB Capital Holdings (CDIC) gained significantly today sparking speculation that a change in ownership is expected to take place soon. Most counters saw a small rally in the latter part of trading as investors expect a solid performance from the rest of the corporates. ASI was up 56.90 points (1.17%) to close at 4,933.09, MPI gained 75.28 points (1.76%) to close at 4,354.56 and the S&P index gained 26.91 points (0.98%) to close at 2,782.50. Turnover was Rs. 425.7 million. Most active counters for the day were Odel, HVA Foods and Free Lanka Capital Holdings. Top contributors to turnover were John Keells Holdings with Rs. 56 million, Colombo Land and Development with Rs. 25.6 million and Odel with Rs. 22 million. Notable gainers for the day were Aviva NDB Insurance up by 56% to close at Rs. 270, NDB Capital Holdings up by 20% to close at Rs. 300 and Merchant Bank of Sri Lanka up by 14% to close at Rs. 24.50. Meanwhile notable losers were Odel down by 13.6% to close at Rs. 22.30, Citrus Waskaduwa down by 9.5% to close at Rs. 7.60 and Abans down by 7.8% to close at Rs. 95. Foreign participation was 16% and net foreign buying was Rs. 70 million on Friday.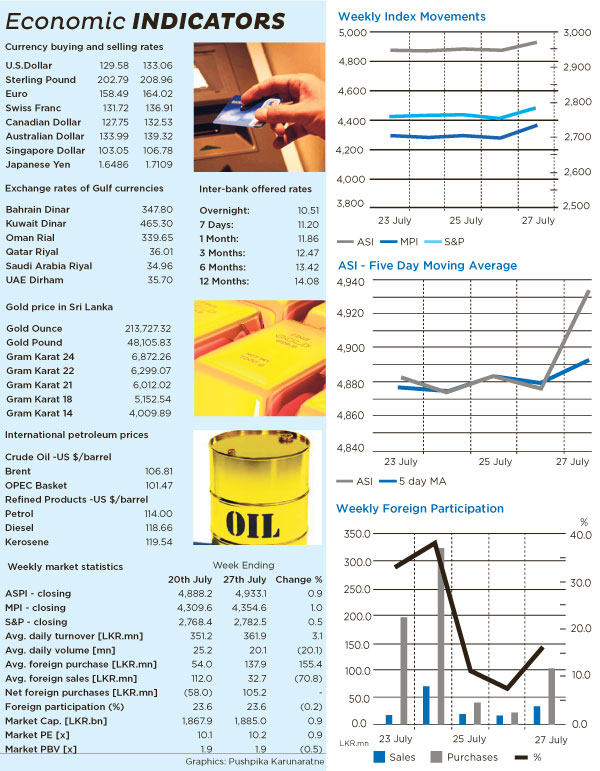 http://www.nation.lk/edition/business/item/8706-weekly-market-focus.html