By The Nation
Foreign participation was high this week with a deal on Odel and plenty of private deals on John Keells Holdings taking place. The market saw mixed sentiments throughout the week. Most companies showed improved results so far and made the valuations further attractive.
Market opened on Monday on a positive note with both indices recording slight gains. Turnover was a modest Rs. 288.2 Mn. Turnover was driven by blue-chip John Keells Holdings and Dialog Axiata. Speculation on AvivaNDB Insuarce, NDB Capital Holdings and National Development Bank continued on Monday. Foreign participation was low on Monday whilst Ceylon Tobacco Company announced a Rs. 12.50 dividend.
Mixed sentiments prevailed on Tuesday with the much hyped private transaction on Odel taking place which helped to boost turnover to Rs. 1.9Bn. Few parcels on John Keells Holdings also changed hands whilst retail activity was very evident in the morning. The share price of United Motors rose after releasing exceptionally good results. The yield on the 6 month Treasury bill rose marginally whilst the other two maturing bills were unchanged. Foreign participation rose to 51% helped by the transaction on Odel.
Turnover was Rs. 754Mn helped mainly by the deals on John Keells Holdings. The market lost steam towards the latter of trading but still posted notable gains at the end of trading. Foreign participation was still higher on Wednesday with substantial net foreign buying.
Market opened on a negative note today (Friday) as Carson Cumberbatch and related company Bukit Dara made an announcement that its profits have dipped significantly. Both counters closed 3% and 4% lower respectively on low volumes. An announcement was made by Shaw Wallace that it sold a prime property in Colombo for Rs. 1.8Bn to a foreign party. The share price rose by around Rs. 20.
ASI dropped 28.58 points (0.58%) to close at 4,931.47, MPI lost 14.94 points (0.34%) to close at 4,380.75 and the S&P index lost 25.41 points (0.91%) to close at 2,766.27. Turnover was Rs. 308.1Mn.
Top contributors to turnover were John Keells Holdings with Rs. 62.7Mn, Commercial Bank of Ceylon with Rs. 52Mn and Ceylon Tobacco Company with Rs. 29.3Mn. Most active counters for the day were MTD Walkers, Shaw Wallace and Guardian Capital Partners.
Notable gainers for the day were Lakehouse Printers up by 10% to close at Rs. 93.10, Shaw Wallace up by 8.76% to close at Rs. 298 and Laufgs Gas up by 6% to close at Rs. 22. Meanwhile, notable losers were MTD Walkers down by 7% to close at Rs. 26.10, East West down by 4.76% to close at Rs. 14 and Bukit Dara down by 4% to close at Rs. 715.
Foreign participation stood at 17.9% of total market turnover whilst net foreign purchases were Rs. 105.4mn.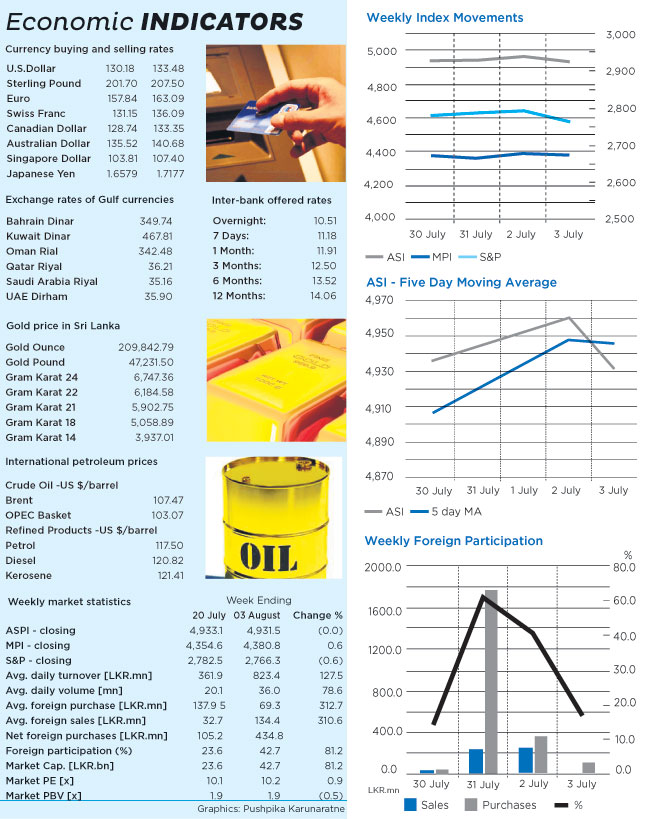 http://www.nation.lk/edition/business/item/8951-weekly-market-focus.html