By The Nation
Foreign participation was at very high levels throughout the week buoyed by interest on John Keells Holdings. Retail investor sentiment remained weak with interest rates seen rising and household debt levels remaining at high levels. Retail activity was seen on selected counters although the overall sentiment was subdued. The market remains at very attractive prices as the overall market price earnings ratio was around 9.8X as at end of trading on Friday (today). The Sri Lankan equity market stands as one of the cheapest in the region which justifies the significant buying interest from foreign funds.
Market opened trading on Monday with premier blue-chip John Keells Holdings leading the way attracting plenty of foreign interest. Indices were marginally lower on this day with a modest turnover of Rs. 353.8m. Foreign participation was at 52% mainly attributable to the buying interest on John Keells Holdings. Activity on all other counters were dismal John Keells Holdings contributed 60% of total market turnover.
Market continued to slide on Tuesday although plenty of buying interest was seen on Ceylon Tobacco Company which is now the second most valuable listed entity. John Keells Holdings continued to attract foreign interest at the Rs. 185 mark. Retail buying interest was seen on the companies related to Renuka Holdings. Foreign participation remained high on this day as well. Meanwhile, the Central Bank left policy rates unchanged in a bid to cool inflationary pressures which have arrived as a result of the prevailing drought.
Turnover levels dropped on Wednesday as activity on John Keells Holdings which was seen in the prior two days were not seen on this day. Blue-chip Bukit Darah dipped on this day on thin volumes. Foreign participation also dropped today although they still remained net buyers. Meanwhile, yields of all three maturing Treasury bills edged higher on this day's auction.
Mixed sentiments prevailed on Thursday with companies related to the Renuka Holdings group continued to gain investor attention. John Keells Holdings and Sampath Bank brought in the highest contribution to turnover with several private deals taking place. Foreign participation rose again on this day helped by activity on John Keells Holdings.
Market opened on Friday on a positive note and managed to end marginally higher as well. Activity dropped today with only one crossing taking place. Activity on John Keells Holdings was low although Sampath Bank saw buying interest at Rs. 160 levels.
ASI gained 2.34 points (0.05%) to close at 4,854.22 , MPI gained 16.43 points (0.38%) to close at 4,370.88 and he S&P index lost 5.08 points (0.19%) to close at 2,734.21. Turnover was Rs. 168.8m.
Most active counters for the day were Swarnamahal Financial Services, Free Lanka Capital Holdings and Coco Lanka. Highest contributors to turnover were Pan Asia Banking Corporation with Rs. 13.1m, E-Channeling with Rs. 10.1m followed by Commercial Bank with Rs. 8.7m.
Notable gainers for the day were PCH Holdings up by 13.2% to close at Rs. 10.30, Swarnamahal Financial Services up by 7.1% to close at Rs. 6.00 and Lanka Hospitals up by 5.0% to close at Rs. 31.50. Notable losers for the day were Free Lanka Capital Holdings down by 4.8% to close at Rs. 2.00, Ceylon Foreign Trades down by 3.9% to close at Rs. 4.90 and Ceylon Guardian Investments down by 2.5% to close at Rs. 146.00.Foreign participation was 9.4% of total market turnover and net foreign buying was Rs. 26.8m.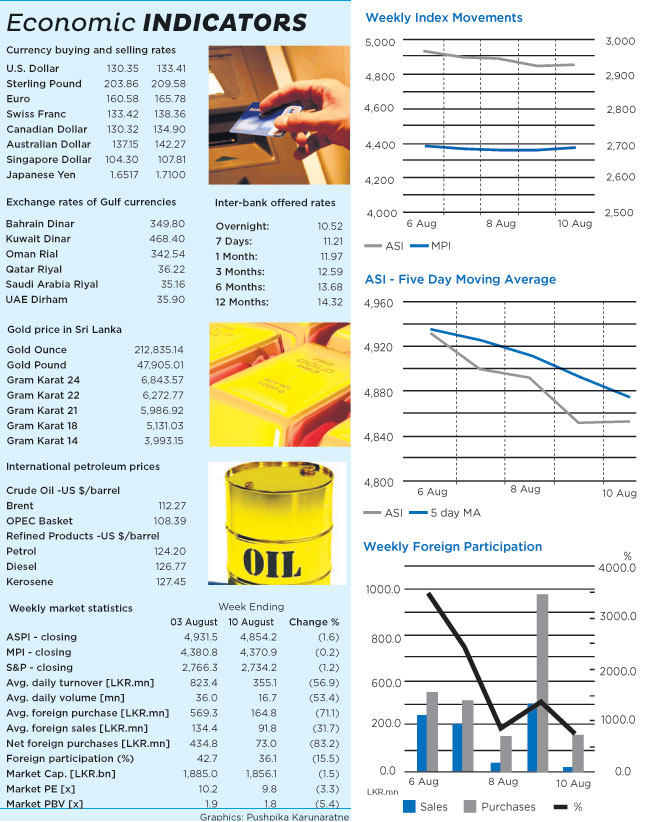 http://www.nation.lk/edition/business/item/9178-weekly-market-focus.html