The Colombo Bourse's most commendable achievement this year has been the fact that foreign investor confidence is growing, despite scepticism by locals over various issues within and outside the market.
So far this year, the net foreign inflow of Rs. 27 billion is encouraging in the context that in 2011 the outflow was Rs. 19 billion whilst in 2010 it was a record Rs. 26.3 billion.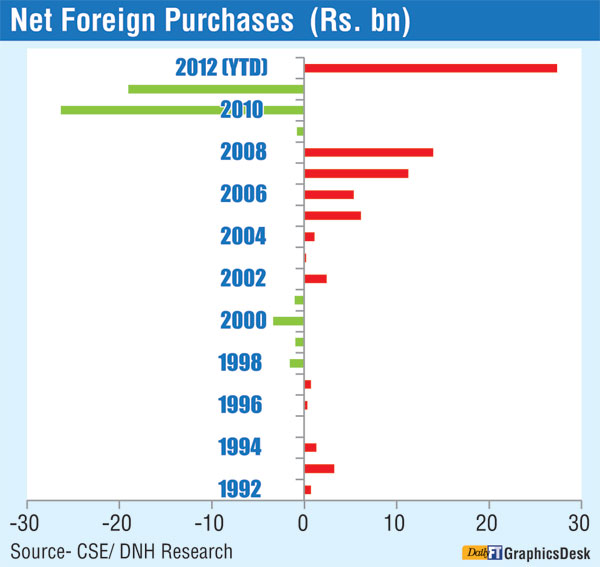 Most analysts expect foreign interests to remain buoyant despite a few speculating pullout by some funds.
Even if that were to take place, in recent months there have been several new foreign funds active in the market, picking up opportunities.
One notable entity is Swiss private bank Julius Baer, which announced last week its plans to buy Bank of America Merrill Lynch's overseas wealth-management business for up to $ 882 million, getting a huge boost in Asian growth markets.
In deed the record net inflow has been a stubborn fact that has blinded both local investor community and regulators as well.
Though this is largely on fundamentally-sound blue chips and a small fraction of the larger global pool of equity investments, the fact remains that foreigners see greater upside in investing in listed companies in post-war Sri Lanka.
Given the active play by foreigners, at least three brokers found it important to discuss it in its weekly reports. Asia Wealth Management described the net foreign inflow the sole relief and questioned why foreign investors were accumulating fundamental stocks.
"Are they reaping the benefits of prevailing attractive valuations, where the trailing market PE is at 11.38x and PBV at 1.84x? So the question arises, haven't foreign investors lost confidence over the CSE?" Asia Wealth asked.
Softlogic Stockbrokers said the Colombo Bourse, trading at a trailing PER of 10.8X, was now titled as an attractive investment destination amongst foreigners as they were now seen seeking their specific favourite stocks.
DNH Financial said net foreign buying had positively surprised the market. It said encouraged by a weaker Sri Lanka Rupee and healthy corporate results in select blue chip stocks, foreign portfolio investors appeared to be cherry picking fundamentally strong value and growth stocks that were likely to outperform on a consistent basis with relatively lower earnings and price volatility.
"Taking into consideration the medium to longer term investment horizon of FIIs, we believe that foreign buying in domestic equities will accelerate this year but on a highly selective basis encouraged by a weak rupee and positive growth prospects for the Bourse," DNH said.
Last week net foreign buying grew by 124.5% to Rs. 819 million over the previous week, according to Acuity Stockbrokers. It said total foreign purchases amounted to Rs. 1.15 billion compared to the previous week's Rs. 823.81 million while total foreign sales declined 28.79% w-o-w to Rs. 326.83 million.
Acuity said JKH and Pan Asia led foreign purchases in terms of volume, while Panasian Power and Dialog Axiata led the foreign sales. In terms of value, JKH and Commercial Bank led foreign purchases, while Panasian Power and Dialog Axiata led foreign sales.
http://www.ft.lk/2012/08/20/foreign-investors-in-colombo-bourse-grow-in-confidence/