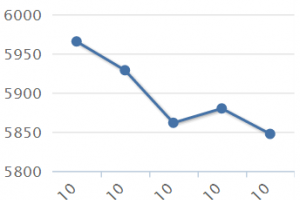 Oct 08, 2012 (LBT) - The investor sentiment seemed to have reversed with the bourse extending losses. The benchmark index stayed in the red throughout the day amidst a small recovery towards the final hour of trading. The top bluechips John Keells Holdings (-2.7%) and Ceylon Tobacco (-1.7%) led the decline of the bourse. The more liquid Milanka suffered a steeper fall following the decline of the top bluechips as the index lost 101 points. The S&P SL20 also dipped 16 points. Despite the decline in all 3 indices it is interesting to note that the turnover is continuing to be led by the bluechip counters. Foreigners, institutions and high net worth investors have continued in the accumulation mode which is suggested by the crossings and the large deals that take place on board. We at Softlogic Equity Research continue to be positive on the market and advise our investors to accumulate counters in our recommendation list. In addition to the banking, we are more biased towards our new picks in the finance and hotel sector.
Access Engineering emerged as the top performer supported by 2 crossings accounting for 4mn shares changing hands at LKR22.0. A large on board transaction of 750k shares followed the crossing taking place at the same price. The counter which is heavily exposed to the construction industry still trades below its IPO price of LKR25.0. Further crossings were recorded in bluechips, Distilleries and Commercial Bank. The former registered a 500k crossing dealt at LKR 160.0 as the counter closed at LKR156.2 with a negligible number of on-board transactions. The latter saw 180k shares being crossed off at LKR113.3. The counter saw a marginal decline during the day to close at LKR112.0 (-1.0%). Despite closing in negative territory Investor interest was also visible in the bluechips AHOT Properties (-0.9%), LOLC (-0.7%), National Development Bank (-1.6%) and HNB [Non-Voting] (-0.3%).
European Stocks Retreat Most This Month: European stocks dropped the most this month as the World Bank cut its East Asian growth forecast and euro-area finance ministers meet to discuss the region's debt crisis. The Stoxx Europe 600 Index (SXXP) lost 0.8% to 271.87 at 10 a.m. in London, the largest decline since Sept. 28. Oil Declines a Second Day as Europe Ministers Meet Amid Slowdown: Crude fell for a second day in New York before a meeting of European officials amid speculation the region's debt crisis and an economic slowdown in Asia will curb fuel demand. Crude for November delivery dropped as much as USD1.61 to USD88.27 a barrel in electronic trading on the New York Mercantile Exchange and was at USD88.80 at 10:15 a.m. London time.
http://lbt.lk/stock-market/movement/2762-lbt--market-monday