Harry J turns nostalgic at launch of Melsta Regal Finance, his latest venture in a working career marking 50 years
By Nisthar Cassim
Business tycoon Harry Jayawardena yesterday turned nostalgic whilst sending a very inspiring message at the launch of his latest venture, Melsta Regal Finance Ltd., where he recalled the origins of his working career as a tea boy in a British-owned firm in Colombo.
What took him down memory lane was the location of the head office of the new finance company – the land connecting Park Street and Braybrook Place in Colombo 2.
Jayawardena said the location and the launch of a new company was "unique" because his first employment was in a British-owned tea firm in the same premises 50 years ago where he started as a tea boy.
"On the first day I was asked to wash cups and pots. The British Manager asked me whether I was unhappy doing that. I said no problem even though I didn't wash cups and pots at home. Looking back today, I am glad I was put through that test, which inspired me to learn, work hard, be successful, and contribute to the country," said Jayawardena, who is considered one of the most passionate, respected, and biggest Sri Lankan investors with a host of companies under his control, including Aitken Spence, Distilleries Company, Lanka Milk Foods – all listed – and Stassen Exports and Lanka Bell, in addition to stakes in a host of other companies.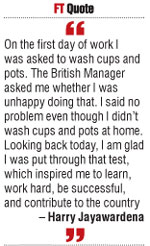 Speaking further at the opening, at which Central Bank Governor Nivard Cabraal was the Chief Guest, Jayawardena said that following the end of the war, an unprecedented number of opportunities were unfolding, which Sri Lankans must seize. "We are enjoying the fruits of peace and there are so many new opportunities. We must seize these opportunities; like in T20 cricket, we need to get hold of catches to win and not ignore or drop them. Opportunities must be seized by locals who are born and bred and will die and be buried in Sri Lanka," Jayawardena emphasised.
However, he assured that his call for more Sri Lankan entrepreneurship didn't mean he was against Foreign Direct Investment.
"We need Foreign Direct Investment, technology, and expertise. FDIs are a must and no country can grow without it. However, for FDIs to thrive, we need a good base of local companies to forge partnerships," Jayawardena said.
Emphasising that the newly-set up finance company is backed by a strong parent – Distilleries and Melstacorp – Jayawardena said FDIs and foreign investors will partner only if Lankan companies have strong balance sheet and management.
He also called for greater facilitation and proper nurturing of local entrepreneurship rather than being hindered. "Such local entrepreneurs who are supported and successful must do what is right for the country," Jayawardena pointed out.
Endorsing the tycoon's sentiments, Central Bank Chief Cabraal also said it was important for the private sector to not "drop" the emerging opportunities following the end of the war. Noting that the Government didn't want Sri Lanka to remain as an emerging or developing nation, he said the country had been put on a forward march towards building a $ 100 billion economy (from around $ 56 billion at present), which is "certain" with the proper planning.
"With a positive era unfolding, there is an enabling environment for greater entrepreneurship and for the private sector to grow by harnessing new opportunities," Cabraal emphasised.
Melstacorp Managing Director and Melsta Regal Finance Chairman, veteran banker Amitha Gooneratne, said the Group was entering what appeared to be a saturated industry with 52 other finance companies, but assured the new venture would differentiate as well as provide the full gamut of financial services, meeting the needs of the entire nation.
"We have the backing of a strong parent to generate the confidence the public is looking for. We will differentiate from the rest and offer quality, effective, and affordable solutions," said Gooneratne, who served the Commercial Bank for 29 years, including 15 years as CEO and Managing Director.
Melsta Regal Finance Ltd. has been strengthened by senior specialists who served banks previously as well as high potential young talent.
http://www.ft.lk/2012/10/19/tea-boy-to-tycoon/