The secondary market for Treasury bills and bonds was rather stagnant yesterday, with limited activity on the three-year maturity, where yields dipped to an intraday low of 12.45%.
Similarly there was some trading of both the five-year and six-year bonds at levels of 12.40% and 12.95% respectively, according to Wealth Trust Securities.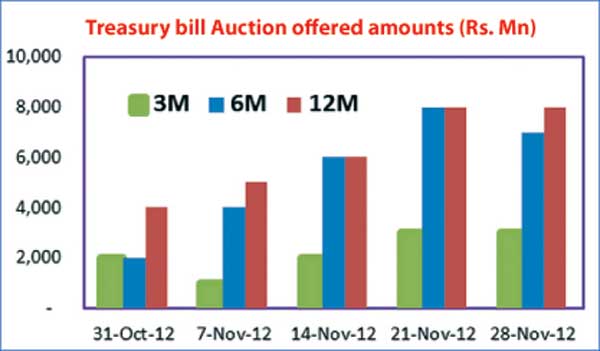 "On the contrary, the Treasury bill secondary market witnessed selling pressure with all three maturities offered at their respective weighted averages," it added.
Wealth Trust also said Treasury bill primary auction will have on offer a total amount of Rs. 18 b, consisting of Rs. 3 b of 91-day bills, Rs. 7 b of 182-day bills and a further Rs. 8 b of the 364-day bills. The weighted averages of the 91-day, 182-day and 364-day bills at last week's auction picked up by seven basis points, two basis points and eight basis points respectively.Wealth Trust said the overnight call money and repo rates continued to remain steady to average 10.57% and 9.65% respectively, despite market liquidity reversing to a net deficit of Rs. 2.08 b.
In order to meet this shortfall, the OMO department infused an amount of Rs. 2.3 b on an overnight basis at a weighted average of 9.72%.
The rupee meanwhile continued to remain stable at levels of Rs. 130.10 to Rs. 130.15 as volumes traded were rather moderate. The total USD/LKR volume for the previous day stood at US$ 38.40 million. Given are some forward dollar rates that prevailed in the market: one month – 131.28; three months – 133.85; and six months – 137.
http://www.ft.lk/2012/11/27/debt-market-stagnant-ahead-of-weekly-bill-auction/