Dec 07, 2012 (LBO) - World Bank group's Multilateral Investment Guarantee Agency, which provides political risk cover for foreign investors, said expropriation risks are rising in developing countries, with Argentina, Bolivia and Sri Lanka coming into prominence in the recent past.
"Expropriation—which was an important threat to foreign investors in the developing world a few decades ago, but had since abated—is becoming more prevalent," MIGA said in a new report released today.
"Several new direct expropriations occurred in 2011-2012, notably YPF S.A. in Argentina partly owned by Repsol YMP S.A. (Spain) and Transportadora de Electricidad, a power transmission company in Bolivia owned by Red Electrica Española (Spain), and some local companies in Sri Lanka."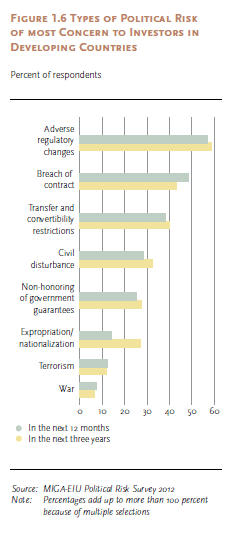 A survey by MIGA found that more investors were worried about the expropriation - violation of private property rights by the state through nationalization - than war or terrorism.
Adverse regulatory changes were what investors most feared in developing countries, followed by breach of contract, transfer and convertibility restrictions (exchange controls), civil disturbance, non-honoring of government contracts, expropriation, terrorism and war.
The report said that in some cases expropriation was linked to with sovereign default, which was also an emerging worry especially after the developments in Europe. In the past here has been an uptick in expropriations during the Great Depression.
"The determinants of sovereign default and expropriation differ," the report said.
"While political regimes marked by poor governance and under the control of political parties conventionally described as "left-wing" explain a higher likelihood of expropriations, transitory economic shocks and debt burdens tend to better predict sovereign default."
Countries that expropriated private property tended to be repeat offenders.
"Expropriation is more likely to happen multiple times in countries that have expropriated private assets in the past, whereas sovereign default is a less persistent event," the report noted.
Most of them were clustered in Africa, South America and the Caribbean.
"Following the wave of expropriations during the 1970s, a shift to sovereign debt as a source of financing for developing countries culminated in sovereign defaults of the 1980s," the report said.
"Subsequently, as countries that defaulted lost access to international capital markets, FDI became the major form of foreign capital into developing countries.
"In recent years, developing countries have relied more on FDI and portfolio equity than on sovereign debt, which suggests that the "prize" for expropriating private assets is now larger."
Though foreign investors identified political risks as the most significant constraint over the medium terms, investors are optimistic about investing in developing countries.
Foreign investments into developing countries which recovered from sharp drop after a global financial crisis, rose to 640 billion US dollars in 2011 and is estimated to have eased to 600 billion in 2012. But in 2013 flows are expected to increase to 700 billion US dollars.
In 2012 FDI outflows from developing countries are estimated to have reached a new record of 240 billion US dollars.
"The outward FDI stock of developing countries has risen significantly in recent years, and about a quarter of this stock is destined for other developing countries," the MIGA report said.
Among risk mitigation strategies practiced by foreign investors were joint ventures with local firms, risk analysis, using consultants, scenario planning, engagement with host country government developing relationships with political leaders and political risk insurance.
http://lbo.lk/fullstory.php?nid=647784290