This is the first time I'm publishing a post in this forum. I basically go with Technical and Foundamental analysis for trading oppotunities and would like to share them with you all. As my first post i selected REEF warrant 0019 you to look up. The cut off date of this warrant is 1-Jun-2015 and Rs.40 is the exercise price.
[img]
[/img]
As you can see 15-days moving average(RED) is about to cross the 50-days(BLACK) moving average.That means this warrant can be start its bull run in next few days.
[img]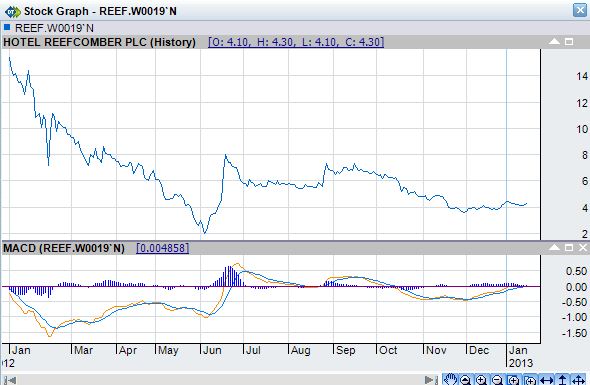 [/img]
MACD is also shows the same which is about to cross both lines.
[img]
[/img]
If you check the prices comparing REEF.N0000 and REEF.W0019 always when the REEF.N0000 trading around 25.50-26.00 warrants stands at 6.20-6.50. At the moment as I believe share warrant has been passing oversold condition in the market and would be a great favour in just couple of days. As we all know REEF is owned and controlling by a well known HNWI and can be manupulated so easily than any other share. Therefore I remain on
BUY
. Please let me know if there are to be change and warmly welcome everyones comments.