Feb 09, 2013 (LBO) - Sri Lanka is about 500 to 800 US dollars more expensive than alternatives for a 10-day holiday with standards lower than competition, which may hit occupancy in the future, an equities research report has warned.
A 10-day holiday in Sri Lanka may cost between 2,000 to 2,600 US dollars with a 4 to 5 star category accommodation or twin sharing, with airfare, 'Trying to live up the hype," a report on the leisure sector released by Capital Alliance, a Colombo brokerage says.
Sri Lanka's best facilities also do not compare with similar facilities elsewhere, the report said.
Incomparable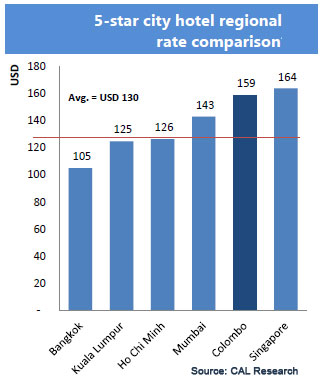 "Most of our 5-star hotels properties are comparable to 3-4 star products elsewhere," Purasisi Jinadasa, head of research at Capital Alliance told LBO.
But room rates were around 20 percent higher than competition with prices being driven up due to lack of international grade competition.
In Colombo the ratio of international chains to local was only 29 percent. This compared with 43 percent for Mumbai, 60 percent for Bangkok and 68 percent for Ho Chi Minh City.
Jinadasa says with the setting up of Hyatt and Shangri-La three years down the line, local hotels will feel the competition from higher standard products.
Last year Sri Lanka's tourist arrivals rose 17 percent to 1.0 million.
The correction in prices may have already started.

Occupancy
In the peak season month of November occupancy fell, partly due a steep drop in domestic tourists due to higher inflation and currency depreciation which hit spending power and destroyed accumulated savings of locals.
In December hotels were seen slashing prices and offering credit card deals.
But foreign guest nights also fell, across star categories. Occupancy in November fell to 76.2 percent in November 2012 from a year earlier. At '4-star' category foreign guest nights fell to 103,383 from 116,754 while local guest nights fell to 10,982 from 32,435.
Sri Lanka's tourism promotion office is targeting 1.25 million or a 25 percent growth in 2013. The report says a 10 percent growth to 1.1 million may be more likely.
Arrivals grew by nearly 200,000 in 2011 after a 30-year war ended in 2009. In 2012 however the growth was only 150,000.
Sri Lanka has an advantage where a wide variety of different types of attractions can be viewed within a small area, including historical sites, beaches and wildlife. But travel times are long and arduous, except to Galle where there is a new expressway.
Opportunities
Sri Lanka's hotel sector had other challenges including high construction costs, weak entertainment and related offerings. But lack of support services also presented an opportunity for support services, the report said.
Western Europe was likely to remain the mainstay, the Capital Alliance report said. China had potential, but Sri Lanka still lacked packages catering to the special needs of Chinese.
Sri Lanka's large resort chains have been calling for the tourism promotion office to engage in a strong destination promotion campaign. Instead, rulers have made micro-interventions setting floor prices for city hotels.
Meanwhile online sales of Sri Lankan hotels are growing with prices also coming down.
"With Sri Lanka losing its value-for-money positioning, there will be an increased demand for booking engines to fill in capacity," the report said.
Booking engines such as Expedia.com, Booking.com and Agoda.com has entered Sri Lanka in a big way since the end of the island's civil war with Agoda having the largest inventory up to now.
Booking engines are ideal for filling 'distressed capacity' which has been left unsold by travel agents, but they are increasingly becoming the preferred way for global travellers.
http://lbo.lk/fullstory.php?nid=75083827