I'm not a news person but this caught my eye today, so I'm listening it in talk section for further discussion. Sometimes there'll be no time for this if this rise to 400 today
http://www.cse.lk/cmt/uploadAnnounceFiles/8941361855811_372.pdf
In terms of charts, CTCE stock price has gone to 50%-61.8% range and bounced back to 333.4 with this (say insider, if not late)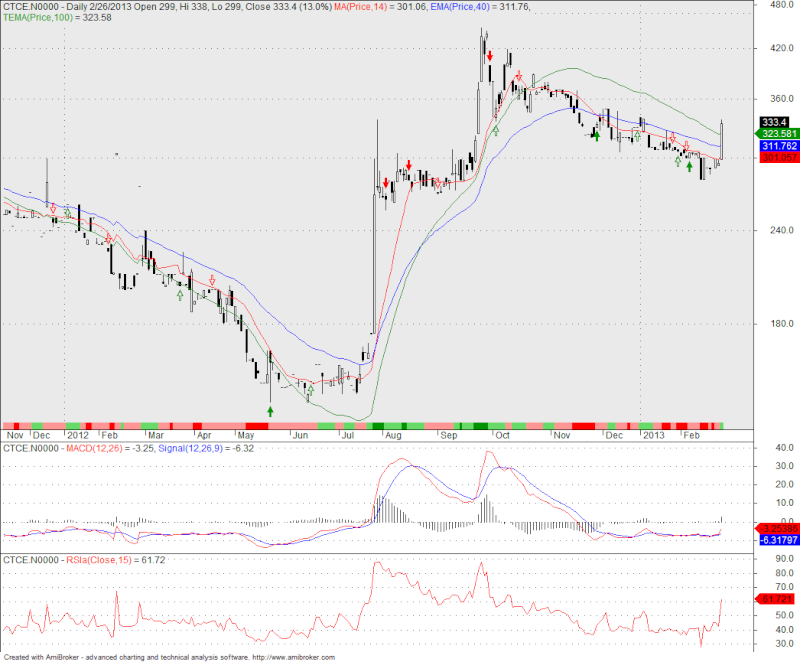 See the above, indicators are poised up to take this to next level
Note - the entire article is not listed.. Just some news for discussion
Also there's a catch clause..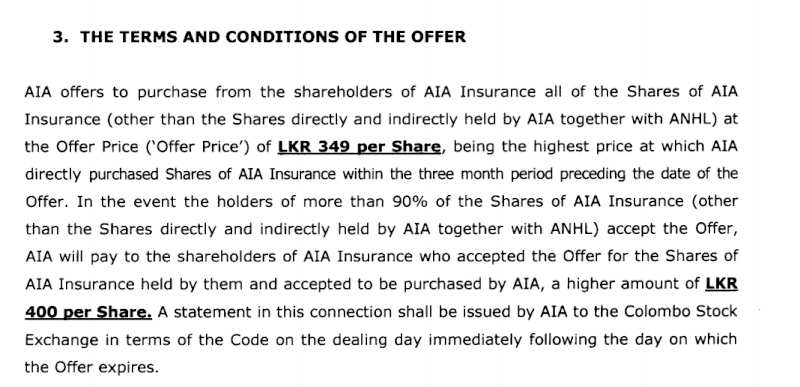 so only in the event, more than 90% of minority holders participate they'll pay 400. If not its 349
AIA makes Rs. 927 m voluntary offer for remaining 7.7% stake
Published : 12:45 am February 27, 2013
Suggests Rs. 400 per share opportunity is attractive given likely lower dividends and delisting in the future. Investors toast move as stock price soars by Rs. 38.40 to Rs. 333.40
Asian insurance giant AIA yesterday announced a voluntary offer worth Rs. 927 million to acquire the remaining 7.7% stake in its listed Sri Lankan entity on the basis of Rs. 400 per share.
The move sent AIA Insurance Plc (formerly Aviva NDB Insurance) share price
rise to an intra-day high of Rs. 338 before closing at Rs. 333.40
, up by a sizeable Rs. 38.40. The 13% gain saw AIA top the list of percentage wise gainers yesterday. Last week the share price rose by Rs. 3.90, whilst the 52-week highest was Rs. 448.90. In what was the biggest deal last year, AIA paid $ 108 million to acquire control of Aviva NDB via the latter's holding company, Aviva NDB Holdings Lanka Ltd.
The unconditional voluntary offer was to acquire 2.3178 million shares or a 7.7% stake in the listed entity. The highest price paid by AIA as part of its overall was Rs. 349 per share on a block of 1.5 million shares of 5% stake in December. Via the holding company, AIA acquired a 87.3% stake previously.
AIA said in the event the holders of more than 90% of the shares of AIA Insurance accept the offer, AIA will pay a higher amount of Rs. 400 per share. The offer will be open for 21 business days. Whilst the 2012 Annual Report is still pending, as of end 2011 Aviva NDB Insurance had 2,204 shareholders, of which 1,917 had shares between one and 1,000 accounting for a 1.7% stake and a further 254 in the category of 1001 and 10,000 shares holding a 2.1% stake.
...
......
.........
.
.....
.
....
As per the unaudited results as at Q4, profit after tax for AIA Insurance grew from Rs. 694 million in 2011 to Rs. 773 million in 2012. The investment income was close to double, increasing from Rs. 2,771 million in the previous year to Rs. 4,028 million. Life new business premium achieved an admirable Rs. 2,128 million and Gross Written Premium was at Rs. 6,496 million. The Life surplus declared was Rs. 195 million. General insurance performance in 2012 was outstanding, delivering a positive underwriting result of Rs. 53 million.
AIA Group comprises the largest independent publicly listed pan-Asian Life insurance group in the world. It has operations in 16 markets across the Asia pacific.


Last edited by smallville on Wed Feb 27, 2013 9:43 am; edited 1 time in total (Reason for editing : catch clause update)