Mar 11, 2013 (LBO) - Sri Lanka's larger listed banks have improved margins as interest rates rose in 2012 helped by a bigger current and savings deposits base and foreign borrowings, an equities research report said.
Net interest margins at Hatton National Bank had grown from 4.7 in December 2011 to 4.9 percent by December 2012, at Commercial Bank of Ceylon from 4.4 percent to 4.6 percent, at Sampath from 4.1 percent to 4.2 percent and NDB from 3.7 percent to 3.8 percent.
At DFCC margins had fallen from 4.9 to 4.6 percent, at NTB from 4.5 to 4.3 percent at PABC from 5.4 to 4.6 percent and at Union Bank from 4.6 to 3.9 percent from December 2011 to 2012, a report by Capital Alliance Research said.
"Banks with higher CASA (current account savings account) ratios were able to improve NIMs (net interest margins) despite the increase in interest rates," CAL Research said.
"Larger banks accessed low cost foreign funding during 2012 which supported NIM improvement."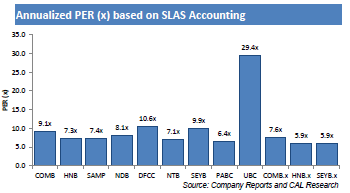 Sri Lanka's banking system was hit by a so-called balance of payments crisis, as the Central Bank held interest rates down in the face of already high credit growth, by sterilizing foreign exchange sales with central bank credit (printed money), worsening, credit, demand and imports.
Corrective measures were imposed in February allowing rates to go up and also raising energy prices, which reduced credit demand from state energy utilities. An 18 percent credit ceiling was imposed on banks, which could be raised to 23 percent with foreign borrowing.
Commercial Bank had increased foreign borrowings 48 percent, HNB 95 percent, Sampath 173 percent and NDB 170 percent.
At Commercial Bank foreign borrowings as a share of total funding had risen to 3.0 percent from 2.3 percent, at HNB from 2.2 to 3.6 percent, at Sampath from 3.1 to 6.7 percent and at NDB from 3.3 to 7.5 percent. At DFCC it had fallen from 2.1 to 1.4 percent.
The report said the in December quarter, faced with the credit ceiling, most banks had concentrated on high yield clients to increase margins.
The report said Commercial, HNB and NTB had seen 18 percent loan growth, NDB and UBC 17 percent, DFCC 20 percent. Sampath had grown its loan book 24 percent with foreign borrowings and PABC had grown 24 percent with US dollar lending.
Most Sri Lankan banks were now trading at price to earnings multiples of less than 10 times profits, the report said.