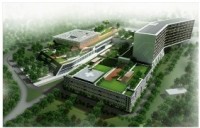 The National Savings Bank (NSB) Tuesday (09 April) officially handed over the funds for the constructions of the multimillion dollar teaching hospital for General Sir John Kotelawala Defence University (KDU), at a function held at the Defence Ministry premises.
Funds amounting 202 million US dollars was handed over according to a recently signed MOU between the Vice Chancellor of the KDU Major General Milinda Peiris and Mr. Wang Xingye, Vice President of Poly Technologies Inc. of China, the construction company.
Secretary Defence and Urban Development Gotabaya Rajapaksa, Secretary to the Ministry of Finance and Planning Dr. P B Jayasundara, Chairperson of the NSB Sunil S Sirisena, Chief Executive Officer of the NSB Hennayaka Bandara and Defence Ministry officials were present at the event.
Once completed the 704 bed fully fledged hospital complex will boast of state of the art medical facilities that are on par with international standards. In addition the multimillion dollar teaching hospital will be a complete eco friendly facility. The project is expected to be complete in two years.
Founded in 1981 as a Defence Academy, KDU was elevated to the level of a university in 1986 with the distinctive mission of ensuring a superior quality learner-centered education through academic and professional programmes combined with practical research across many disciplines in the field of defence for its students both local and foreign.
Established in 2009, the Faculty of Medicine of the KDU is the only national military medical institution of higher education in Sri Lanka. The faculty is responsible for training and graduation of military medical students. The MBBS course is conducted by well experienced academic and medical professionals. With the completion of the teaching hospital the faculty will be well equipped with ultra modern facilities for teaching, training, service and medical research. Furthermore it will provide tertiary care facilities to the general public and service personnel while training both undergraduate and post graduate military medical students.
http://www.news.lk/news/sri-lanka/4771-multimillion-dollar-teaching-hospital-for-kdu