Seven of Sri Lanka's biggest State Owned Enterprises (SOE) the Ceylon Petroleum Corporation (CPC), Ceylon Electricity Board (CEB), Sri Lanka Transport Board (SLTB), Sri Lanka Railways (SLR), the Department of Posts (DOP), SriLankan Airlines and Mihin Air have suffered an accumulated operating loss of a staggering Rs. 185bn in 2012, the Central Bank's 2012 Annual Report released last week disclosed. Accordingly, CPC's financial position eroded further during the year reporting operational loss of Rs. 89.7bn in 2012 compared to Rs. 94.5bn in 2011 whilst the financial position of CEB weakened by more than three fold mainly due to the rise in average generation cost caused by higher thermal power generation resulting in an operating loss of Rs. 61.2bn in 2012 compared to a loss of Rs. 19.3bn in 2011, the Central Bank Report said.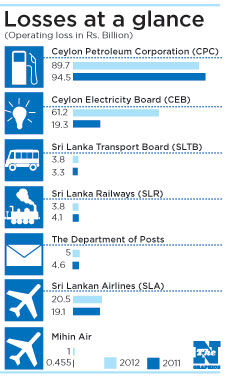 On the passenger transportation side, operational loss of SLTB increased to Rs. 3.8bn in 2012 compared to the loss of Rs. 3.3bn recorded in 2011 whilst the SLR managed to decrease its operating losses to Rs. 3.8bn in 2012 compared to the loss of Rs. 4.1bn suffered in 2011.
Meanwhile, operating loss at DOP increased by 8 per cent to a substantial Rs. 5bn in 2012, following a 52 per cent increment in 2011, the Central Bank stated.
On the other hand, the financial performance of the aviation sector also remained weak in 2012 with the national carrier, SriLankan Airlines posting an operating loss of Rs. 20.5bn whilst Mihin Lanka recorded an operating loss of Rs. 1bn in 2012 compared to the operating loss of Rs. 455.3m incurred in 2011.
On a positive note, the financial performance of the Sri Lanka Ports Authority (SLPA) improved significantly despite the sluggish pace of global trade as per unaudited financial data. The operating profit of the SLPA increased by 58 per cent in 2012 to Rs. 13.1bn compared to Rs. 8.3bn in 2011.
Performance at the National Water Supply and Drainage Board (NWS&DB) also improved in 2012 with the operating profit of NWS&DB improving to Rs. 3bn compared to an operational profit of Rs. 1.9bn recorded in 2011.
The Central Bank in its annual report has warned that the lack of strategic institutional improvements to ensure the financial viability of those (loss making) institutions can pose a threat to the macroeconomic stability of the country, considering their importance in the national economy.
"Hence SOEs must be encouraged to adopt sustainable financial and corporate planning including a rational pricing policy in line with market developments. A rational, flexible and transparent pricing policy can be beneficial to both suppliers and consumers and to the economy through reduced uncertainty, less burden on the government budget, and reduced financing from the banking sector', the annual report highlighted.
http://www.nation.lk/edition/biz-news/item/17233-seven-soes-pile-rs185b-losses.html