Apr 17, 2013 (LBO) - Sri Lanka's power regulator has approved a tariff request by state-run Ceylon Electricity Board denying a request to reduce tariffs of large domestic users, after earlier cutting of 40 billion rupees in estimated costs.
Under the new tariffs a proposal to charge domestic users by the highest rated block instead of differently priced slabs, which ran into stiff opposition at a public hearing had also been approved.
Low user, domestic users had been the most highly subsidized users along with religions categories, industry and government offices.
Low users up to 30 units will see their bill going up by 75 rupees to 311 rupees, users of up to 60 units will see their bill go up by 174 rupees to 546 rupees.
Users of up to 90 units will see their bill go up by up to 432 rupees and users of up to 120 units will see their bill go up by about 1000 rupees to 2,800.
Due the ending of slabs, those who exceed thresholds such as 90 will see a 1,000 rupee increase when they reach 91 units.
The regulator denied a request by the CEB to reduce the tariff of large domestic users to 32 rupees above 900 units a month to 32 rupees and has maintained a rate of 34 plus 40 percent fuel surcharge.
High user domestic tariffs at around 44 rupees a unit with the fuel surcharge are more than twice the average cost of 20 rupees a unit.
Other tariff requests to general purpose, government, religious and industry had been approved as submitted. Large users have been given time of day tariffs with high charges for the evening peak.
The CEB is expecting to get revenues of 223 billion rupees from the price hike, or 45 billion rupees more than the earlier tariff and still make a 33 billion rupees loss in 2013 on total expenses of 256 billion rupees.
The regulator only allowed 228 billion rupees of costs to be recovered from customers, after dis-allowing 40 billion rupees of filed expenses by the CEB.
Last year the CEB lost 61.2 billion rupees and the Ceylon Petroleum Corporation which supplied fuel below cost 89.7 billion rupees. CPC is expected to raise furnace oil by around 50 percent from April.
The regulator has imposed a series of conditions on the CEB including installing dispatch planning software, setting up a bulk supply account, providing power purchase agreements with generators and striking long and medium contracts for coal.
Update II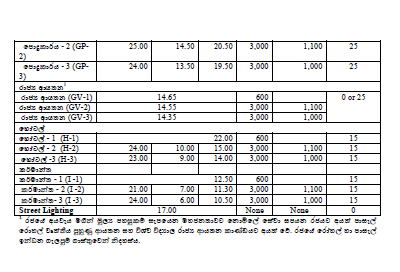 http://www.lankabusinessonline.com/news/Sri_Lanka_power_tariffs_raised/810023884


Last edited by sriranga on Wed Apr 17, 2013 7:24 pm; edited 1 time in total (Reason for editing : Update II)