by Ifham Nizam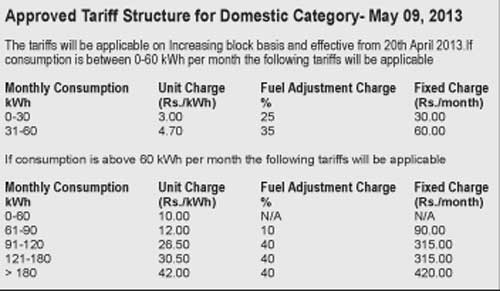 The regulatory body of the power sector, the Public Utilities Commission of Sri Lanka (PUCSL) yesterday rejected the revised tariff structure prepared by the Ceylon Electricity Board (CEB) and came out with its own proposal to accommodate concessions promised by President Mahinda Rajapaksa on May Day.
The PUCSL has rejected two CEB tariff revision proposals on the grounds that they are not consistent with the government policy as spelt out by the President on May 1.
The latest tariff structure prepared by the PUCSL and approved last evening is similar to the 2011 or the existing one in many respects, save the unit prices.
Those who consume more than 90 units will have to a pay 40 per cent Fuel Adjustment Charges (FAC).
Power and Energy Ministry has confirmed the availability of Treasury funds for the promised concessions which will cost the CEB as much as Rs. 8 billion per annum. The CEB's projected revenue loss due to concessions to the users of 0-60 units is Rs. 6.3 billion.
A senior PUCSL official said the commission's tariff structure would benefit the majority of electricity consumers using up to 120 units of power. Those who used over 180 units would have to pay about 20 percent more than the current bill, he said.
The PUCSL has, in a letter to the Authorized CEB Officer, stated that the CEB proposals ran counter to President's assurance that there will be no increase in electricity prices up to 60 units. The CEB, in its second proposal following the President's May Day promise, targeted that category with a 15 to 33 per cent increase.
The PUCSL has held that the Volume Differentiated Tariff (VDT) structure is unfair and leads to a very high increase at the block transition points—33 per cent increase for 31 units, 90 per cent increase for 97 units, 85 per cent increase for 121 units and 64 per cent increase for 181 units in addition to an increase of ………….. for 61 units.
http://island.lk/index.php?page_cat=article-details&page=article-details&code_title=78666