Once high flying Touchwood Investments Plc (TWOD) is apparently facing rough weather with incomplete disclosure given the part sell out by key Directors whilst they themselves have taken up additional responsibilities in troubled CIFL throwing open a barrage of questions over good governance and effectiveness of the regulatory role from shareholders and investment analysts alike.
In what some analysts termed as bizarre developments, troubled finance company, Central Investments and Finance Plc, on Friday in a filing to the Colombo Stock Exchange (CSE), said three new members Roscoe Meloney, Swarna J. Meloney (Chairman and Vice Chairperson of Touchwood) and Dulan Hettiarachchi have been appointed to the Board effective 2 May 2013. Meloney has been appointed as the new Chairman of CIFL replacing K. A. L. Rupasinghe who had resigned whilst CEO Gamini Karunathilake too has resigned with Swarna J. Meloney appointed as Acting CEO until a permanent appointment is made.
This was after CIFL in early April in response to a Sunday newspaper article which referred to change of ownership responded saying the company has been notified by a new investor by the name of Roscoe Meloney that they have concluded the acquisition of the holding company Aspic Corporation along with nine subsidiary companies.
Accordingly they have claimed to be major shareholders of CIFL and they have copied some of their communications with the Central Bank on the same subject which indicate that they intend infusing approximately US$ 12 million to CIFL and bring in a high level of corporate governance and financial integrity.
"We are currently communicating with this party and the Central Bank in getting the necessary approvals etc for this purpose. We will arrange to keep you informed about the future development in this respect," said the 2 April 2013 filing to CSE by CIFL Chairman Lakshman Rupasinghe.
With no further updates, CIFL last Friday merely stated the change in the Board of Directors leaving many shareholder and investment analyst's questions unanswered.
Yesterday Touchwood Plc announced that eChannelling Plc Chairman and CEO Ruwan Silva has been appointed with immediate effect to be the Principal Consultant and Advisor to the Board of Directors.
Silva would be assisting Touchwood with regard to mergers and acquisitions, investor relations and the restructuring of the Company in addition to other responsibilities. He would assist the Company in identifying and introducing strategic investors to Touchwood.
The connection between Silva and Touchwood owners wasn't explained or on what basis he was handpicked except that he was described as been instrumental in the turnaround of eChannelling and has been involved in many other company restructuring projects.
Touchwood's filing to the CSE signed by Deputy Chairperson Swarna J. Maloney also said "The Chairman and Deputy Chairman of Touchwood Investments Plc are committed to strengthen and improving Touchwood Investment Plc and are embarking on a substantial restructuring of the company which would enhance profitability, which would benefit all stakeholders including the shareholders".
The revelation of strengthening and improving Touchwood and "substantial restructuring" comes out of the blues as there had been no other prior disclosure from the company in recent months.
Company analysts were perturbed on what basis did Touchwood controlling shareholders agree to infuse money into the troubled finance company (CIFL) when their own venture was under distress. They also questioned on what basis did the Central Bank approve this deal and whether proper due diligence was done?
Ironically, Touchwood Plc's Chairman and Deputy Chairperson are yet to make good corporate governance practice-linked timely disclosure of their own acts with regard to divesting of some of their shareholdings in the Company.
The Daily FT learns Mr. and Mrs. Maloney sold a substantial part of their shareholding in Touchwood in the market to retailers in recent weeks but to date there has been no disclosure as part of Director's dealings in company shares. Mr. Maloney had at least sold around over Rs. 80 million worth of Touchwood shares and Ms. Maloney around Rs. 40 million in recent weeks as per one analyst.
As per 31 December 2012 shareholdings, Mr. Maloney held 17.5 million shares or 16.36% stake in Touchwood whilst Mrs. Maloney held 9.6 million or 9% stake.
The selling by Mrs. Maloney comes after she was appointed Vice Chairperson in April.
As per Daily FT analysis, Touchwood saw heavy trading in recent weeks. For example in the week ended 3 May 2013, around 30% stake of the company traded followed by 18% last week. A large number of retailers were active whilst several were seen recycling trades. Some may have been engaging in speculative trading whilst others could have been told an untrue "upturn" story.
Touchwood has a retained loss of Rs. 367.56 million at group level as at 31 December 2012, up from Rs. 321 million a year earlier. Its assets amounted to Rs. 7.7 billion including Rs. 6 billion as biological assets, valuation of which in the past had raised concerns among investment analysts. Group noncurrent liabilities amounted to Rs. 4.4 billion and Rs. 146 million in current liabilities.
Revenue in the first nine months of FY13 was down to Rs. 899 million from Rs. 943 million a year earlier whilst net profit was Rs. 130 million up from Rs. 110 million.
The new Principal Consultant and Advisor has an arduous task as per analysts. He is also the Chairman of British American Technologies which is the major shareholder of eChanneling. Previously he was the CEO of Blue Diamonds Jewellery Worldwide Plc and served as CFO at Sri Lanka Telecom and Ericsson Algeria and Sri Lanka.
On the other hand CIFL's first nine months revenue for FY13 was up 14% to Rs. 513 million, whilst net income was down by 46% to Rs. 116 million owing to an 83% dip in other operating income and 81% rise in interest income.
Operating losses were Rs. 261.7 million, up by 30% over the first nine months of FY12. Profit loss before loan losses and provisions was Rs. 145.4 million as against a profit of Rs. 13 million a year earlier.
Net losses for nine months of FY13 were Rs. 147 million as against a profit of Rs. 7 million.
CIFL was saddled with negative revenue reserves of Rs. 92 million as at 31 December 2013 as again a positive Rs. 55 million a year earlier and 31 March 2012.
Assets amounted to Rs. 3.8 billion, up from Rs. 3.3 billion a year earlier and Rs. 3.6 billion as at end FY12.
Liabilities amounted to Rs. 3.2 billion, up from Rs. 2.6 billion as at 31 December 2012 and Rs. 2.9 billion as FY12.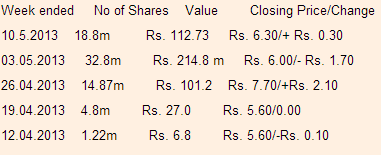 http://www.ft.lk/2013/05/14/blind-leading-the-blind/