May 20, 2013 (LBO) - Sri Lanka's motor vehicle registrations have picked up slightly in April 2013 though still remaining far below levels seen after taxes were hiked last year, an analysis by an equities research house shows.
Automobile registrations picked up to 1,974 in April 2013, from 1,589 in March, the highest since taxes were raised in April 2012 in a mistaken belief that car imports rather than central bank credit was causing a balance of payments crisis.
Car registrations were driven by a spike in re-conditioned or used cars which rose to 1,154 in April from 583 in February and 778 in March, led by a pick up in Japanese made Toyota cars an analysis of data from Sri Lanka's motor vehicle registry by JB Stockbrokers shows.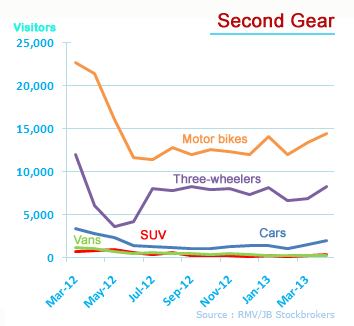 Re-conditioned Toyota registrations rose to 820 in April from 461 in March and 268 in January. Registrations of used Toyota's imported from Japan fell to below 300 a month in the second half of 2012.
Used Honda registrations rose to 288 in April from 281 in March, from around 100 units the last quarter of 2012.
Before the tax 3,500 to 4,000 new and pre-owned cars were being registered a month.
Three wheeler registrations rose to 8,280 in April from 6,864 in March, the highest since January 2013 when 8,178 were registered. Before the tax hike about 12,000 three -wheelers were being registered a month.
There was a slight pick-up in all vehicle registrations in January 2012 and which petered off in the next two months.
Motor cycles registrations rose to 14,363, also a four month high from January's 14,002, but far below the 22,000 units seen before a tax hike.
The data may point to a slight recovery in economic activities.
Last year taxes were raised twice for ordinary citizens while elected rulers got tax free and state workers got tax slashed in a travesty of liberty and equal treatment of citizens.
http://www.lankabusinessonline.com/news/sri-lanka-vehicle-registrations-pick-up-in-april/1167500504