Namini Wijedasa reports
Charters are back-to-back business that buttered SL Tourism's bread, but it has priced itself out of this market.
Official statistics tell a rosy tale: One million tourists flocked to Sri Lanka last year alone. Numbers recorded in the first quarter of 2013 show a spike in arrivals, when compared with the corresponding period last year. But the industry is increasingly skeptical. If there are so many tourists, where are they staying?
"Sri Lanka Tourism's annual statistical report defined the number of arrivals last year as one million," said one industry stalwart, requesting anonymity. "It mentions the average duration of stay as 10 days. This should lead to ten million room nights. But according to the same report, the number of foreign room nights is only around four million. What happened to the remaining six million? Are they all going to the informal sector?"
He highlighted another discrepancy. If each of the one million tourists spent around US$ 100 a day for 10 days, the income generated would be US$ 1 billion. "The Tourism Development Levy is 1%," he said. "So the fund should have received around US$ 10 million. But statistics show that the total amount collected in 2012 is not even US$ 5 million. What happened to the balance 50%?"
"The numbers," he mused. "There is always 50% missing." Charter flights, which consistently brought in large numbers of tourists into Sri Lanka, have dried up. "To my knowledge, there are no confirmed chartered flights coming into Sri Lanka at the moment," said Sri Lanka Association of Inbound Tour Operators Chairman Mahen Kariyawasam. "One of the reasons could be that our prices— hotels, entrance fees and other services— are too high, compared with other countries in the region."
"Last year, we didn't have any significant charter movements from Europe, except for a few Russian charters that came during the peak season," he elaborated. "We did have charters in the past, when we had correct pricing."
"There was a perception that charters were bad because it's back-to-back business," said Srilal Miththapala, a senior tourism professional and immediate past president of the Tourist Hotels Association of Sri Lanka. "We all went away from it. The prices are too high now for charters, which are slightly cheaper."
Mr Miththapala said it was a serious development. He felt the recent drop in business experienced by the industry, may be a result of charters ditching Sri Lanka. "Back-to-back business is about 50% of our bread-and-butter business," he explained. Are there any charter arrivals on the horizon? "No, nothing," he said, shaking his head.
One senior hotelier said the Government was not positioning the country effectively or adequately in the world. Consequently, Sri Lanka still did not "show up on the international tourism radar".
"What is our core marketing strategy?" he asked, opting to remain unnamed. "They are trying to move away from Europe. It doesn't work. Fifty percent of arrivals to the entire subcontinent are from Europe. You can't change it just like that. It has to be protected, while trying to get more business from the Middle East and other places."
"Shall I give you a message?" he asked. "What is the loss of our national carrier SriLankan Airlines? This year, they estimate a loss of US$ 240 million. Last year, it was over US$ 230 million. The year before, it was US$ 180 million. You add those three and you're looking at almost US$ 750 million. That's twice the International Monetary Fund's loan to the country."
"Imagine the amount of inflation it's creating," he continued. "SriLankan will have to be declared bankrupt one of these days. You take US$ 15 million out of it. Put it into five countries. And you will see results. Charter operations will come into Sri Lanka, other airlines will increase operations and market forces will start ticking. You must have a vision for the country."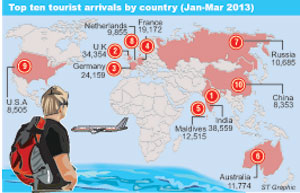 Mr. Kariyawasam insisted, however, that Sri Lanka was now being heavily promoted abroad. His main concern was that the destination was too expensive. "We have to increase prices gradually," he explained. "We have to position ourselves first."He predicted that Sri Lanka will see at least a 10% drop in tourist arrivals from May to October 2013. "For the same reason," he maintained. "It's pricing."Others, like Mr Miththapala, think Sri Lanka has reached a plateau—and that it was now time to take stock. "I feel you have to take a step back," he advised. "We have got to this point and now there's a plateau. It's time to sit down. Get the private sector involved and do a full analysis. Where are we going, what do we stand for, what are our strengths?"
"The traditional tourism structure is changing and we must keep up with it," he stressed. "People are jumping into this industry thinking there's money. It's not money. It's long stay. It's hard."
There's less to it than what the blurbs say
Husband and wife, Antoinette and Christian Ferry, are French tourists who arrived in Sri Lanka on April 20, to join two other French women on a walkabout cultural tour. The excursion was booked via a tour operator who advertised Sri Lanka as 'The Island of a Thousand Smiles'. They had a guide who spoke excellent French, but whose knowledge of the country was minimal. This soured their experience and they lodged a formal complaint with the tour operator.
The couple, who spent 15 days on tour and another fortnight with Sri Lankan friends, described their experiences to the Sunday Times. They said the format of the tour enabled them to see the country at close range and to explore different landscapes. Despite often being hard at work, people welcomed them warmly throughout the tour. They were smiling and open.
The history sites they visited were adequately developed and gave them much pleasure. On the contrary, many objects at the National Museum in Colombo were not properly highlighted despite them being interesting.
"We were astonished, and it might even shock some people, to see the difference between entrance fees charged from locals and foreigners," they said. "We can understand that the local prices were calculated in keeping with the standards of living and the basic salary of an average Sri Lankan. But it is unadvisable to display both categories on the same signboard, particularly without explanation."They noticed that there were no dustbins in tourist areas. "We know that the country is reopening its doors anew to tourism, after the fight against the Liberation Tigers of Tamil Eelam and the tsunami," they said. "But certain hotels must pay more attention to cleanliness and hygiene."
"We regret that for some Sri Lankans, the tourist represents a 'walking moneybox'," they continued. Tips were not mandatory, so people should not insist on them. However, too often staff demanded tips—either by holding out a hand, tapping the tourist's arm, or staring directly at the tourist while saying, 'tips, tips'. Some even checked the amount, in order to decide whether or not to say 'thank you'.
"A trip of this kind, airfare included, corresponds with, on average, a month's wages of a Frenchman," they said. "Tips, guides, chauffeurs, hotels, waiters—it all adds up." There was no indication of the presence of 'Tourist Offices' to inform and educate visitors.
"In shops, regardless of where they are, it is very annoying to always have a sales assistant follow us around, as if we were thieves," they said. "Tourists want to be able to examine items in a shop by themselves. If they want information, they know to ask for it."
"Colombo is lively and very interesting—provided we go directly to the places we want to see," they noted. "If not, the excursion proves stressful and dangerous. There is no plan for pedestrian traffic and there are no pavements or places for resting. We did not feel like staying on in this city."
They were constantly beset by persons who wanted them to enter into their shops; tuk-tuk drivers that constantly stopped by their sides; and "fake" guides who offered their services. Tourist guides must have knowledge of the country, its culture, geography, history and anecdotes. The grasp of a foreign language must not be the sole criterion.
"When it comes to public transport in any part of the country, it is impossible for a tourist to find his way around," they said. "The signboards on buses are in Sinhala, the bus halts are not named and have no signs, there are no travel cards and no travel map with bus and train routes/lines."
Service detracts the promising smile
Minister Basil Rajapaksa walked over to a shelf at his office in Colombo and lifted out a bundle of foreign newspapers and magazines. They all had one thing in common: Articles or adverts of Sri Lanka. Many were in the Japanese language. "We are targeting Japan, China, India, Korea and the Commonwealth of Independent States (CIS)," the Minister explained. The Government is aware that postwar tourism could be better—and says it is supporting a massive, targeted promotion campaign.
"During the 30 years of war, we not only lost the numbers but several other things," Minister Rajapaksa said. "For example, service in our hotels dropped. With an ongoing war, tourists don't expect a big deal. The tourists that come now expect more service."
"Unfortunately," he asserted, "our hotel owners or people in the travel industry have not understood this situation and improved service. You can't just do this with 'a smile'. You need better service. There are problems now. Hotel rooms are not renovated, they are old. Our human resources are lacking. Our training institute doesn't have good lecturers."
"Now you will ask what the Government is doing," he said. "Well, there are things we can do." Building a second international airport at Mattala was one of these. The Southern Highway dramatically reduced travel time between Colombo and the South. "When we complete the Katunayake Expressway, it will boost tourism in a big way," the Minister held.
The Government is also actively promoting alternative markets. "I met the Prime Minister of the Czech Republic, when I went there," he recounted. "He said they had 45 million tourists in a certain year. But last year, they had only six million. Why? Because most of their tourists came from neighbouring European countries and their economies were going through a crisis. He told me we are very lucky, because we have two big neighbours—India and China. We also have Japan, Korea and CIS countries nearby."
"But most of our traditional hoteliers and travel agents think that it's better to go to Europe," he observed. "They are very lazy and reluctant to go to these other countries." "There is just no excuse now for the travel industry not to develop. Concepts such as home-stay needed to be more widespread. Last year, 30% of visitors stayed outside big hotels."
"In the meantime, media must popularise the idea that tourists were adding value to Sri Lanka. Tourism was not destroying the country's culture and environment. Many hotels have gone "green" now, recycling their water and using more renewable energy than any other industry. They were also conscious about culture. "
When it was pointed out that Ministers in his own Cabinet were spreading negative sentiments against foreigners, Minister Rajapaksa merely smiled.
http://www.sundaytimes.lk/130526/news/tourist-arrivals-a-numbers-game-with-a-50-discount-46224.html