Recently, I spotted a 'low' risk opportunity and thought of sharing with you.
Rather than just showing numbers, will explain the reasons behind choosing this.
* What I mean by 'Dinosaurs' are the big investors. Small investors like me cannot move the market; so it's safe to follow big guys; even better if we can walk side by side with them (with our eyes open).
* I have noticed in the past, there are certain criteria in companies, 'dinosaurs' are attracted to. :Few of them are;
-Being a faily large market cap
-Fairly good value for the share price
-Stable market position and stable profits (in future)
-Recent favorable news related to the company or the industry
-Upward growth in EPS in the recent past
-Positive technical analysis
I believe RCL (Royal ceramics) meets the first four conditions.
Here is my view on EPS growth;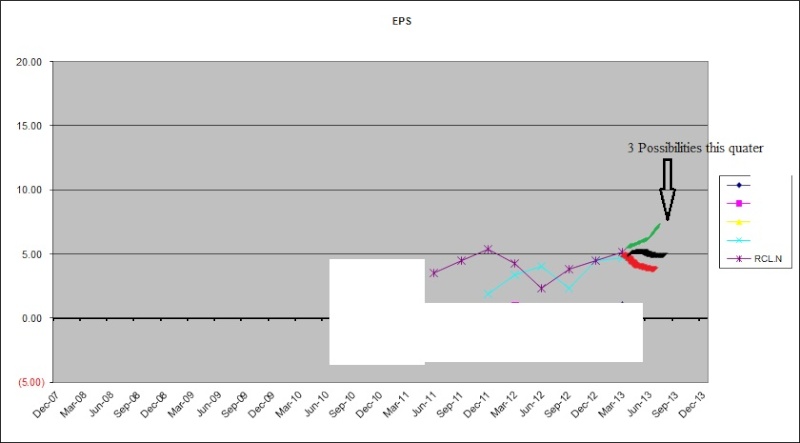 According to the graph, the EPS during the last 8 quarters have been ok; but there has not been any trend.
Similarly, if we look at the price chart below, there has not been any significant trend either (w.r.t. the overall market).
Here, it is visible that, RCL has some correlation between the earning trend and its market price trend.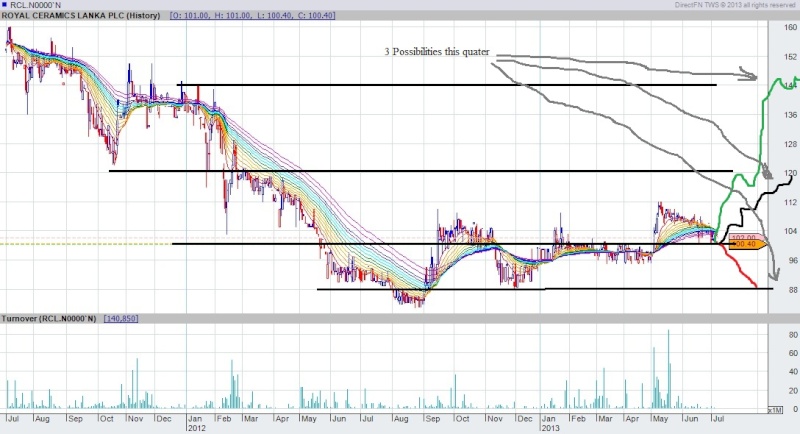 There are 3 possible outcomes in this quarter results; as marked in the EPS graph in 3 colours. Here, I would focus on the first possibility of a higher EPS compared to earlier.
I have marked this possibility in the price chart in  'Green'.
In case things go otherwise, I have drawn the other possibilities in Red and black.
Accordingly, I have drawn the expected outcome in the price chart also with the same colours.
How long will it take to materialized this?
Base on observed past behavior, I am pretty sure, all this can happen with 2 weeks (Not next two weeks; during time of quarter results).
In conclusion;
Overall, within a period of two weeks, we are talking of a possible 40% profit against taking a loss of 10%.
I feel this is a pretty safe bet.
However, do not know why RCL has not gone up already; is there anything going wrong inside, or is the price being controlled by someone? I don't know.
Please share your view or anything I have missed here.