By Nadine Mariah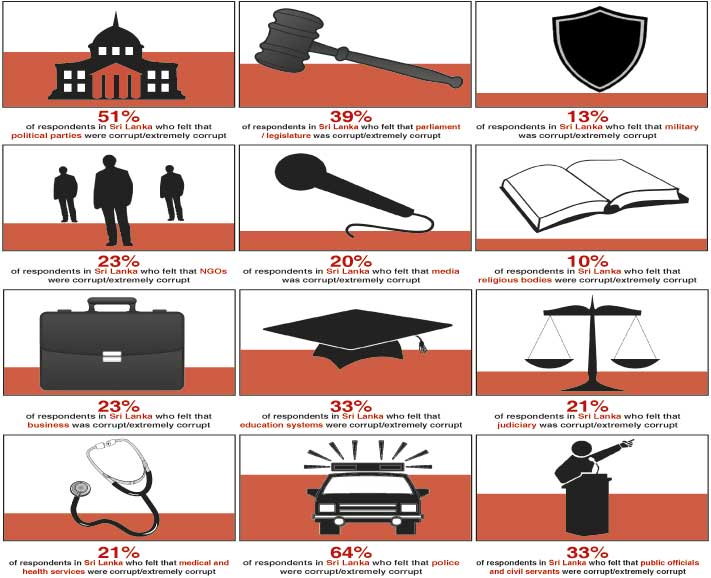 In a letter to President Mahinda Rajapaksa in September 2012, Transparency International Sri Lanka (TISL) had proposed a list of recommendations to curb corruption at all levels in Sri Lanka.
It was also highlighted that 'the rapid development of infrastructure in the country under the Mahinda Chinthana based development initiatives has enhanced the risk of corruption at all levels'.
Human rights lawyer J. C. Weliamuna spoke to The Sunday Leader this week and said that corruption in Sri Lanka is far more dimensional that one might imagine.
"Corruption is the abuse of power for personal gain; there is grand corruption and petty corruption. Infrastructural corruption happens at a national level and falls into the category of grand corruption. This regime has created opportunities for corruption," he said.
The Global Corruption Barometer published by TISL has stated that 64% of Sri Lankans interviewed believed that corruption has increased over the last two years, 31% think it is a serious problem for the public sector, whilst 96% believe the government is run by a few large entities acting entirely in their own interests.
"Infrastructural corruption occurs primarily with the huge influx of investment we have seen with national roads, railway tracks and airports in Sri Lanka. Provincial authorities couldn't possibly afford them, and therefore it is concerned with the national economy. Where these projects are concerned there is the opportunity for procurement and a purposeful lack of coordination and mismanagement. No tests are carried out, no soil tests, no environmental impact studies, no financial auditing, nothing. The Hambantota harbour is one such instance," Weliamuna said
The public has been continuously misled over the 'Magampura Mahinda Rajapaksa port'.
The port has reportedly suffered numerous problems. Again no research was done, even with regard to checking if the project was geographically possible. The opposition in November 2011 had voiced concerns over the port's depth of 17m and the fact that it would not be able to accommodate larger vessels.
Chairman of the Sri Lanka Ports Authority Dr. Priyath Bandu Wickrama was unavailable for comment.
TISL had made specific legal recommendations to the regime to curb corruption.
They were:
- The right to information: First all stakeholders must have access to information from State agencies on time and in required detail.
- Whistle blower protection
- Witness protection
The letter has also called for the Commission to Investigate Allegations of Bribery or Corruption (CIABOC) to be given 'greater independence and empowerment, and be adequately resourced with financial and human resources' to make it an 'effective public institution, empowered to impartially and free of political influence or bias to carry out its operations and achieve its set vision and goals'.
A source from TISL told The Sunday Leader that not an appeal in the letter was taken seriously by the President, and that these remedies are yet to be implemented or even discussed.
Meanwhile, Weliamuna commented that Sri Lanka further lacked a substantial Right to Information Law.
The Right to Information Bill presented on the 21st of June 2011 was defeated in Parliament where the ruling coalition holds a two-thirds majority.
"We are one of the only countries lacking a Right to Information Law; the so-called worst countries in the world have it in their legal system. There is also no proper scrutiny of public finances, and not a single independent watchdog to audit all big industrial projects," he said
Weliamuna further added, "Nothing is in the public domain, no detailed reports, nothing for even you journalists, nothing for anybody. The Treasury is operated as an executive bank account and such secrecy compelled by the lack of proper information legislation allows for secrets to be maintained, mismanagement and of course corruption."
http://www.thesundayleader.lk/2013/07/14/opportunities-created-for-corruption/