Even though the Colombo bourse is up only 1.8% YTD (in dollar terms), it is encouraging to note that the ASPI has outperformed the MSCI Asia Pacific Index which has fallen by 9.6% since the beginning of the year according to First Capital Equities.
It linked the latter mainly due to declines in the Indian, Indonesian and Chinese markets (which have lost 20%, 14.5% and 8.3% respectively on a YTD basis).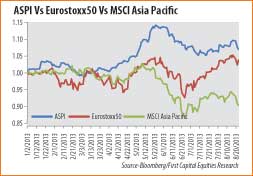 "However, the ASPI has underperformed against European equity markets which have risen by 7.5% on an YTD basis notwithstanding the structural economic problems evident in most parts of Europe," First Capital Equities said.
It said the disappointing performances in the Asian bourses coincide with a deceleration in fund flows to the region with key EMs such as India, Philippines and Indonesia recording net outflows of $ 285 million, $ 404 million and $ 117 million respectively on a MTD basis. Bucking the downward trend however, flows to Sri Lanka have remained in the black recording $16 million for the month.
"Encouraged by a weaker Sri Lanka rupee and firm economic and corporate fundamentals, we believe that
foreign portfolio investors are likely to continue to cherry pick fundamentally strong value stocks that are likely to outperform on a consistent basis with relatively lower earnings and price volatility," First Capital Equities opined.
Commenting on the market's trajectory, the broking firm said with the 2Q2013/1Q2014 corporate results season nearing an end, it expects the market to trade range bound next week in the absence of any market moving news.
"While it has been a mixed bag of corporate results, several bellwether companies having surprised on the upside reporting firm earnings, while others have reported slower revenue growth that have had a knock on effect on bottom line profits. We believe that in the current market environment, being big is good, and being an industry leader will be even better as those companies may be able to more successfully pass along higher operating costs to sustain profits while retaining customers," it said.
"Is it possible to beat the market? Our answer is 'yes', and this we believe may be done by identifying and exploiting mispricings in stocks through a bottom up stock selection process targeting alpha generation. Current market conditions present an opportunity for 'picky' investors not following the herd to invest in a basket of high growth companies that will outperform over a complete market cycle," First Capital Equities added.
http://www.ft.lk/2013/08/26/sri-lankan-bourse-outperforms-msci-asia-pacific-index/