This post is in connection with the earlier post: http://forum.srilankaequity.com/n31029-share-characteristic-valuation-interpretation-of-the-tool
1. 'A Rupee today worths more than a Rupee tomorrow';
That's the basis for some of the valuation methods, for example DCF.
2. Book value (Net Asset value per share) is supposed to represent the approximate present value of a share.
3. Eearnings are supposed to increase the value of a share.
4. Dividends are given to "traders' " hand; are supposed to reduce the value of the share (after payments).
5. Dividends can be re-invested or deposited to gain interest returns.
Above are the assumptions behind the calculations involved in this method.
Parameters used are:
1. Discounted rate : 12% (That's what I use; it is up to you..)
2. NAVPS: Taken from recent reports
3. EPS: Earnings per Share; From recent reports
4. DPS: Dividend payouts per share; From recent announcements
Any of the above parameters can be adjusted according to your view. For example; if you feel there will be higher EPS in future, you can take the net present value per annum of the estimated EPS. Same is applicable for other parameters.
Here is how I did calculations..
Based on the above assumptions;
Share value = Book value = NAVPS
Then, at the end of the year; considering Earnings and dividend  and the discount rate.
Share value at the end of the year-1 = 0.88*NAV + 1*(EPS-DPS) + 1*DPS
Now I make another assumption (Actually two);
The dividends received will generate an interst income similar to the discount rate (12%).  While remaining earnings (after paying dividends) will not appreciate in value.
Based on the above, we can calculate the 20 values we need as follows.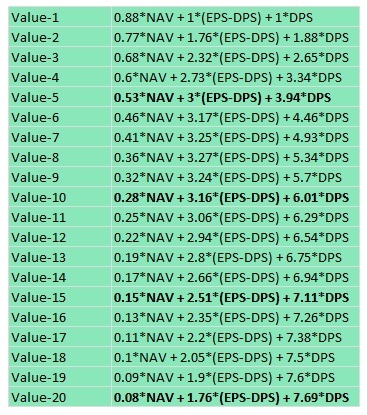 That's it!