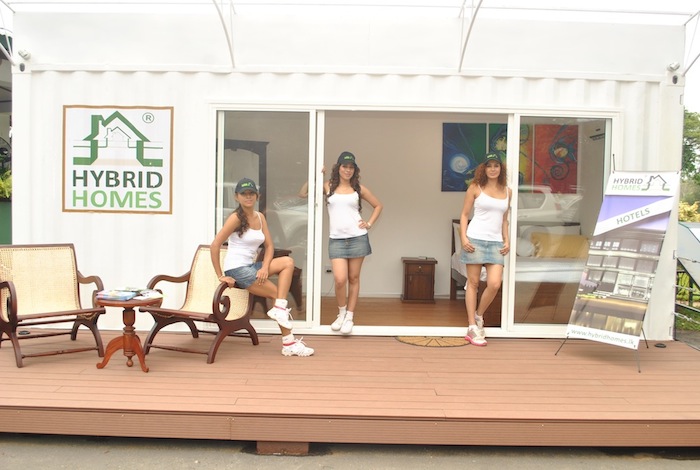 http://www.lbt.lk/news/business/5632-hybrid-homes-unveils-the-hybrid-chalet-at-rcgc
Hybrid Homes the pioneers of Hybrid Construction Technology (HCT) in Sri Lanka that uses shipping containers for its construction unveiled the 'Hybrid Chalet' one of its latest leisure products at the Royal Colombo Golf Club (RCGC) in parallel to the Hybrid Homes Golf Tournament.
Speaking on the newest addition of Hybrid Chalet to an already famous product range of Hybrid Homes the Managing Director of Hybrid Homes Dharshana Fernando said that the new Chalet unit could be either used as a small bungalow, holiday home at an estate or land and could be designed to meet any exact requirement. Simply, Hybrid Chalet is a Holiday Home and a Retreat for the fast developing Sri Lanka's busy lifestyles.
Hybrid Chalet comes with an area of 320 square feet and units are available with a range of facilities such as Open Varenda, Bedroom, Bathroom and mini pantry . "Depending on the any requirement of a holiday home seeker our design engineers could provide tailor made designs that would make your ideal hoiday retreat" Fernando said. Chalets unit is sold by Hybrid Homes at a start price of Rs.1.3 million. Fernando went on to explain that Hybrid Homes have now become a commodity of globalization as the self-sustainable and breaking new ground in the developing Sri Lanka as homes for the rich, houses for the emerging middle class, hotel rooms for travellers, hospital facilities for patients, as disaster shelters, shops, showroom, offices and other facilities. "We are proud to say that Hybrid Homes is transforming the lives of Sri Lankans who seek their own home at an affordable price with a long spanning lifetime for what they put in to as investments to build their own home." Fernando added.
Hybrid Homes the pioneers of Hybrid Construction Technology (HCT) that converts used shipping containers to super luxury, eco-friendly houses. "This opens new opportunities for architects to grapple with, to creatively tweak those rusty piles of corten steel boxes into the much needed spaces for habitation" Fernando said adding that in fast emerging economies like Sri Lanka and even in the developing world, shipping containers have become cabins for disaster shelter, low cost housing for the urban poor and as community facilities such as health dispensaries, schools and pre schools, community centres, public toilets, bus shelters and more. He went on to say that the climates and lifestyles of the Asian, African and Latin American continents require modifications to suit the context they are embedded in. "This results in examples of where the local vernacular embraces this technology, and finds new ways in a hybrid architecture – localising the container modules and adapting them for local habitation and use." he added.
Hybrid Homes are durable and have integral structural strength that suffice as a complete structural system requiring only cast in situ or pre cast pad foundations and stub columns as additional elements for support. It can be elevated off ground and used in environmentally sensitive areas and in uneven terrain. Its resistance to earthquakes make it suitable for application in such locations. The box could be retro fitted with green features such as a solar power roof, tanks for rain water harvesting and facilities for waste water treatment and recycling. Its modular and stackable nature allows buildings to grow and contract as the need arises. They can be plugged into vertical services and their use is special in apartments, student accommodation and hotels. Construction is fast tracked and is an immediate provision of space where there is an emergency need or requirement for such spaces. Hybrid Homes could be mass produced and reused in similar or varying spatial applications and therefore their relevance for use as emergency shelters and in communities where resources are scarce. The fact that it is mobile or transportable, allows for use in temporary applications and in situations where a requirement for such is predominant.
Hybrid Homes (Pvt) Ltd signed a joint venture agreement with Logiventures (Pvt) Ltd in February 2013 to introduce this novel hybrid construction technology, which provides an array of advantages against conventional buildings. These modular Hybrid Buildings are easy to build and costs lower than conventional buildings. Use of recycling shipping containers as the core material makes the hybrid construction technology, green and eco friendly. According ISO shipping standards a containers have a life span of more than 20 years in the tough handing and transport conditions, Shipping Containers in a better environment may have longer life spans. Hybrid Homes provides life time warranty for its products backed by maintenance. Hybrid Homes use the best of the new materials and technologies, such as recycled shipping containers, super-efficient windows and radiant heat, in combination with traditional building materials, creating healthy, comfortable spaces that people love to live in.
For more information about Hybrid Homes visit www.hybridhomes.lk or call 077 702227 or 0777 703535


Last edited by GMNet on Sun Oct 06, 2013 2:49 pm; edited 1 time in total