Hello All,
Thought it was time to make an update on market.  ( actually I wrote the below lat week , but forgot to post).
Hope some of you already read
http://forum.srilankaequity.com/t29674-future-at-cse
http://forum.srilankaequity.com/t30452-market-situation-and-what-to-do
Lets start off with some facts
1) ASI hit nearly 5600 and market was over sold by a lot . Some shares hit 2012 june prices and lower even
2) Next month is a big one for Sri Lanka  due to  CHOGM
3) Also Budget is coming up
4) The expectation for Super September did not come.
5)  The high interest rate times are behind  and Govn is now focused on growth  ;-)  . Most companies with debt should start
   reporting      lower interest payments in due course
6) Gold seems to have settled down to lesser volatility ,  and financial institutions would already have made gold provision based on June 31st. ( Ie Gold is now higher than June 31st)
Now let look at the present Market
1)  Our neighboring countries have reported much better YTD gains  while  CSE is lagging behind.
  (  Our forward market PEs  for overall market and selected share are not bad at all )
 http://www.ft.lk/2013/10/07/sri-lankas-valuations-still-attractive-broker/
2)  Good companies will in due course try to mediate high energy  cost issues   and their reports should start showing positivity
 ( June quarter was bad for specially the industrial segment)
3) Trader who were starved for money got a new life , with massive TWOD, CIFL  fluctuations .
  Small priced stock are one by one going up bringing  hope and important Traders  back to market.
  ( Traders are  the ones  who push prices up) .
4) Order books are showing improvement. Large order come and go (  Means people are there on the side line   waiting for the time)
 Ex :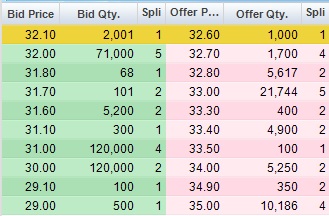 Technicals :  Some good indication are there  in Technicals like the ASI crossing  the 50 and 200 MA  ( techies already talked about it ),  MACD been positive  ,   RSI been in a region which is decent  ;-)
Investors :
Have your fundamental share not gone up while  crap with no/ess  fundamentals have shot up 50-200%.  Do not worry. There will be time for everything. Await your time . When markets are beaten up, it is not unsual for trading shares to go up first. This is good thing for liquidity.
For Trading :  
Also watch some penny stocks and small cap stock that did not move much since hitting ASI 5600.
Becareful :  
I know it is useless to say but will say so I can use the famous quote here " I told you so" .   Do not run after, speculatives shares that already have a run . Though it might get pushed up , the chances of something going wrong to loose 50% in a day or 2 is high also.
Disclosure:
I have reasons to believe things are  getting  brighter now :-) But  please read my signature.  Stock market is a psychological game and I can be proven to be wrong.  Btw,  true share worth is not shown at times and it depends on who and when enters to push it. (  Raises the question  is Market always right?)   
Also though I am more into fundamentals , I do pay attention to technical and pattern reading.


Last edited by slstock on Tue Oct 15, 2013 11:41 am; edited 1 time in total