* Triggers Takeovers Code by upping stake to over 30% in PCHH and Orient Garments

* Chairman Rishan fast losing control as losses mount; Finco exits from both ventures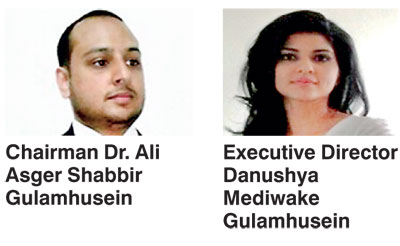 Adam Investments Ltd. is reinforcing itself as the latest hunter of acquisitions as it zeroed in further on troubled PCH Holdings PLC with two separate investments worth around Rs. 179 million.
In separate deals, Adam Investments Ltd., yesterday bought 25.5 million shares amounting to 10.12% stake in PCH Holdings for Rs. 51 million. This acquisition saw Adam Investments triggering the SEC Takeovers and Mergers Code with a collective stake of 31% as it previously held 20.76% stake.
The price paid for the loss making PCHH yesterday was Rs. 2 per share, 30 cents above last week's closing. Its 52-week highest price was Rs. 9. Net asset per share is a negative 10 cents. The seller was Finco Holdings Ltd.
Adam Investments Ltd. also bought around 29% stake in Orient Garments PLC, under the PC House Holdings PLC., for Rs. 128 million paying Rs. 8 per share. Previously it held 10% stake. Sellers were Finco Group (16%) and 14% held by PCHH and Orient Garments Chairman S.H.M. Rishan's stake and pledged to Merchant Bank. As at end September PCHH held 39.3% stake in Orient Garments.
Adam Investments is expected to announce separate mandatory offers on both PCHH and Orient Garments.
Adam Investments is also a leading investor in the Colombo Stock Market and presently owns 9% of Ceylon and Foreign Trades PLC which is one of the oldest listed companies trading on the market.
PCHH in the second quarter of FY14 suffered a loss of Rs. 597 million, though down from Rs. 862 million a year earlier. First half losses were Rs. 683 million, up from Rs. 52 million a year earlier.
Chairman Rishan's Dynaris Holdings Ltd., owns a 39.89% stake in PCHH whilst separately holding a 12% stake. A year ago Dynaris held a 58.7% stake whilst Rishan held a further 11% stake.
Orient Garments suffered a loss of Rs. 144.2 million in the first half of FY14, up from a Rs. 27 million loss.
Apart from PCH Holdings, Dr. T. Senthilverl owns 14.25% stake in Orient Garments.
Last week Dr. Senthuilverl purchased 6 million shares (close to 2% stake) of PC House (PCH) thereby increasing his shareholding in PCH to 11.0%. As at end September 2013, he held 10.26% stake.
In PC House, Rishan holds a 21% stake and Dynaris holds a further 10.7% stake. Since October he has been partly shedding stakes in several related companies.
Adam Investments was incorporated in 2011 by Chairman Dr. Ali Asger Shabbir Gulamhusein, to focus on key growth industries that play a pivotal role in the country's economy.
The companies that function under Adam Investments are: Adam Apparels Ltd., a premier manufacturer and exporter of garments for leading global fashion labels. For three decades this company has contributed to the largest export earning industry in the island, which despite local and international challenges, has continued to grow steadily year on year.
Adam Metals Ltd., which is one of the oldest manufacturers of metal hardware items in the island, is expertly positioned today to take advantage of the rapidly booming construction/infrastructure development projects in the island. Network Communications Ltd. is the group's IT/Electronics arm.
With the rapid urbanisation of the island and the Government's systematic drive to push the ICT industry forward, Network Communications shows a very promising future as a key player in a major Sri Lankan industry of the future.
The group recently inaugurated two new companies, namely Adam Automobiles Ltd. and Adam Air Conditioners Ltd. In 2011 / 2012 Sri Lanka saw its largest ever volume of vehicle imports. Thus Adam
Automobiles was conceived with the aim to provide spares and services to cater to the rapidly increasing demand for these items. 2012 saw a drop in importation of consumer electronics except for three items which were, TVs, mobile phones and air conditioners.
Since the group is already engaged in the importation of TVs and mobile phones through Network Communications Ltd., Adam Air Conditioners Ltd. was inaugurated to tap the growing demand for air conditioning systems in the country.
www.ft.lk