Permission granted for only mixed development project says minister
by Maheesha Mudugamuwa
The government is to decide in four years' time whether Australian investor James Packer's casino project is to be proceeded with, once the casino mogul's newly approved hotel project is completed at D.R Wijewardane Mawatha,Colombo.
This was revealed by Investment Promotion Minister Lakshman Yapa Abeywardane at a media briefing yesterday.
A visualization of the Packer project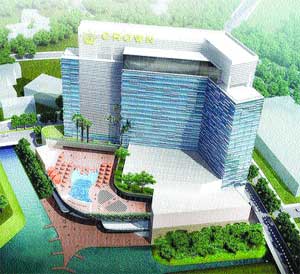 The government would consider whether to establish a casino or not only after the completion of the ongoing hotel project, he said, adding that before that we couldn't make any predictions about casinos.
"My ministry does not give approvals for casinos. Permission has been sought for mixed development projects, which can be constructed, and not for gaming and casinos," the minister said.
Yapa also said his ministry had no current applications to set up casinos under Section 3(2) of the Strategic Development Projects Act.
However, he reiterated that his ministry had given permission to build a hotel complex in D.R Wijewardane Mawatha and it was a mixed development project.
"At present different parties were expressing their opinions regarding this mixed development project and casino plan. As a government we will consider all of their opinions and we will correct them if they have received false information about this mixed development project."
"Present government is not an authoritarian government; it is a collection of different parties. We will respect everyone's opinions, the minister said.
However, after issuing the new gazettes at the end of last year, the government has recommenced the entire four-stage approval process prescribed by the Strategic Development Projects Act. The papers will come before Cabinet again when a mandatory thirty-day period lapses. Within six weeks of being sanctioned, the Investment Promotion Ministry will gazette them once more. They will be submitted for Parliamentary approval within three months from the date of publication.
Yapa stressed that there was no reference to casinos or gaming in the relevant gazettes.
http://www.island.lk/index.php?page_cat=article-details&page=article-details&code_title=95573
Tax concessions were only being granted under the terms of the relevant Act to three mixed development projects, he added.