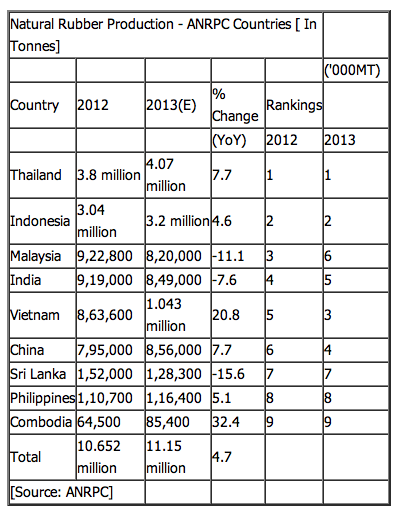 Giving a shock treatment to the Rubber Board and the policy makers, recent data released by Association of Natural Rubber Producing Countries (ANRPC) shows that India has slipped down to the fifth spot in production, below Vietnam and China in production, in the pecking order in the year 2013. India was on the fourth place in 2012 after Thailand, Indonesia and Malaysia. India's position could have been much weaker in 2013, but a sharp fall in production in Malaysia 'saved' India to stay at the fifth spot. Among the top 9 producers in the world only India, Malaysia and Sri Lanka had seen a fall in production during last year. The growth in production of Vietnam and China was surprising as these countries were far behind on the table, few years back. For the first time in its history, production in Vietnam crossed 1 million mark in 2013.
Couple of years back India was ranked third on the production table after Thailand and Indonesia, now moved down to fifth spot. There is also a serious fall in the productivity in India during 2008-13 period. This is the major reason behind the fall in production. This effected in a fall in the overall production which lead to serious supply crunch in the local markets. This in turn lead to a sharp rise in imports during 2013-14.
During calendar year 2013, India saw a 7.6% decrease in NR production which stood at 8.49 lakh tonnes. During the same period, Vietnam saw a stupendous growth of more than 20% and total production crossed 1 million tonnes that India has been aspiring to achieve. China has also picked up momentum and its NR production has overtaken that of India. Both Automotive Tyre Manufacturers Association (ATMA) and All India Rubber Industries Association (AIRIA) which analysed the ANRPC data raised a pitch for empowering the NR sector at a meeting organised by Rubber Board recently. Rajiv Budhraja, Director General, ATMA said that tyre and other Rubber based industries had expressed their concern over fall in productivity and slackened pace of NR production growth in India. Rate of growth in production was on a declining trend for the last five years.
The provisional figures for 2012-13 by Rubber Board show that NR productivity has slackened. The productivity which was 1867 Kg/Ha in 2008-09 has been reckoned at 1813 Kg/ Ha for 2012-13 .
"India has had a chequered history of NR production. Going forward, it has become increasingly important to optimise the full potential of NR in India so as to support the growth of rubber industry", said Niraj Thakkar, President AIRIA.
Quoting Rubber Board data, the associations have stated that the period between 2008-09 and 2012-13 saw an increase of 41,000 ha in tapped area. The productivity of the incremental tapped area has been calculated at just 1200 kg/ ha which points to a worrisome trend.
Both ATMA and AIRIA have asked for an annual assessment of the age profile of trees. Age profile of trees is imperative from the perspective of planting, re-planting and determining productivity etc.
Natural Rubber is one of the key productive assets of the country. For optimal growth of this asset, a periodic stock-taking exercise is a must. NR Planting& re-planting initiatives tend to slowdown during periods when prices are either at high or low levels as growers postpone planting or replanting activity during such periods. Considering the price volatility witnessed in the NR prices in recent years, the deferment of planting & replanting initiatives in India do not augur well for the country in the coming years", added Budhraja.
Our demand for a National Rubber Policy needs to be viewed in this backdrop. Policy makers should address these macro and long term trends in NR development, Thakkar said.