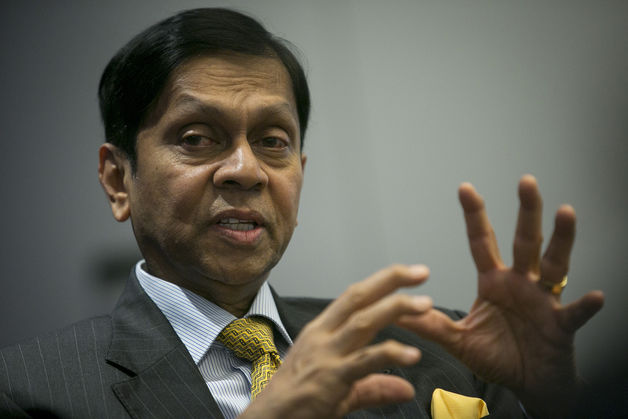 Ajith Nivard Cabraal, governor of the Central Bank of Sri Lanka.
Sri Lanka is luring enough foreign capital to meet its growth targets even as the U.S. increases pressure on the country to address allegations of human rights violations, central bank Governor Ajith Nivard Cabraal said.
The U.S. has sponsored three United Nations resolutions in as many years, calling on Sri Lanka to address alleged violations of international law committed during its three-decade civil war. Cabraal, who wants to more than double Sri Lanka's $67-billion economy by 2020, said that while pressure from human rights groups has put a "damper" on some investor interest, the country is still meeting its goals.
"We don't think there is going to be any risk of these issues going to a level in which there can be major complications for the country," Cabraal said in an interview yesterday at Bloomberg's headquarters in New York. "It's only a matter of time before that story will not have traction."
The Asian nation's civil war, which killed as many as 40,000 civilians, ended in 2009. In the past few months, American officials have criticized Sri Lanka for ordering civil society groups to stop speaking with the media and called on it to protect minorities after an outbreak of religious violence.
Sri Lanka's economy will expand 7.8 percent this year, said Cabraal, who aims to increase gross domestic product to $150 billion by 2020. To reach that goal, the country needs to achieve 8 percent growth a year, fueled by investments amounting to 33 percent of GDP, with 5 percent of that coming from foreign investors, he said.
The Sri Lanka Colombo Stock Exchange All Share Index (CSEALL) has climbed more than 19 percent this year. It rose to the highest level since June 2011 yesterday. The country's stocks, which have a total market value of $21.6 billion, are rallying as falling interest rates bolster corporate profits.
Bank Consolidation
There have been five initial public offerings this year, and three more are expected, Vajira Kulatilaka, chairman of the country's stock exchange, said yesterday in New York. The biggest hurdle to boosting investment is building companies to a size large enough to attract foreign buyers, he said.
Foreign direct investment in Sri Lanka was about 1.5 percent of GDP in 2012-2013, which is low relative to both its emerging and frontier-market peers, Tamara Henderson, an economist at Bloomberg LP in Singapore, wrote in a report Sept. 4.
The central bank has pushed smaller banks and financial companies to consolidate, helping attract investments from foreign private equity firms such as TPG Capital Management LP, Cabraal said.
The bourse plans to offer equity derivatives by 2016 and is working on creating exchange-traded funds and real estate investment trusts to draw more investment and bolster inflows, Kulatilaka said.
Deepening economic ties with China have given the country a cushion against measures aimed at forcing cooperation with the human rights probe. The U.S. isn't considering sanctions "at this point," State Department official Nisha Desai Biswal said in February.
To contact the reporters on this story: Gabrielle Coppola in New York at gcoppola@bloomberg.net; Anusha Ondaatjie in Colombo at anushao@bloomberg.net
To contact the editors responsible for this story: Nikolaj Gammeltoft at ngammeltoft@bloomberg.net Richard Richtmyer, Rina Chandran