P.G. Kumarasinghe, a brother of President Maithripala Sirisena was appointed as Chairman of Sri Lanka Telecom in late January 2015.P.G. Kumarasinghe has worked at state controlled Road Development Authority under Chandrika Bandaranaike Kumaranatunge's regime.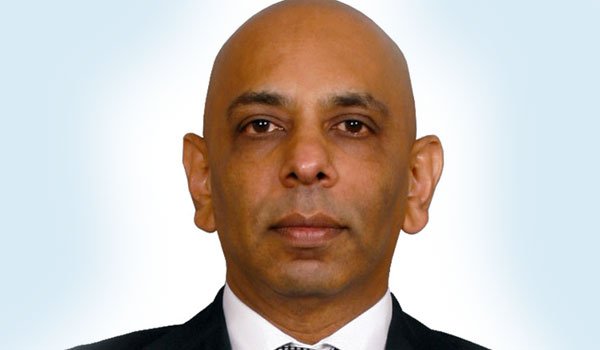 Picture: Dileepa Wijesundera
Yesterday Colombo Stock Exchange said that the government has decided to appoint Dileepa Wijesundera as the group CEO of Sri Lanka Telecom from 9th March.
Disclosure here: http://cse.lk/cmt/upload_cse_announcements/7881425381538_.pdf
The Sri Lanka holds a 49.5% stake in SLT while Global Telecommunication Holdings N.V. of Netherlands holds a 44.98% stake.
An old boy of Royal College, Wijesundera is also a former chairman of the Sri Lanka Ports Authority.
CID probe against Lalith
Meanwhile, it is reported that the current SLT group CEO - Lalith de Silva was actively supported former President Mahinda Rajapaksa at the last Presidential election, and it has been revealed that he has misused a vast amount of SLT resources for this purpose.
The SLT currently falls under the purview of the Foreign Ministry. Foreign Mangala Samaraweera has directed the new SLT chairman to probe into de Silva misusing SLT resources for the recently concluded Presidential election.
The minister has also decided to file a CID complaint on this regard as well, reports add.
The following photos depicts how Lalith de Silva joined the election campaign.
WHO is Dileepa Wijesundera?
Courtesy: http://www.thesundayleader.lk/archive/20060402/spotlight.htm
Names of top dogs in VAT fraud and their political masters out
Chairman K Port, Kamil Kuthubdeen (second from right) receiving the BOI agreement from chairman BOI Saliya Wickremasuriya (extreme right), Acquisition certificate for Kuthubdeen's land faxed with a minute to Deputy Minister Sooriyaarachchi, Kuthubdeen's letter to UDA seeking waiver and UDA response to Kuthubdeen
By Sonali Samarasinghe
The CID investigation into the Rs. 3.57 billion VAT scam that had the country reeling is set to open a can of worms with businessman Sinniah Subramaniam who surrendered to the Criminal Investigations Department (CID) last Wednesday spilling the beans and dropping the names of top notch businessmen with strong political clout.
Subramaniam who may well be used as a state witness, in his statement to the CID Wednesday, named people helping the sleuths unearth new evidence in the swindle. The CID now says this may turn out to be one of the biggest ever tax frauds in South Asia and is likely to hit a colossal Rs.8 billion. It may well turn out to be a classic case of rogues falling out and letting the cat out of the bag.
Subramaniam in his statement to the police implicated among others Kamil Kuthubdeen of K Port fame, a relative of Kuthubdeen's, Ashraff Hajjiar residing at No.14 Flower Terrace Colombo 7 and one Murshid.
Kuthubdeen, a businessman with his political tentacles everywhere, often seen hobbing and knobbing with politicos, was in the meantime frantically calling on his political machangs to rescue him from his predicament. Indeed CID sources believe it was Kamil Kuthubdeen who masterminded the entire scam.
Meanwhile last week, following the arrest of two more suspects and given the political influence that could be wielded by some businessmen still evading arrest, Solicitor General and President's Counsel C.R.De Silva called for the files from the CID to ensure that all loopholes that may impede the investigation be covered. Up until last week the Attorney General had been kept in the dark on this investigation while two separate CID investigative teams had been deployed to unearth evidence.
A spate of arrests
On Tuesday (March 28) a serving Assistant Commissioner of Inland Revenue, Ananda Wickremesinghe Ambepitiya was remanded by the Colombo Fort magistrate. Ambepitiya who was a senior assessor during the relevant period had signed and authorised the cheques for the bogus VAT refunds.
However sources close to Ambepitiya told The Sunday Leader that as a senior assessor he would authorise a large number of cheques per day by placing his signature on the top of a cheque. However it was the responsibility of officers of lower grade to attend to the scheduling and computerising of the claims.
Earlier on March 21 Agampodi Gnanasiri de Zoysa Jayatilleke of 43/26, Piliyandala Road, Godagamuwa, a former deputy commissioner for VAT was arrested by the CID.
The case in a nutshell
The CID commenced a full investigation on the Rs.3.57 billion fraud in the Inland Revenue Department following an Auditor General's report forwarded to the Department by Treasury Secretary P.B.Jayasundera. The CID recorded the Auditor General's statement as part of the investigation as well.
The investigation pertains to VAT refund claims during the period November 15, 2002 and August 25, 2004 concerning 20 companies for which 235 cheques amounting to the colossal sum of Rs 3,573,372,886 was fraudulently paid out by the Inland Revenue Department.(See box)
Many of these companies were in fact not registered according to investigations conducted at the Registrar of Companies and the Identity Cards used to obtain the cheques were forgeries. Most of the cheques had been signed allegedly by Deputy Inland Revenue Commissioner A. G. De Z. Jayatilleke and Senior Assessor Ambepitiya.
Mirshad arrested
On the morning of Wednesday March 29, a young student, Mohamed Hussein Mohamed Mirshad on his way to India in the company of his mother was arrested at the Bandaranaike International Airport. His father was the accountant at Lord and Taylor, one of the 20 companies identified by the Auditor General and the CID as being involved in the fraud.
Both Mirshad and Subramaniam were produced before Acting Fort Magistrate Jayantha Dias Nanayakkara on Thursday and remanded till April 5.
According to sources close to the young student, Mirshad had been a student in Malaysia for two years and had come down to Sri Lanka after his exams. On Wednesday(29) he was accompanying his mother to India reluctantly, having earlier told her she should take his younger brother instead. Mirshad had allegedly assisted the company to encash cheques relating to fraudulent VAT refunds as his father who was the accountant was compelled to stay at home due to
bypass surgery.
However investigative sources allege that Mirshad whose father is absconding arrest and is believed to have gone abroad, was also attempting to flee the country once the hostage taking tactics of the CID became obvious to the suspects in the case.
Ashroff's relative in custody
Thursday (30) evening, the CID now hot on the trail of Ashraff as Kuthubdeen's key partner, was to swoop down on some of his relatives. His brother in law Mohamed Ramzan was arrested Thursday evening, the CID threatening to produce him in court if Ashraff did not surrender himself to the police. Ramzan was found to be in possession of a bag said to belong to Ashraff. This led the CID to suspect that he knew the whereabouts of Ashraff.
In the meantime also on Thursday evening, the police sent another message to Ashraff's son-in-law one Huzni Ameer also residing at No.14 Flower Terrace Colombo 3, to present himself at the CID office. Accordingly Huzni Ameer accompanied by his Attorney S.Kalupahana produced himself before Inspector Ampawila of the CID who questioned him at length. Sources said Huzni assured the CID that his father in law Ashraff had indicated he would contact his lawyers and surrender himself to the police.
On Friday morning Ashraff met his lawyers and decided to surrender himself to court. However when his lawyer President's Counsel M.L.M Ameen attempted to produce him before the Fort Magistrate, Namal Balagalle, the Magistrate while acknowledging that such a name had indeed been part of the investigation refused to remand him on the grounds that his identity could not be verified by court. Ashraff apparently did not have his ID card on him.
Later his lawyers surrendered him to IP Viswanathan of the CID. Inside sources told The Sunday Leader Ashraff was however a tough cookie to crack and was unwilling to talk and was due to be sent to the Director CID for further questioning. Meanwhile sources close to Ashraff alleged he had earlier received a threatening letter reminding him of one Ameen Hajjiar who was allegedly killed by police officers and he was afraid for his life.
The Subramaniam angle
Meanwhile what of Sinniah Subramaniam? He is a businessman living at 46, Bullers Avenue, Colombo 7 just three doors next to the slain Foreign Minister Lakshman Kadirgamar's own bungalow. The moustachioed soft spoken businessman is the proprietor of three of the 20 companies so far blacklisted as involved in the scam, namely: Lotus Apparels Pvt Ltd, Lotus Garments Pvt Ltd and Lanka Universal Garments Export.
Last week on Tuesday (28) the CID contacted his wife and threatened to take her into custody. Subramaniam was by now willing to surrender and spill out his guts on the issue. On Wednesday(29) accompanied by his lawyer Gowrie Thavarasa, Subramaniam surrendered himself to Director CID Sisira Mendis where he made a statement implicating Kamil Kuthubdeen, Ashraff Hajjiar and one Murshid in the deal.
Subramaniam in his statement said that he received many cheques from VAT refunds which were deposited into bank accounts maintained by him. In turn while he acted as a collector of the funds it was Ashraff accompanied by Murshid who would then visit him and collect 85 percent of the monies which he gave by issuing cheques under his name. Ashraff was accompanied by Kamil Kuthubdeen on two to four occasions during this time. Subramaniam also said that he had known Ashraff for some 25 years and had claimed this money by stating that he was an indirect exporter.
Subramaniam also reportedly alleges that some monies amounting to Rs. 35 million due to him had not been paid to him by Ashraff. Subramaniam alleges he was getting a 15 percent cut on the deal, while 85 percent was being distributed among the other players. Ashraff therefore handed over the deeds of a land belonging to him in Pettah valued at Rs. 35 million in lieu of payment.
Ashraff denies
However sources close to Ashraff deny this, saying that he had a seven and half perch land in Pettah which he in fact sold to Subramaniam for a sum of approximately Rs. 20 million. Ashroff with that money bought for himself a property in Sri Sangarajah Mawatha Colombo 10. Ashraff who deals in cars also sold two vehicles to Subramaniam. These, claim sources close to Ashraff, were the only financial transactions that took place between him and Subramaniam.
Kuthubdeen the big fish
Police sources told this newspaper that Kuthubdeen who is still absconding is suspected to be the key figure behind the tax fraud. Sources told The Sunday Leader that by making more arrests of those around him they hope to close in on Kuthubdeen soon.
Political connections
However as The Sunday Leader exclusively reported last week, Kuthubdeen is a man with his political tentacles reaching far and wide. If his close proximity to powerful UNP families like the Dissanayakes and former ministers such as Imtiaz Bakeer Markar  allowed him a certain edge during the party's short stint in power from 2002, his equally close proximity to UPFA Deputy Minister Sripathi Sooriyaarachchi, Mangala Samaraweera and their buddies Ruwan Sugathadasa, former coordinating Secretary to Sooriyaarachchi and
Dileepa Wijesundera
, chairman Sri Lanka Ports Authority allowed him the same leeway during the PA and UPFA regimes.
Indeed it is his nexus to
Dileepa Wijesundera
, chairman, SLPA that clinched him the dry port deal even without open tenders being called and normal tender procedures followed. Whether Wijesundera would have acted on the deal without the blessings of Minister Mangala Samaraweera is a matter the President no less is going into now.
K Port Pvt Ltd of which Kuthubdeen is chairman, is a BOI approved private sector venture, set up for the specific operation of handling, storing and delivery of cargo of international trade.
K Port and Dileepa
The Sri Lanka Ports Authority decided to go ahead with K Port despite contravening financial regulations which prohibited the government from going ahead with unsolicited proposals sans proper tender procedures through public advertisement.
However the project was held in abeyance in the run up to the presidential election last year when trade unions threatened to cripple the port alleging the deal would lead to considerable retrenchment and would cause a 15 percent drop in SLPA revenue.
It soon became clear that Port Minister Mangala Samaraweera's buddy specially flown down from Canada to take over the job, Chairman
Dileepa Wijesundera
was overly keen to go ahead with the deal. On January 15 this year distressed workers sent a letter of protest to the Minister and on receiving no reply the Ports Workers Union was to send another letter on March 1 to President Mahinda Rajapakse.
Whether it was his inability to handle the controversies into which he had now been plunged or otherwise on March 17, 2006, Kuthubdeen was to write to the chairman and board of directors of the Sri Lanka Ports Authority and withdraw his request for a joint venture for the operations and management of the dry port.That is not before he tried to use his political clout to muzzle this newspaper albeit unsuccessfully.
Dileepa connection
Whatever the story on K Port, that
Dileepa Wijesundera
and Kuthubdeen have become firm friends is somewhat sure. For just a few weeks ago a consignment arrived by ship from Dubai. Reliable sources say the consignment  contained household items and was sent by Kamil Kuthubdeen who has a range of interests in Dubai. The consignment Reference NYKV 6970475 in container number 80/A3 vessel number PNO 3/10/5 Dubai Came to Sri Lanka in the name of Dharshani Weerasinghe.
Dharshani Weerasinghe is of course the brand new wife of Chairman, SLPA
Dileeepa Wijesundera
who tied the knot just two weeks ago with Minister Samaraweera as attesting witness.
In fact the reason Kuthubdeen is now in hiding is more to do with President Rajapakse tightening the screws by taking a special interest in the matter than anything else. It is also Rajapakse's interest in this case that is strengthening the hand of the CID to go flat out with the investigation. Last week the President brought the matter up at Wednesday's cabinet meeting. Later on two occasions in public, he expressed grave concern over the magnitude of the fraud. He declined a dinner invitation to the house of young up and coming politician Mayantha Dissanayake's when it was revealed that Kamil Kuthubdeen was one of the dinner guests. (See The Sunday Leader of March 26). Mayantha is the younger brother of UNP MP Navin Dissanayake.
In fact Mohamed Hamza, Kamil Kuthubdeen's brother was Imtiyaz Bakeer Markar's personal secretary when he was media minister under the UNP. But the connection to the former minister goes further than that. Kuthubdeen is married to Markar's niece.
But his tentacles reach much further than just the UNP ministers. UPFA Deputy Minister Sripathi Sooriyaarachchi is a politician who more often than not acts like a chook without a head but he is not above helping the likes of Kuthubdeen.
Only last year in February 2005 at the behest of Kuthubdeen, Sooriyaarachchi was to call for the Acquisition Certificate issued by the Urban Development Authority pertaining to a land belonging to Kamil Kuthubdeen. Sooriyaarachchi who was the deputy minister of youth affairs gloriously interfering into the matters of the UDA and making unwanted forays into Minister Dinesh Gunawardena's territory, ordered director lands Dolakumbura to fax him a copy of this certificate for his perusal.
Kuthubdeen had complained to him that one of his numerous properties was being acquired by the UDA. On February 16, 2005 Dolakumbura obediently faxed a copy of the certificate minuting it as follows:
"Hon Sripathi Sooriyaarachchi, Dy. Minister of Youth Affairs, Sir as requested sec 44 certificate faxed for your kind information pl." (See elsewhere on this page for copy of certificate)
Director of Lands Dolakumbura, when contacted by The Sunday Leader was too busy to make comment.
In or around early 2004, Kuthubdeen was to buy from one M.S.M.Wasik the premises bearing assessement No. 403, R.A.De Mel Mawatha, Colombo 3.  He was to write to Minister in charge of Urban Development Authority, Dinesh Gunawardena on May 27, 2004 seeking a waiver of an additional payment to the UDA for exceeding floor area ratio of an amended building plan.
Earlier on July 31, 2002 the UDA had already refused permission to build on these premises on the basis that the proposed building was not in conformity with regulations as the floor area ratio exceeded the regulatory requirement. The letter refusing permission was signed by (Mrs) W.D.S. Indrasiri, director (enforcement)UDA and the letter was addressed to Mr I Seneviratne, No.481, Galle Road Colombo 3.
It was only in 2004 that the property was bought over by Kamil Kuthubdeen together with the UDA restrictions in place. However he was not willing to be irritated by regulations and what not. And he immediately wrote to Minister Gunawardena a letter impatient in every detail. "After making purchase consideration for the premises, I now understand that the UDA has kept the approval of the final amended building plan pending in seeking an additional payment to UDA on grounds of exceeding floor ratio etc."
"I seek your intervention," Kuthubdeen demands, "In seeking a waiver of this additional payment as I find it unbearable. Your favourable directive on this matter would be greatly appreciated."
While the young Kamil was using his political clout on the one hand he was exploiting his business connections on the other. Informed sources told The Sunday Leader that Kuthubdeen allegedly used a Pettah money changer called Omar Khan to transfer the money he made through the VAT refunds out of the country.
After The Sunday Leader expose last Sunday (26) Omar Khan fled the country to Dubai via India. Kuthubdeen owns a three star 107 room hotel in Dubai called K Porte Inn at PO Box 55954 Al Rigga Street Deira, Dubai. Another luxury hotel is said to be under construction also in Dubai. Omar Khan's brother in law, one Noordeen is Kuthubdeen's partner at K Porte Inn and reportedly runs it for him.
But Kamil Kuthubdeen was not always so affluent.  Before 2002 he was so hard up for cash he borrowed money from a lady working at the British High Commission and was unable to pay it back. The said lady who had also borrowed money from certain other persons in order to help Kuthubdeen was embarrassed by it all and later slipped out to England herself. It is not immediately clear whether she was repaid or otherwise later on.
Be that as it may it was not always a case of money bags for the young businessman. Meanwhile he was also a dealer for Mobitel in the late 1990s and in 2000. After the UNP's rise to power in December 2001 young Kuthubdeen used his connections with Imtiyaz Bakeer Markar to rise up in the world and make considerable in roads. Imtiyaz Bakeer Markar was minister of telecommunications while Thilanga Sumathipala at the time was chairman, Telecom.
It was during this period that Kuthubdeen got into the business of call termination, a lucrative telecommunications side line especially dealing with low cost calling cards.An operation not strictly legal since it deprives legitimate dues to the state. The system is called Voice Over Internet Protocol (VOIP) and is a cheap way to make overseas calls.
At the same time under the auspices of his political friends and relations he started to dabble in the pharmaceutical business. It was during this period that the VAT scam was also beginning to gather momentum.  According to the CID evidence available so far the period in which 235 cheques for the sum of Rs. 3.57 billion was issued was November 15, 2002 to August 24, 2004.
What is call termination
Simply put if a call to Colombo is originated overseas in London for instance the call would first go through the local British telecom switch and then go through Sri Lanka's switch before it is  routed to the recipient of the call. For this purpose British telecom and Sri Lanka telecom would work under what is known as a call termination financial agreement. Such agreements are prevalent between governments or companies as the case may be in various countries.
What is VOIP
However when a call originates in London it could be routed through a computer in London which is linked to a computer in Sri Lanka. Then a large number of bogus lines may be given out which are then used to divert these calls to the respective recipients as a local call. This enables the dealer to produce en masse cheap call cards which are gleefully used by migrant workers and Sri Lankan holiday makers abroad.
Kamil Kuthubdeen through his connections with Imtiyaz Bakeer Markar and the SLT got for himself a number of these telephone lines which you can obtain by saying you are dealing in telemarketing etc. and set up a lucrative VOIP system.
Sources say the income from such business could be as much as Rs.50 -60 million per month.
A bitter pill to swallow
In the meantime Kuthubdeen was allegedly earning money in more ways than merely VOIP. By this time the VAT scam was also well underway. The young businessman with a lot of liquid cash on his hands now got into the pharmaceutical business. He set up a business called KK Pharma which has a warehouse next to Oasis Hospital off Kirimandala Mawatha in Narahenpita.
He got into the business by first throwing his money around and poaching agencies away from long established multinational companies such as Mackwoods. For instance Mackwoods represented in Sri Lanka Square Pharmaceuticals Ltd, the leading pharmaceuticals manufacturer in Bangladesh.
Kuthubdeen, sources allege, was to latch on to one of the main personalities at Square Pharma by throwing money around having much to throw around in liquid form and pried away the agency from Mackwoods. Mackwoods having had a legal agreement with Sqaure Pharma went to court and obtained an injunction to stop the agency from being transferred to Kuthubdeen.
However this had no effect in the long run, for Kuthubdeen was now able to splash ready money at the faces of any opposition. Inside sources told The Sunday Leader he was able to get a hold of key people at the State Pharmaceutical Corporation (SPC), Department of Health Services (DHS), and the Cosmetic Drugs and Devices Authority (CDDA).
The CDDA in Sri Lanka is considered one of the best in the world where approval procedures are stringent and approvals could take from six months up to three years. The procedure is so strict sources told The Sunday Leader that a 25 mg Paracetamol tablet as opposed to a blister pack would require separate registration and it would be so even if a pill were to change colour. Inspite of this however KK Pharma was able to obtain approvals for their products in a matter of three to four weeks.
The Department of Health Services and the State Pharmaceuticals Corporation control the buying of almost all medicine and equipment into Sri Lanka worth some US$50-60 million per annum. Kuthubdeen who infiltrated the DHS and SPC has now largely gained control of the business. Kuthubdeen by dealing directly with the overseas companies and allegedly raking in the commissions bypasses the need for a local agent while his alleged connections with SPC and DHS work well for him. Sources allege that commissions could be floating around and could reach the pockets of anybody. Pharmaceuticals has become one of Kuthubdeen's many businesses, say sources, as he merely poaches agencies through big bucks.
Investigations continue
Kuthubdeen aside, never before have the policemen of public income, been so heavily under fire. Death and taxes may be inevitable but for some tax men and their colluding business partners a long jail term may be just as sure.
Last week the CID were on a rampage. They had a list of wanted men and they were hunting them down. Those absconding found their kith and kin including wives increasingly in danger of being held hostage by the state. The sleuths are now hot on the trail of at least three more suspects.
Commissioner
General speaks out
A.A.Wijepala, who was appointed commissioner general Inland Revenue Department only last Monday(27) however defended his men, maintaining that a small staff and about 300-400 cheques to be signed per day precluded the officers from going through the documents of each and every claim.
When pointed out that this amounted to criminal negligence and that the regulations specifically called for officers to check all documents thoroughly, he told The Sunday Leader it was humanly impossible to do so.
However Wijepala cannot absolve himself of responsibility. During the period relevant to the audit inquiry which eventually led to the CID investigation, it was he who headed the VAT refund section of the Inland Revenue Department (IRD) as commissioner of VAT. Last month on March 6 he took over as acting commissioner general of the IRD from Karunasekera who retired.
It was also Wijepapala, according to one company — Butani Exports that in October 2004 threatened its managing director by telephone to come to a settlement or he would close the factory. Butani Exports Managing Director Kishin Butani told The Sunday Leader it was Wijepala who was VAT commissioner when their business premises were raided on several occasions and original files and documents taken. It was on the Butani complaint of non refunds of VAT that the inquiry originally got underway. (See The Sunday Leader of last week)
Last Week Wijepala denied ever making such a call claiming he was only an administrator and said he could not remember the Butani case.
After last week's The Sunday Leader article which carried a statement by Wijepala that all VAT refunds are paid within one month our office was inundated by calls from businessmen who claimed their VAT refunds have still not been paid even after six to nine months.
One businessman who wished to remain anonymous told The Sunday Leader that his VAT refund had not been paid for nine months and that the IRD excuse was that the Treasury had not released sufficient funds and therefore he would have to wait in a queue.
Wijepala told The Sunday Leader that it was only to exporters that the one month rule applied and that other VAT claims could be paid within six months. "Sometimes we have to make assessments and inquire into these claims so it takes longer", he said.
However even as commissioner VAT, curiously enough none of the officers in office in the relevant VAT department during the period of investigation from November 15,2002 to August 24, 2004 thought it necessary to make any independent assessments or check the documents relating to the bogus claims which has now led to this huge scandal which President Mahinda Rajapakse has said would have been sufficient to develop the Hambantota Port.
It can only be hoped given the mega bucks involved that the fraudsters will not escape the long arm of the law through loopholes in the legal system.