Sri Lanka's new Yahapaan Government's Attorney General has said government will settle off 41% due to Depositors that comes up to be about Rs.10 billion out of the entire Rs.26 billion Golden Key Credit Card Scam that was committed by Sri Lanka's Present Prime Minister Ranil Wickremesinghe's cousin Deshamanya Dr.Lalith Kotelawala of Ceylinco who is coming from Wijewardene, Jayawardene and Kotelawala fame.
Lalith Kotelawala ran island nation - Sri Lanka's first Credit Card Company tiled as Golden Key Credit Card Company Ltd for over 30 amidst operating a group with over 21 groups run by 16 top Directors with over 500 companies where 60 companies were dealing with country's financial sector whilst about another 100 companies were directly involved in creating a Primary Mortgage Crisis in Sri Lanka's Real Estate Sector till the Global Financial Crisis that hit a peak in 2007-2008, Golden Key Credit Card Company offered over 33% to 42% interest rates per annum to even former 'Some' United National Party Members fame, and the Top Bishops of the Country's Roman Catholic Church (where the money was coming from devotees and believers of Roman Catholic Church of Sri Lanka as donations to God), and some top businessmen, movie stars, artists, cricketers in Sri Lanka in a climate where Sri Lanka was fighting a War Against Terrorism.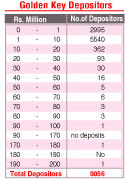 Accordingly yesterday Supreme Court has been informed by the Attorney General Department that Depositors that had less than Rs.2 million will be paid 41% of their funds by 2 months, and 41% deposit values of Depositors that had over 2 million and less than Rs.10 million funds will be paid by 12 months and Depositors who had over Rs.10 million will be paid by a latter stage. The ful list of Golden Key Depositors according to the data available included over 9,000 with a Deposit Base of over Rs.26 billion.
According to top sources Present Prime Minister Ranil's family entities including Wijewardene's also had major deposits in Golden Key and Government is trying to bail out Kotelawala's Debt via Treasury to bring back Sri Lankan Allen Stanford type Bernard Madoff turned Lalith Kotelawala to Business avenues of the country by White Washing despite Kotelawala was the largest funder for LTTE Banks and LTTE via Colombo Rider Buses and Kotelawala was the largest funder for United National Party's Campaign in 2005 Presidential Elections where present Prime Minister Ranil Wickremesinghe last appeared as a Presidential Candidate check out the following list for Full Golden Key Depositors...Full List in Next Post...
Milton Karunratne (Businessman residing in 
Australia
) - Rs.200 million 
H.K. Dharmadasa (Nawaloka Mudalali) - Rs.92.5 million 
Ms. J.M.G. Thushari - Rs.68 million 
Ranjith Sumanasekara - Rs.66 million 
Ven. B.Somawansa - Rs.41 million 
Rev.Fr. Raja Perera - Rs.41 million 
R.C. Bishop of Ratnapura - Rs.40 million 
Hemantha Warnakulasuriya (P.C. and Ambassador to Italy) - Rs.13.5 million 


Last edited by Business Basil on Fri Jun 19, 2015 12:51 pm; edited 2 times in total