With the fear of huge penalties you can see drivers are reluctant to overtake even in no risk situations.
I experienced this situation last few days and had to crawl in long queues of vehicles, flowing  Piaggios, L boards or 'Kunu lorries' etc.  
This may cause big wastage of fuel all over the Island and add more burden to our US$ crisis.
US$ wasted may go over the Rupees planned to collect  from traffic fines.  Is this another  mess by our Rata Kanna aka gon Thadeesh?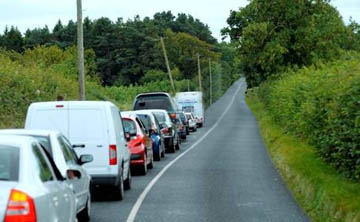 img for demonstration only