It is now revealed that Prince Charles' private visit to then Chris Nonis lead Mackwoods'  owned Agallawatte Plantations' Labookellie Tea Estate in the latter part of 2013 added over Rs. 124 million losses to Dr. Chris Nonis run Agallawatte Group which had been later discovered after he sold it to LOLC led Browns Capital (FLCH) and when an audit was carried out. As a result the new buyer of Agalawatte Plantations PLC (AGAL), Damro Furniture Group's Damitha Ramanayake has to bear the costs up to a Rs.3.3 billion owed to Banks, Financial Institutions, Creditors and another Rs.1 billion as a capital infusion via a Rights Issue.
According to a shareholder circular issued by the AGAL's new board of directors, the re-audited financial statements up to December 31, 2014, have discovered that the company run by the then board of directors had spent Rs.18 million on a helipad at Labookellie Estate to accommodate the visit of a VVIP (Prince Charles, who never used it to come to the Estate) and also, the company had spent Rs.106 million for a tea museum at the same estate just to exhibit the private assets of the then Chairman to show off Prince Charles.
http://www.gettyimages.com/detail/video/exterior-shots-of-prince-charles-visiting-the-labookellie-news-footage/453199237
Prince of Wales rounds off Sri Lanka tour with a cup of tea and the Hokey Cokey
Prince of Wales takes part in rendition of Hokey Cokey with disabled children, before rounding off his tour of Sri Lanka with a cup of tea on a plantation
He rarely needs to be asked twice to show off his dancing skills, so there was no stopping the Prince of Wales when he walked into a classroom of children doing the Hokey-Cokey in Sri Lanka.
The Prince joined hands with children in a music class at a school for physically and mentally handicapped children in Nuwara Eliya, and went through several verses of the song before finally admitting defeat when the children appeared ready to carry on all afternoon.
On the final day of the Prince's tour of India and Sri Lanka with the Duchess of Cornwall, the Prince travelled alone to central Sri Lanka while the Duchess carried out engagements in Colombo.
The Prince began the day by keeping a 15-year-old promise by visiting the Temple of the Tooth in Kandy, where a lower left wisdom tooth said to be the only remaining relic of Buddha is kept.
He was supposed to visit the temple during a tour in 1998, but a terrorist bombing in another part of the country put paid to it on that occasion.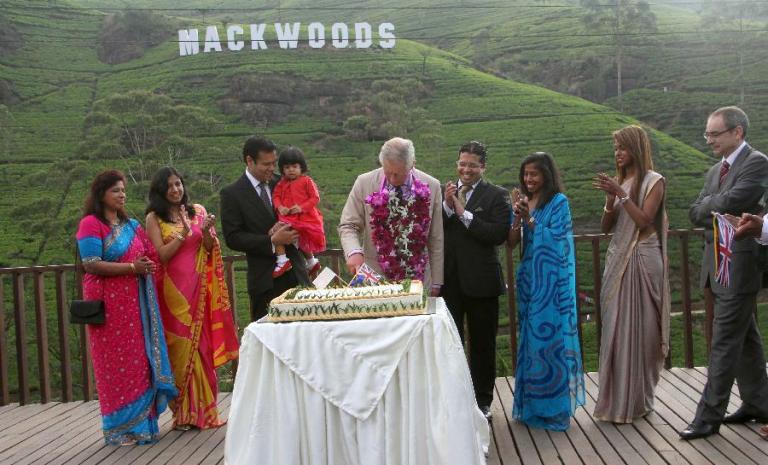 He said at the time that he would one day go back, and on Saturday he was greeted by the Chief Lay Custodian of the Tooth, Pradeep Nilanga Dela, wearing ceremonial costume, as he arrived.
He was taken to an inner sanctum where the tooth, which was plucked from the ashes of Buddha's funeral pyre, according to legend, and brought to Sri Lanka in the fourth century, is kept in seven concentric boxes.
Mr Nilanga Dela took the Prince through a pair of doors decorated with silver into the temple's inner sanctum where the relic is kept, but he only saw the golden outer casket, as the tooth is only displayed every five years. He was given a small silver replica of the reliquary as a gift.
He then made a private visit to a monastery which is part of the temple complex, to two high priests who are the religious custodians of the tooth, regarded as the island's most prized possession and a symbol of its sovereignty.
He also visited the nearby British Cantonment Cemetery, where 195 colonial settles are buried, and the Botanical Gardens in Kandy, including the villa where his great uncle, Earl Mountbatten, had his wartime headquarters.
Then it was on to Nuwara Eliya and the school set up in 1988 by British expatriate Chris Stubbs MBE and his wife Ranji.
He joined 17-year-old Madona Soloman, who was making rugs out of clippings and sack cloth, and was warned not to prick himself with a safety pin he was handed.
"I have done," he replied, laughing. "Of course I'm going to prick myself." Referring to his famously sausage-like fingers, he added: "I've got the wrong sort of fingers to do this."
Then he walked into the music class where children were doing the Hokey-Cokey. He joined in with all the actions, bending his knees, stretching his arms and turning around, clearly enjoying the chance to "shake it all about".
Prince Charles visits the Peradeniya National Botanical gardens in Kandy, Sri Lanka (AP)
The school, which has helped 6,000 pupils over the past 25 years, helps children who would otherwise struggle to make a living as adults to learn skills that help them find employment.
The Prince then rounded off his tour of Sri Lanka in the most refreshing way possible, with a cup of tea brewed on the plantation where it was picked.
He visited the Labookellie tea estate in Nuwara Eliya, where he was taught how to pick tea leaves before touring the factory where Mackwoods have made Ceylon tea since 1841.
On the hillsides where the tea grows on the 27,000 acre estate, the Prince was given a masterclass in how to make Britain's favourite drink by Neeta Martenstyna, an executive at Mackwoods, and tea-picker Thandawa Vithamaerry.
They showed him how to pick new leaves, with two leaves and a bud, to get the best tea and keep the plant healthy.
A keen organic gardener, the Prince asked how long the plants could live, and was told they could survive for 45 to 50 years, producing new leaves all the year round.
The tea-pickers gather around 33lbs of tea each per day, a total production of 6,600 lbs of black tea per day for the plantation.
The Prince was also given a tour of the adjacent factory, where freshly-picked tea is dried, rolled and sifted so it can be drunk the day it is picked.
As he sampled different varieties using a silver spoon - at tea-time, appropriately - the Prince said one variety called Broken Orange Pekoe Fanning was "too mild", adding: "I like it stronger, and with milk."
Prince Charles visits the Temple of the Tooth (GETTY IMAGES)
He was told tasters normally spit out the tea into a spitoon, but looked at photographers and said: "I don't think I'm going to be doing that."
Sri Lanka is the world's fourth-largest producer of tea, employing a million people directly or indirectly. The industry began in 1824 when a single tea plant was brought from China to the botanical gardens in Kandy as a specimen plant. Colonialists quickly realised the island's climate was ideal for growing the plant, and in 1873 the first consignment of Ceylon tea arrived in London.
Before the Prince left the Mackwoods estate, he was given a silver-plated box containing two tea caddies, one containing Prince of Wales blend and the other containing Prince George blend.
The Duchess, meanwhile, stayed in Colombo where she joined an art class at Home-Start Sri Lanka, an organisation that helps children and parents to increase skills including reading and computing.
The students and the Duchess picked out pieces of paper at random to determine animals they had to draw, and the Duchess picked out elephant, horse and squirrel.
As she put pen to paper she said: "My husband is a very good painter." The Duchess decided to combine all three animals in one beast, and held up a drawing of a horse with an elephant's bottom and a squirrel's tail, saying: "That's my strange contribution."
http://www.telegraph.co.uk/news/uknews/prince-charles/10454075/Prince-of-Wales-rounds-off-Sri-Lanka-tour-with-a-cup-of-tea-and-the-Hokey-Cokey.html
Sri Lanka's High Commissioner in the UK Dr. Chris Nonis is a diplomat who practices what he preaches – Dr. Nonis's family own the Mackwoods tea company in Sri Lanka. Sri Lankan broadcaster loved to have a cup of Mackwoods Tea when he lived in Maha Nuge Gardens in Colombo. He would sit in the garden drinking a cup of Mackwoods tea after a hard days work at Radio Ceylon/Sri Lanka Broadcasting Corporation. Dr. Nonis spoke of the Mackwoods tea company proving employment for the differently abled and how he tried to bring the 'inclusiveness' of the Mackwoods group during their 160th anniversary celebrations in Colombo when blind school children from Kuliyapitiya took centre stage at the celebrations.
https://vernoncorea.Deleted.com/tag/prince-charles-at-mackwoods-labookellie-tea-estate-in-nuwara-eliya/
Agalawatte Plantations back in spotlight for all wrong reasons
A case of major corporate skullduggery has been unearthed at Agalawatte Plantations PLC (AGAL), where the ex-owners and the management were alleged to have squandered billions of rupees on extravagant projects, duping employees, bankers
and shareholders.
Among these extravaganza is also a villa complex constructed at Culloden Estate for no justifiable commercial reason, which had gulped another Rs.105 million.  According to the shareholder circular, all these moneys were squandered at a time when the total outstanding statutory liabilities of AGAL stood at a staggering Rs.3.3 billion by the end of December, 2016, due to be paid to banks, other lenders and
trade creditors.  
The auditors are of the view that these assets must be fully written off from the books of accounts as they do not add any economic value to the company. Thus the accumulated losses of the company are expected to be well over Rs.1.2 billion as at December 31, 2016.  In September, last year Sri Lanka Accounting and Auditing Standards Monitoring Board (SLAASMB) had deemed that AGAL's financial statement for 2014 had to be re-audited.
The re-audited financial statements for the year ended December 31, 2014, showed a negative net assets value of Rs.215.87 million for the company and Rs.130.53 million for the group.
"The catastrophic situation faced by the company has arisen as a direct result of misappropriation of company's assets by the previous management of and pure negligence in maintaining the state owned assets leased to the company," the shareholder circular said.
The new management of AGAL has called for an extraordinary general meeting on May 5, 2017 to apprise the shareholders on the financial position of the company.
In July, 2016, 60.8 percent stake of Agalawatte Plantations was sold by its major shareholder, Mackwoods Plantations Limited to Browns Power Holdings Private Limited, an LOLC group company for Rs.304 million.
But in March this year, D.R. Investments, the owners of Damro bought a 61 percent stake in AGAL from Browns for Rs.275 million.
Agalawatta Plantations manages 15 estates, which include tea, rubber and oil palm covering a total extent of 10,919 hectares and employs around 5,000 workers. The group had an asset base of Rs.4.3 billion by the end of 2014.
Now the new management proposes a debt-to-equity restructuring plan to turn the fortunes of the ill-fated company.
The new majority shareholder of AGAL is also prepared to infuse a billion rupees in fresh equity through a rights issue but seeks a 46-year extension to the lease agreement from the government at the expiration of the current 53-year lease.
The new management has also asked for five years to settle the outstanding government lease rentals and 50 percent moratorium on the current lease rentals for a period of 5 years until all bank liabilities are settled.
All other liabilities will also be settled but the board requested to waive-off all surcharges on unpaid EPF/ETF, overdue and penal interest on outstanding borrowings and concessionary rate on balance capital outstanding until full settlements are made.  
This re-payment will only be successful if the company generates approximately Rs.400 million a per annum additional cash flow during the next
five years.
In the meantime, the new board of directors will also institute legal action against the previous management to recover the funds squandered during their term in office and upon recovery, such funds would be utilized to settle the dues.
- See more at: http://www.dailymirror.lk/article/Agalawatte-Plantations-back-in-spotlight-for-all-wrong-reasons--126801.html#sthash.iBNl66z4.dpuf
Stock Exchange Report: https://cdn.cse.lk/cmt/upload_cse_announcements/981491284043_.pdf