Starting from 1st JULY 2017 Largest partly government owned but for the namesake privately owned commercial bank in Sri Lanka Commercial Bank of Sri Lanka (COMB) head office without government or country's financial Ombudsman's approval had directed every branch to charge Rs.5 per transaction if people are withdrawing at branch counters from the statement savings accounts.
During last 5 years bank has been on a hard campaigning drive to convert every savings account of the customers to statement savings accounts without a pass book and now bank is trying to earn unethically from customers.
Every Christmas Day and Sinhala-Tamil New Year Commercial Bank allows withdrawals over Rs. 15 billion (Rs. 15,000,000,000/-) per day average to countrymen whilst as a result if bank charges Rs. 5 per transaction bank will unethically earn over a maximum of Rs. 30 million (Rs. 30,000,000/-) per day or higher (assumption calculation Rs. 500/- withdrawals each) at the expense of country's depositors hard earned money.This is a daylight robbery of people's hard earned money via an unethical charge SINCE BANK ONLY PAYS LESS THAN Rs. 20 as interest per month for every Rs. 100,000/- deposit.Example if a person has Rs. 100,000/- in a bank savings account and he later withdraws Rs. 20,000 each four times from a counter during a month he will not virtually own interest from bank since bank would deduct Rs. 5 into four times totaling Rs. 20/- from him during a Calendar month.
This is unethical because as an example if a person withdraws Rs. 5,000/- or any amount less than Rs. 100,000/ at a time every time the bank will charge Rs. 5/- per transaction which will lead bank to 'Rob' hard earned money of Sri Lanka's millions of customers banking with commercial bank among 20 million populace of the country. 
Top shareholders of Commercial Bank are government via DFCC (owned by BOC, HNB in which 17% ownership controlled by Harry Jayawardena, Harry's Melstacorp owns 8%, United Motors owner M.A. Yaseen own over 7% ) Sri Lanka Insurance Life & General Funds with 9.32%, EPF and Vehicle Trader Indra Traders owner Indra Silva with 9.8%, Harry's Melstacorp with 3.39%, United Motors owner Yaseen's wife L.M.A. Yaseen with 1.81%.
Commercial Bank's Chairman Dharma Dheerasinghe is the former Deputy Governor of Central Bank  and Bond King Ajith Devasurendra's best Inside informer at Central Bank on Bond Interest rates from 2004 era – 'Husband of Alleged EPF Investment Approval Officer Rupa Dheerasinghe who favoured Sri Lanka's first Bond King Ajith Devasurendra, New Bond Emperor Arjun Aloysius and Ishara Nanayakkara, to sell various listed shares such as LAUGFS Gas, Ceylon Grain Elevators, PC House, etc… to EPF at exorbitant capital gains during 2011-2013) whilst Yahapalanaya appointed first Chief Justice K. Sripavan is also on Board along with Jetwing Hotelier Hiran Cooray's sister cum Capital Alliance Bond Trader Ajith Fernando's other wife Nawalage Therese Manouri Shiromal Cooray.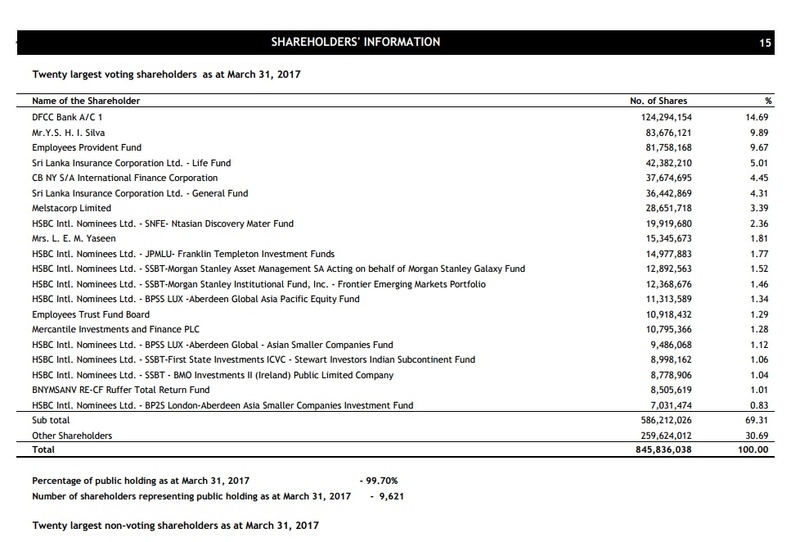 Countrymen can report this Unethical Charge of Commercial Bank to Financial Ombudsman using following details

Website

:

www.financialombudsman.lk

 
 
 
 
 

Email

:

fosril@sltnet.lk

 
 
 
 
 

Telefax

:

+94 11 259 5625

 
 
 
 
 

Telephone

:

+94 11 259 5624

 
 
 
 
 

Address

:

The Financial Ombudsman Sri Lanka
No 143A, Vajira Road,
Colombo 5.