There was a time Maharaja and few members ask to sell your portfolio and exit, yet I continue my work and encourage newcomers/members to continue in CSE and pick great counters @ discounted price.
ASI will test 6500 in coming days and now the forum is filled with manipulators/promoters/crooks etc ask you to buy- sell-hold-average-giving ranges-ask to sell one and buy another.
It seems some members active these days born with all the knowledge about Stock market shares and acts like the owner of the certain company stocks.
Whenever someone promoting a share/news without proper analysis and resource type the share name in search, EX 1-search BFN/Orient finance kalu351 comes first ,2- UBC/Union bank and MarketWch comes first.You can see the history and  their backup profiles and new profiles also supporting same share over and over.
Nobody can predict/give 100% accurate information about deals/News or analysis …etc and only you can pick the great counters @right time @right price. EX 1- no one predict CSEC yet if you pick the share below 20/= it went 40+ after the deal. EX-2 if you collected HUNA under 90/= it went 180+. 
Do your own analysis first before you invest/trade. Don't fall for deals/news/day trading promoters etc.... There are few forums you can get all the help and analysis and many sites to get information on shares ,but not this forum.
If the first day a politician did a mistake have been punished according to Sri lankan LAW this country will not become like this. This forum is filled with manipulators/crooks/promoters and they have a group, even the Admin and moderates are sleeping or some say they are crooks too.
I will continue my work in THE EQUITYCHECK & THE INVESTOR SENTIMENTand you can get all the info/news/analysis in those forums. Admin & moderates are active 24/7 and no crooks/promoters/manipulators etc and 100% safe places.
I never had any personnel problem with any member and if any means someone got hurt by me/my posts I apologies.
If you save/gain something from my posts please continue sharing accurate news/analysis etc to the fellow members.
So I am logging out permanently from SLEF as ruwan326(I don't have any other account or wish to create one here in SLEF) and wish all the forum members good luck and happy /safe trading.
I saw some decent/genuine new comers and if they or anyone likes they can continue on posts I created.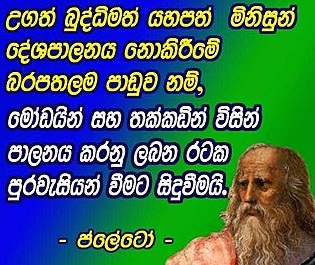 SAME GOES FOR SRI LANKA EQUITY FORUM.......... FORUM WITH INACTIVE/USELESS ADMIN & MODERATES MAKES MANIPULATORS/PROMOTERS/CROCKS/FAKE ACCOUNT MEMBERS PARTY 24/7. MANY GREAT MEMBERS LEFT/FEW GOOD ONCE FOUND,IT'S WORTH LESS CONTINUING HERE..... SO I AM LETTING IT GO.....