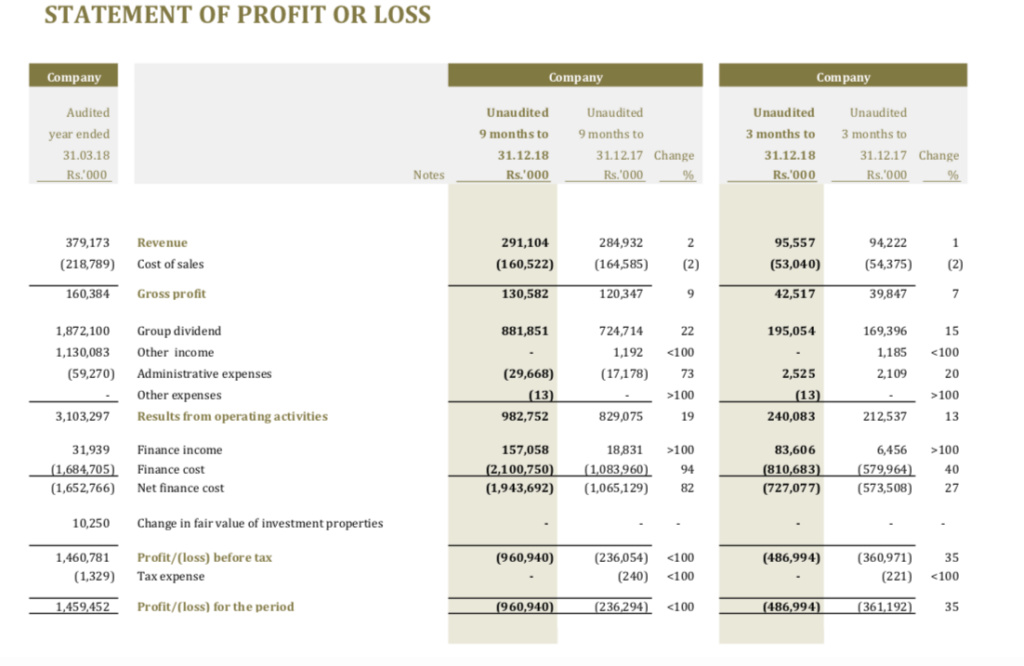 https://www.cse.lk/home/company-info/HAYL.N0000/financial
ECONOMYNEXT – Sri Lanka's Hayleys group reported a loss of 143.4 million rupees in the September 2018 quarter, with a sharp rise in costs and minority interest earnings, despite sales growing by more than half.
The loss, compared with net profit of 168.3 million rupees the year before, was Hayleys' second successive quarterly loss, the group having lost 264 million rupees in the June 2018 quarter.
The loss amounted to 1.91 rupees per share in the September 2018 quarter compared with earnings per share of 2.24 rupees the year before. 
In the six months to September 2018 the loss per share was 5.39 rupees. The share closed Tuesday at 189.60 rupees, down 5.40 rupees or 2.8 percent.
Second quarter group sales shot up 58 percent to 52.4 billion rupees from the previous year with gross profit up 71 percent to 11.6 billion rupees, interim accounts showed.  
Net finance costs of Hayleys, which is in manufacturing, consumer durables, logistics and plantations, more than doubled to 2.6 billion rupees in the September 2018 quarter mainly because of the inclusion of Singer group, borrowings to fund acquisitions and exchange rate fluctuations. 
Total profit after tax in the September 2018 quarter fell 23 percent to 509 million rupees while the profit share of non-controlling or minority interest rose 33 percent to 652 million rupees, the accounts showed. 
A company statement said Hayleys surpassed 100 billion sales in the first half of the 2018/19 financial year, fueled by topline growth across all of its key businesses.
"The group incurred an increased net finance cost of 5 billion rupees, mainly due to the inclusion of Singer group, financing costs of the recent acquisitions and exchange rate fluctuation." 
All segments except for plantations contributed to the healthy expansion in turnover for the group during the half-year, the statement said.
"Revenue within the Consumer & Retail segment expanded substantially from 2.7 billion rupees to 31.5 billion rupees in 1HFY18/19, bolstered by the contributions of Singer (Sri Lanka) Group which were acquired by Hayleys at end of 2Q18, generating 2.4 billion rupees in operating profits."