With the COVID-19 pandemic continuing to damage economies across the world, and with few clear signs of an end to the crisis, we have lowered our outlook for global GDP.
At the beginning of April, we foresaw a 3.3 per cent contraction for 2020 – a sharper fall than the worst of the 2008-2009 financial crisis. However, events have moved on since this time and we now expect global GDP to drop by 4.8 per cent.
This change is driven by a number of factors. First, many countries have either tightened lockdown restrictions or extended their duration, particularly in the emerging world, including in Latin America and Russia, and a number of countries in Asia such as Indonesia, which had previously avoided formal suppression measures.
Second, we now have first quarter GDP data for the three largest economies in the world – the US, China and the Eurozone – and several others. That means we have a better idea of what the economic damage is from at least the initial stages of the lockdown. This is a useful indication of what may be happening elsewhere.
Q1 was bad; Q2 will be worse for most
We have lowered our 2020 GDP growth forecast to -4.8%
Many lockdown restrictions have been tightened
We have a better idea of the scale of the slowdown from initial GDP readings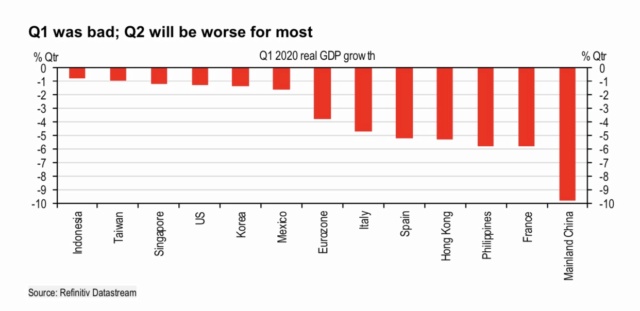 Third, anticipated timelines for the full re-opening of economies have lengthened. Some economies are now seeing their lockdowns and social distancing measures being eased, most notably China and Korea. An increasing number of countries in Europe have started a gradual opening up too, as have New Zealand and Australia. However, varying experiences illustrate the difficulty in trying to revive activity back towards previous norms and have led us to expect this will take longer (as discussed below)
Fourth, for oil producers, particularly in the Middle East, the oil price is still very low. Our real GDP forecasts for the oil-producing nations have been cut materially, primarily to reflect the oil production cuts agreed at the OPEC+ summit in April. This means net exports are no longer set to mask the sharp downturns in domestic demand that we had already factored into our previous forecasts.
More on the re-opening of economies
To determine our GDP projections (summarised below), we needed to take a view on both the timing and phasing in with which the various lockdown and social distancing measures are removed. But also how long it takes for consumer behaviour to return to normality.
Timelines and lengthening
The relaxations of lockdowns across the world have been extremely gradual, but even when the strictest measures are lifted we could see a substantial share of the economy still unable to function. In Italy, for example, we estimate the proportion of the economy locked down will fall from around a third in late March and April to 20% from 4 May and 10% from 18 May, and finally to less than 5% from 1 June. However, the recovery in demand for some sectors will not be as swift: it will likely be gradual and uneven, suggesting that the lost activity from lockdowns could persist for some time.
Consumer behaviour shifting
Changing consumer preferences will also affect the speed that certain sectors return to normality. This could be because they are deemed non-essential (like gyms or restaurants) or involve large crowds (public transport or sporting events), but it is impossible to say by how much and for how long. As we've seen in China, as the economy has opened up, and Sweden, where restrictions were never as strict, social distancing remains part of everyday life, so it is hard to return to 'normal' levels of activity.
In advanced economies, huge fiscal measures have been put in place to limit the rise in unemployment and to support wages. But the fact is employment will be hit in those sectors that are slower to re-open and where more companies are unlikely to re-open at all. However, some will have seen an involuntary rise in savings during lockdown and there should be a degree of pent-up demand unleashed. We expect a quicker bounce-back in demand for goods than for many consumer-facing services where social distancing is harder to maintain.
Early openers restrained by export weakness
This unprecedented recession and uneven recovery around the world is likely to see a slow revival in global demand for goods. This will restrain the pace of improvement in those countries that have managed to contain the pandemic domestically. In South Korea, for example, the collapse in global demand is hitting hard: exports were down nearly 25% year-on-year in April as exports of some products, such as car parts, halved (source: Refinitiv Datastream).
Our new forecasts
Taking all of this together, the bigger downgrade this time is in our forecast for the emerging world where we now expect a fall in GDP of 1.7 per cent, down from our previous forecast of 0.5 per cent growth, with sizeable cuts across all regions. The damage looks particularly bad in Latin America, where we now see GDP in Mexico falling by 9 per cent this year and in Brazil by 7.3 per cent. High uncertainty about the impact and duration of the COVID- 19 health crisis in both countries can be expected to have a deeper and longer-lasting effect on investment and consumption.
Our forecast for the developed world has fallen from -5.9 per cent to -7.1 per cent, with the biggest downgrades coming through in Europe, notably France, and in Canada, where the outlook has deteriorated sharply both from COVID-19 effects and lower oil prices.