Japan based Fund, 4th largest depositor Bank in limbo due to Chief Executive and Board decision on waiving off Rs. 1.37 Billion security that is yet to mature in 7 years
Hot on the heels of Sri Lanka's government trying hard to raise Foreign Direct Investments from abroad, revelations have come to light that Sri Lanka's single largest monopolistic Casino Mogul billionaire Kulappurarachchige Don Dhammika Perera controlled licensed commercial bank – Pan Asia Bank PLC is in a move to waive off a security deposit of Asia's most developed nation Japan based investor, amounting to Rs. 1.37 billion, which has 7 more years to mature.
In a letter dated 8th February 2021, sent to PABC's Chairman G.A.R. Dimuth Prasanna which has also been copied to Prime Minister Mahinda Rajapaksa (Ministry of Finance) and Sri Lanka's financial regulator – the Central Bank of Sri Lanka, Japan-based fund and Investor – Wan Hang Funds Development Ltd (WHFD) notes that being the fourth largest depositor in PABC, approximately 1.08 billion Japanese Yen (JPY) was brought in as Foreign Direct Investment to Sri Lanka's banking system through PABC from March to December 2017.
This had occurred during a time when the bank was facing capital constraints according to WHFD.
Then almost all brought in JPY by WHFD to the tune of 1 billion were converted to Sri Lanka Rupees (LKR) at prevailing exchange rates during the time.
Thereafter (WHFD) had created a time deposit denominated in LKR amounting to Rs. 1.37 billion, maturing in September 2028, at an annual interest rate of 9.75%, paid on monthly interest.
WHFD then had used this LKR-denominated time deposit as collateral and borrowed Japanese Yen worth 80% of it amounting to JPY 822.1 million.
However, by January 2021 the value of LKR has declined against JPY, so the collateral strength of LKR-denominated time deposits as collateral has declined, in which loan balance has exceeded the collateral value by 12%.
However, WHFD claims that it has received a notice from PABC's local management if the WHFD does not provide additional collateral that by 10th February 2021, the said facility would be terminated.
Further the letter notes that PABC on the contrary have frozen WHFD's monthly interest payment account.
On the other hand, according to the letter, WHFD had maintained a track record of making interest payments without delay for the loan facility in accordance with the loan agreement making the said JPY loan a Performing Loan in PABC's lending portfolio.
The letter further goes into explain that WHFD would ensure that as per their agreed plan, steps are underway to deposit Rs. 2 Billion worth of JPY in the bank every year, providing further capital strength to PABC Bank.
"We would like to confirm that amidst a global pandemic that restrict global trade and travel, although we have proper plan in place to provide additional collateral, we require some considerable time to bring in the relevant tranches" WHFD management stresses out in the letter to PABC.
"We would like to further state that amidst these difficult times due to Pandemic, that restrict global investors to transfer funds in cross boarder payments, at large over Rs. 40 billion realized Foreign Direct Investments with Japanese investor confidence in Sri Lanka will be affected if this WHFD's confidence placed in PABC is affected due to any unwise decision taken by the bank's local management, that might further affect to Financial System Stability of Sri Lanka" WHFD points out in the letter.
The letter further highlights that Japan to date is the most developed nation in Asia and has been a strong supporter of Sri Lanka.
"In fact, Japan has been the largest financial donor to Sri Lanka and a big investor apart from being an important source market for Sri Lanka Tourism over the years" the letter points out adding that in such background WHFD would like to ask for the cooperation and guidance of the bank and relevant authorities in Sri Lanka to provide them with an amicable solution considering their investment portfolio and confidence placed in the bank and the banking and financial system in Sri Lanka, apart from WHFD being the largest conglomerate with a reputation in Japan.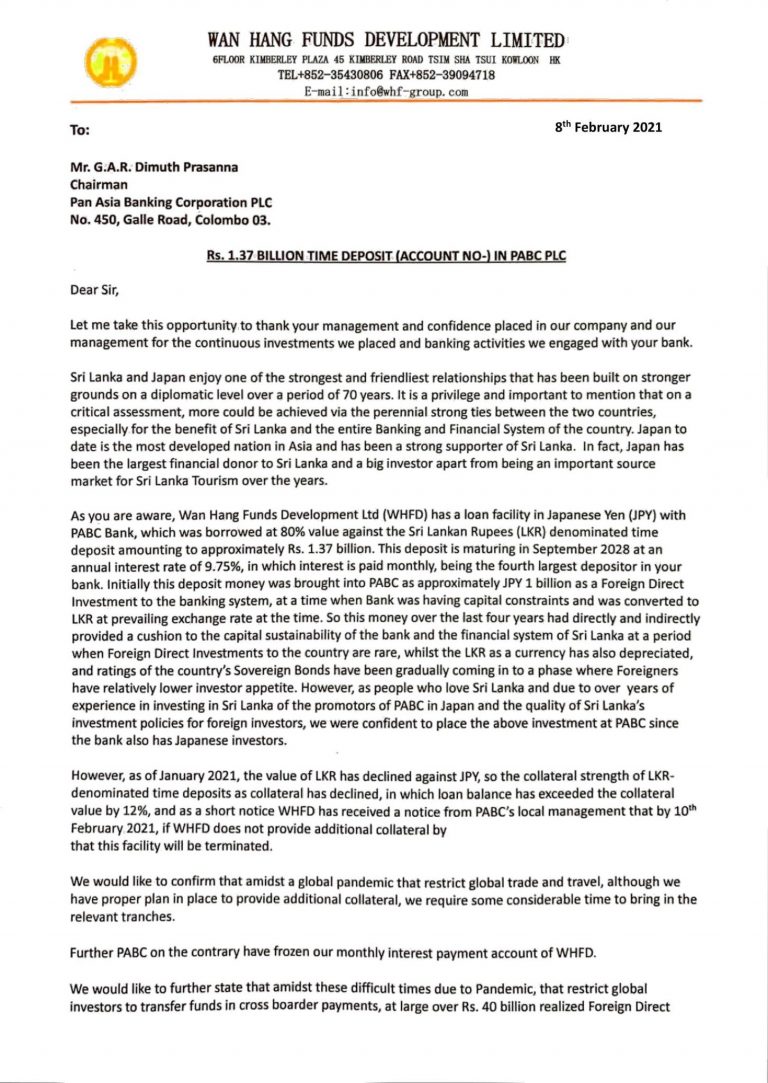 A 29.99% stake of PABC is personally owned by Billionaire Dhammika Perera whilst his brother K.D.H. Perera also owns 5.27%.
The second largest shareholder of the PABC bank is Japan based Bansei Securities with a 15% stake.
As per the latest statistics released by 30th September 2020, PABC has 3.6 billion State Capital represented by little over 442.5 million voting shares.
In Sri Lanka's financial landscape Dhammika Perera controls 2 licensed commercial banks namely Sampath Bank and PABC Bank, along with 4 finance companies named LB Finance, Vallibel Finance, Siyapatha Finance, Singer Finance through his direct and indirect shareholding companies and Sri Lanka's oldest two conglomerates Singer PLC and Hayleys PLC.
The above banking and finance companies collectively have over Rs. 1,162.7 billion or Rs. 1.1 trillion worth of public depositors' funds or nearly 6.6% value of Sri Lanka's Gross Domestic Product (GDP), in which Sampath Banks has Rs. 845 billion, PABC Bank has Rs. 173.6 billion, LB Finance has Rs. 88.3 billion, Vallibel Finance has Rs. 30 billion, Siyapatha Finance has Rs. 16.9 billion and Singer Finance has Rs. 9.5 billion worth of public deposits respectively.
Dhammika Perera and his consortium of companies and relatives control Sri Lanka's third largest licensed commercial bank – Sampath Bank PLC with a 14.95% stake being the largest shareholder via his Vallibel One PLC, and LB Finance PLC with over 77% stake, Vallibel Finance with over 77% stake, Siyaptha Finance being 100% owned by Sampath Bank and Singer Finance being 79.93% being owned by Singer Sri Lanka PLC which is owned by Perera controlled Hayleys group.
Recently in January 2021, Dhammika Perera also announced a massive share split of 17 companies he owns that is listed in Colombo Stock Exchange after over 10-15 years of acquisitions he made with his investments.
Source: https://newshub.lk/en/2021/02/10/dhammika-pereras-pabc-puts-japan-based-fund-in-limbo-risks-estranging-japan-sl-ties/