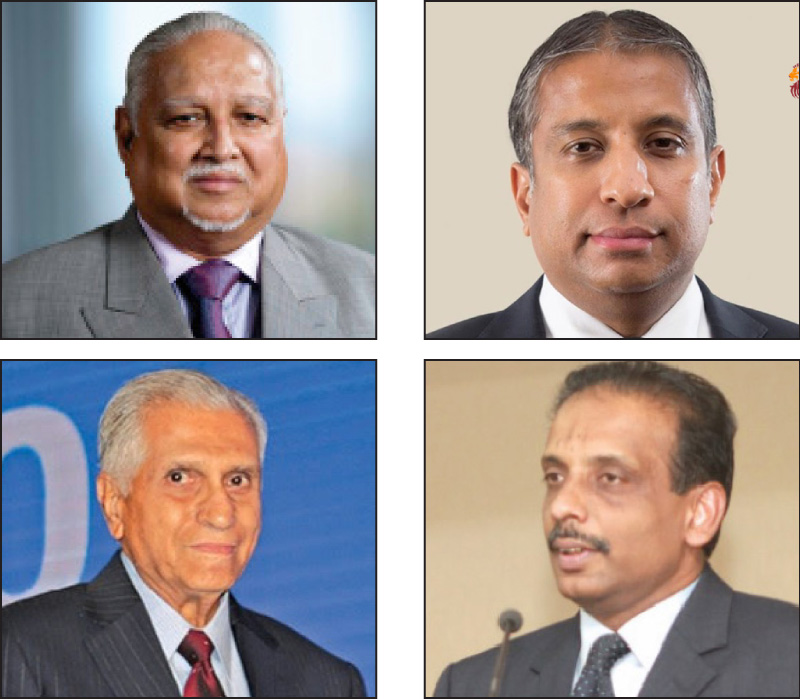 Top row: Harry Jayawardena and Ishara Nanayakkara;
bottom: Sohli Captain and Treasury Secretary S.R. Attygalle. The four groups at HNB collectively control more than 50% of the bank

The country's second-largest private sector bank, HNB is seeing a heated battle for seats on its Board in what analysts see as a four-way fight, involving business tycoon Harry Jayawardena, the Finance Ministry, the Captains Group, and the latest entrant Browns investment in the form of Ishara Nanayakkara.
The effects of the internal battle have spilled over to the general public with some people even resorting to using WhatsApp, sending anonymous mails and also slandering Director and veteran banker Nilantha de Silva and Acting Chairman, the highly-respected corporate lawyer Dr. Harsha Cabral PC.
"These kinds of cheap tactics are disgraceful and must not be resorted to by people aspiring to sit on private sector bank boards," opined analysts.
Recently, Dinesh Weerakkody stepped down as Chairman and the battle for a seat on the HNB Board has since intensified. At present there are 11 Directors on HNB Board and two seats are vacant.
It is alleged that Finance Ministry Secretary S.R. Attygalle through Sri Lanka Insurance (13.3% shareholder) wants Samantha Rajapaksa, a former Bank of Ceylon Director during the previous administration, and Nihal Jayawardena PC appointed as Directors.
Ishara Nanayakkara (via Browns Investments owns a 9.9% stake in HNB) wants his LOLC Group Managing Director veteran banker Kapila Jayawardena appointed.
Both Captains (whose stake is around 8.4%) and Jayawardena (owning 17.8%) have one director each. Jayawardena, who has had two directors for several years in the past, wants his second director.
The grouse that Jayawardena has is that though he owns nearly an 18% stake, his voting rights are restricted to 10% whilst the State institutions can freely work together, "acting in concert".
The State institutions collectively have around 23% of HNBs voting shares (Sri Lanka Insurance Corporation (13.3%), EPF (9.75%), ETF (1%)), but are not restricted in their voting rights. This has been raised in many public forums, but the Central Bank has ignored the concerns raised by several shareholders to have a uniform policy. Analysts said in certain banks such as NTB and Union Bank this rule does not apply for the large shareholders or they have been given extended time.
Analysts also pointed out that many governments unfortunately have interfered in private sector banks by using the State-Owned Enterprises (SOEs) and the EPF shareholding to either remove or appoint directors. They have or attempted to turn them unfortunately into State-like banks and politicising the private banks.
"The politicisation of private banks needs to stop for these banks to take independent lending decisions," they added.
"Banks live on public deposits not on shareholder funds; therefore, it is important for their stability to rid them off of all political interference. The collapse of several finance companies due to bad governance is a clear reminder that professionalism and integrity of the Board of Directors is a must for the survival and growth of a financial institution," they opined.
The four groups at HNB collectively control more than 50% of the bank.
"This not good for a private bank. The 10% or the 15% must apply to all shareholders," other analysts opined.
The current Board of Directors of HNB comprises Acting Chairman Dr. Harsha Cabraal PC, CEO/MD Jonathan Alles, Non-Executive Independent Director Amal Cabraal, Non-Executive Independent Director Nilantha de Silva, Non-Executive Independent Director Madu Ratnayake, Non-Executive Non-Independent Director Damien Fernando, Executive Director Dilshan Rodrigo, Non-Executive Independent Director Devaka Cooray, Non-Executive Non-Independent Director Aruni Goonetilleke, Non-Executive Non-Independent Director Osman Chandrawansa, Non-Executive Independent Director P.R. Saldin and Dr. Prasad Samarasinghe (Alternate Director to Damien Fernando).
https://www.ft.lk/top-story/Battle-for-Board-seats-hots-up-at-HNB/26-718842?fbclid=IwAR0kYNj9krJY6xnkg-h_JRn0oaqbr3VHNUNysChdubYWJI-8rnUQU-lWBtA