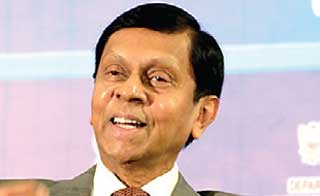 State Minister of Money, Capital Markets and State Enterprises Reform Nivard Cabraal
- State Minister Cabraal and Finance Secretary Attygalle confirm receipt of $ 787 m from IMF, $150 m from B'desh and $ 300 m from China Development Bank
- Under pressure to ensure realistic exchange rate, CBSL signals depreciation of rupee
- Quotes selling rate of dollar at Rs. 204.90, up from Rs. 202.90 on Monday
- Commercial banks rates vary from Rs. 225 to Rs. 240 for the dollar
The Government yesterday reassured that foreign exchange inflows continue, though the markets reacted differently as rupee depreciation persisted.
Under pressure to ensure a realistic exchange rate, the Central Bank yesterday effected a depreciation of the rupee quoting an exchange rate of Rs. 204.90 (selling) for the dollar, up from Rs. 202.90. This reflects a depreciation of Rs. 2.
However, banks continued to sell scarce dollars at much higher rates, ranging between Rs. 225 and Rs. 240.
The pressure on the rupee comes despite improved inflows to the country, as well as a release of dollars to the banking sector – especially State-owned entities. Bank of Ceylon and People's Bank on Friday received over $ 200 million to settle urgent customer requirements.
During the year up to 27 August, the rupee has depreciated by 6.8% against the dollar.
Government officials yesterday confirmed the receipt of $ 787 million from the International Monetary Fund (IMF) within the latter's overall release of $ 650 billion in new Special Drawing Rights to its members as support to combat the COVID-19 pandemic.
Though said to have been received early last week, the Central Bank until late yesterday was conspicuously silence on the matter, as well as the reported receipt of $ 150 million under the swap deal with Bangladesh.  (See box)
However, State Minister of Money, Capital Markets and State Enterprises Reform Nivard Cabraal told the Daily FT that the IMF funds had been added to the Gross Official Reserves following receipt on 23 August.
Finance Secretary S.R. Attygalle had also confirmed the strengthening of reserves with the receipt of $ 787 million from the IMF and $ 150 million from the Bangladesh Central Bank. Attygalle also said a further RMB 2,000 million (around $ 300 million) from the China Development Bank (CDB) was due yesterday.
As at the end of July, official reserves stood at $ 2.83 billion.
Cabraal separately in a tweet said funds from the IMF and CDB would "improve liquidity and stabilise the forex market".
He urged exporters and importers who expected the rupee to depreciate to convert forex receipts early and phase out imports, respectively.
On national TV, Cabraal assured that there were adequate dollars in the market, a remark which the banking sector seems to be wary of judging by the high selling rates quoted for the dollar, analysts said.
Despite restrictions, the country›s import bill in the first seven months of 2021 had risen by 30.5% to $ 10 billion. In July, it shot up by 57% to $ 1.65 billion.
Analysts estimate the country will continue to maintain an average import bill of $ 1.5-1.7 billion monthly.
Though exports have been resilient, up 29% to $ 5.7 billion in the first seven months, declining workers' remittances (up by only 2.6% to $ 3.77 billion in the first seven months) and insignificant earnings from tourism have posed sustained challenges to the Government as well as the forex market.
https://www.ft.lk/top-story/Forex-flows-in-but-rupee-dip-persists/26-722507