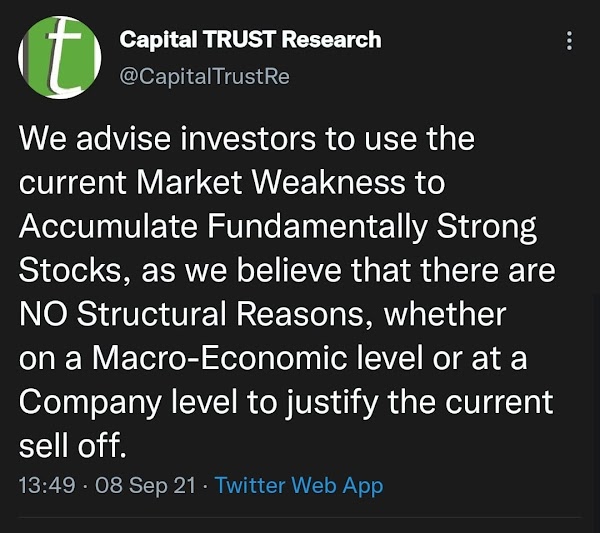 The controversial investment advise given by a leading Research/brokering company in Sri Lanka when stock Market has reached its peak ASI- 9308 which is to date is the all time high. Above screen shot is the only available proof of the above the ill advise given to equity investors. Original Tweet sent by the Capital Trust has been deleted and is not available in their twitter anymore. https://twitter.com/CapitalTrustRe
This is a screen shot of the Tweet message of Capital Trust Securities a leading stock Brokering/Research company in Sri Lanka. Capital Trust Securities on 8th September 2021 sent this official tweet to all its twitter followers, clients and investors recommending them to invest more into Sri Lankan equities. The main Market indicator, the CSE All share index (ASPI) on 3rd September 2021 ended at all time high of 9339.35. The next trading day happened to be 7th September 2021 due to weekend closure.
On 8th September 2021, Capital Trust Research through the official Twitter Account above tweet was sent to a client base of over 100,000 recommending its investors to purchase more shares and invest further into the stock market when it has reached all time high on the previous trading day.
Capital Trust Research has deleted above Tweet from their official account and above is the only known digital copy of the screen shot taken by the owner before the deletion.
Above message is the only available proof of the ill advise given by Capital Trust Research to mislead over 100,000 retail investors who are trading and holding their portfolios through Capital Trust Securities.
www.capitaltrust.lk
https://twitter.com/desha_pala/status/1437093817958731776?s=20