Hunas Holdings PLC (HUNA.N0000)
is one of the most overvalued stocks in the Colombo Stock Market. Beware and study the latest financial statements and valuation of the company before investing.
- Net Asset Value per share (NAVPS) is LKR 5.33 and Market Price (MP) was LKR 30/= per share.
- Total Assets of the group is around LKR 7.2bn whilst the market capitlization exceeds LK 25bn.
- Trading at around 6X times of the Book Value (BV).
- Loss per share is LKR 0.19 and total losses for quarter ended Sep 2022 exceeds LKR 113mn.
-Japanese Investor Y. WATANABE and Gain Focus Ltd become shareholders.
- Highly inflated due to massive 150:1 subdivision of shares and subsequent price manipulation.
- Trading suspended by CSE due to non submission of Annual AccountsAbout the company
Hunas Holdings PLC owns and operates Hunas Falls Hotel at Elkaduwa, which is targeted at the up-market leisure traveler. The Company's Hunas Falls Hotel consists of approximately 28 deluxe rooms, cardamom suite and approximately two theme suites. Company was recently renamed as Hunas Holdings PLC and currently engages in the ownership and operation of hotels.
Latest Published Accounts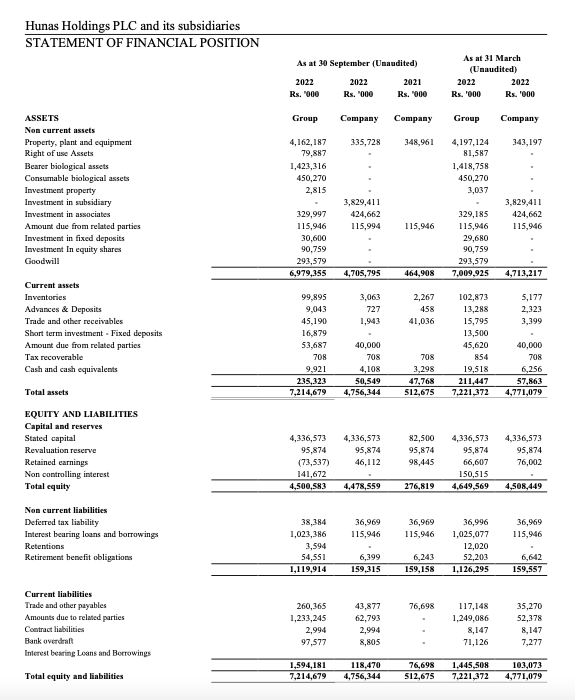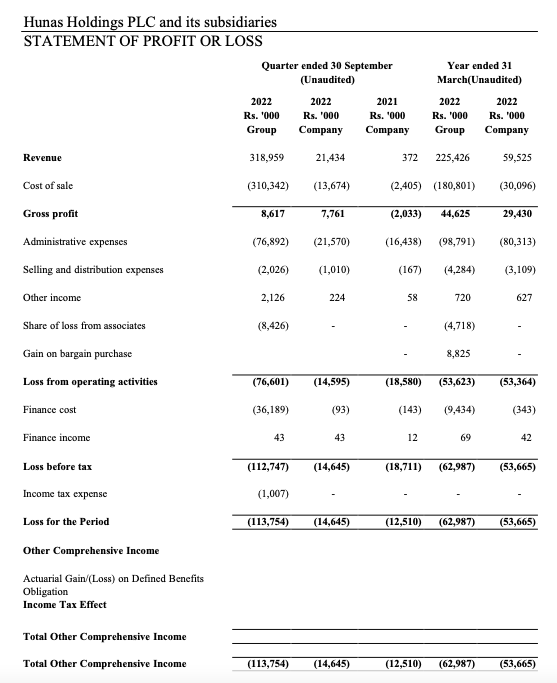 https://cdn.cse.lk/cmt/upload_report_file/546_1669023227213.pdf
Trading Suspension
Sub division of shares
Related party transactions
Directors sell shares of the company prior to the suspension notice was issued on 30th August being well aware that company will not comply with the notice to submit annual accounts which will lead to its ultimate suspension in 8th December 2022.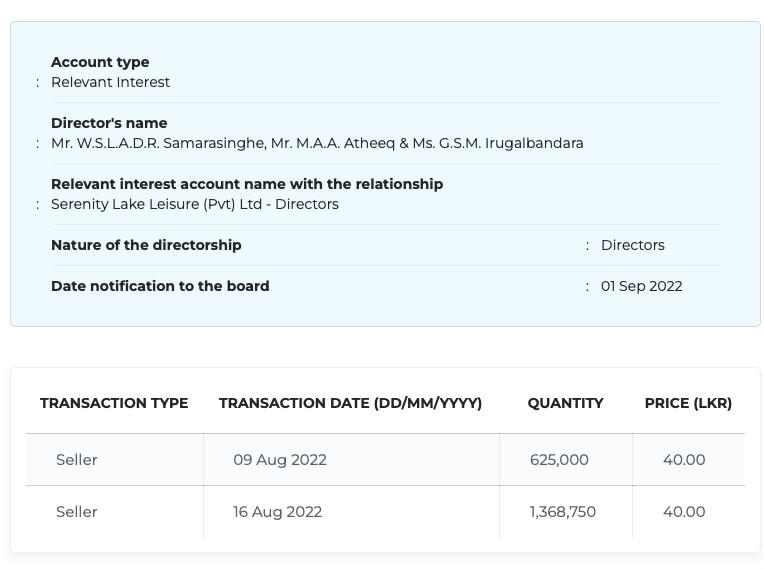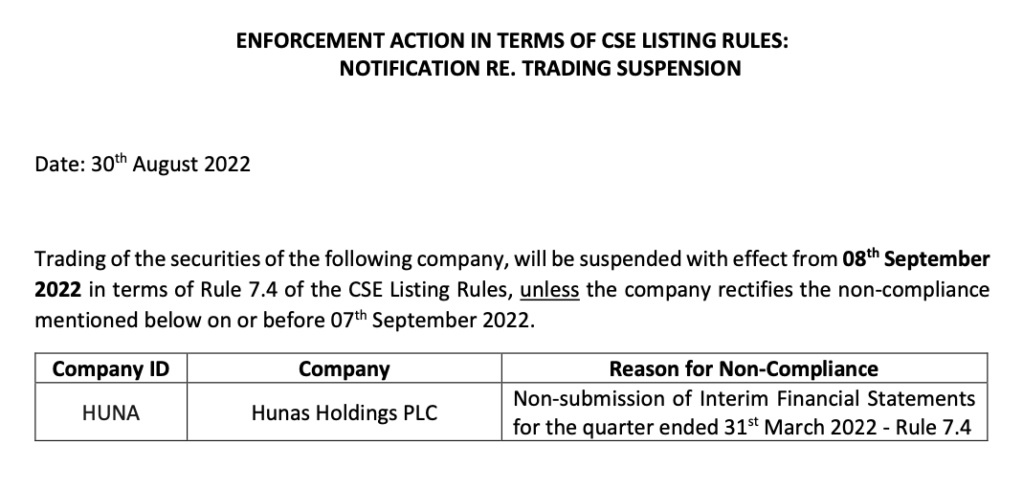 Recent Major share transactions
Purchase of HUNAS HOLDINGS shares by Y. Watanabe and Gain Focus Limited at pre subdivision price of LKR 40 despite the massive sub division of in April 2022 which resulted in a major dilution of share value. Shares were sold by the majority shareholder Serenity Lake Leisure (pvt) Limited.
Purchase by Y Watanabe
Purchase by Gain Focus Limited (Foreign Buyer)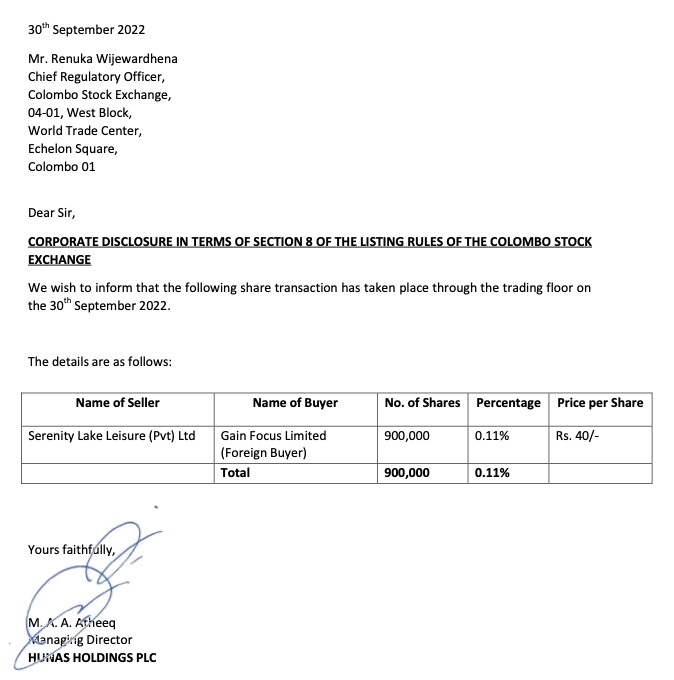 Unusual Trading Activity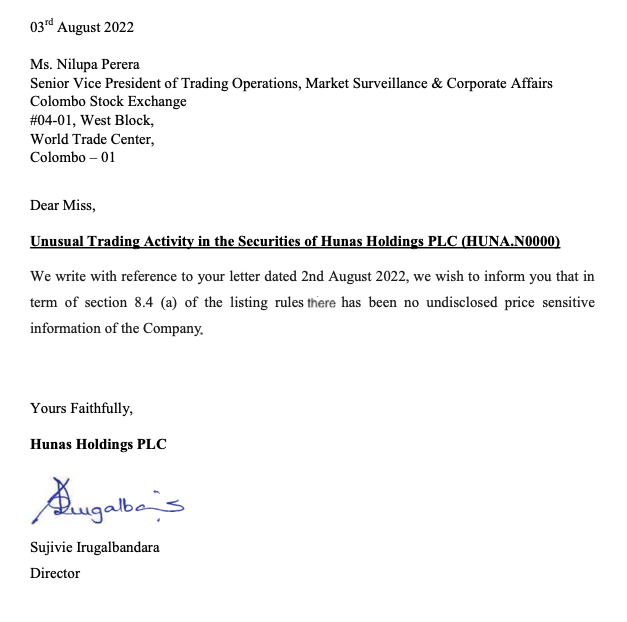 Major Shareholders
Top Shareholder as at 30th September 2022. This list does not indicate the shares recently purchased by Gain Focus Ltd on the 30th September and 17th November 2022.
Attachments

HUNAS HOLDINGS PLC.pdf

December 2022
You don't have permission to download attachments.
(745 Kb) Downloaded 1 times